Customer spotlight: American Heart Association
Aug 9, 2021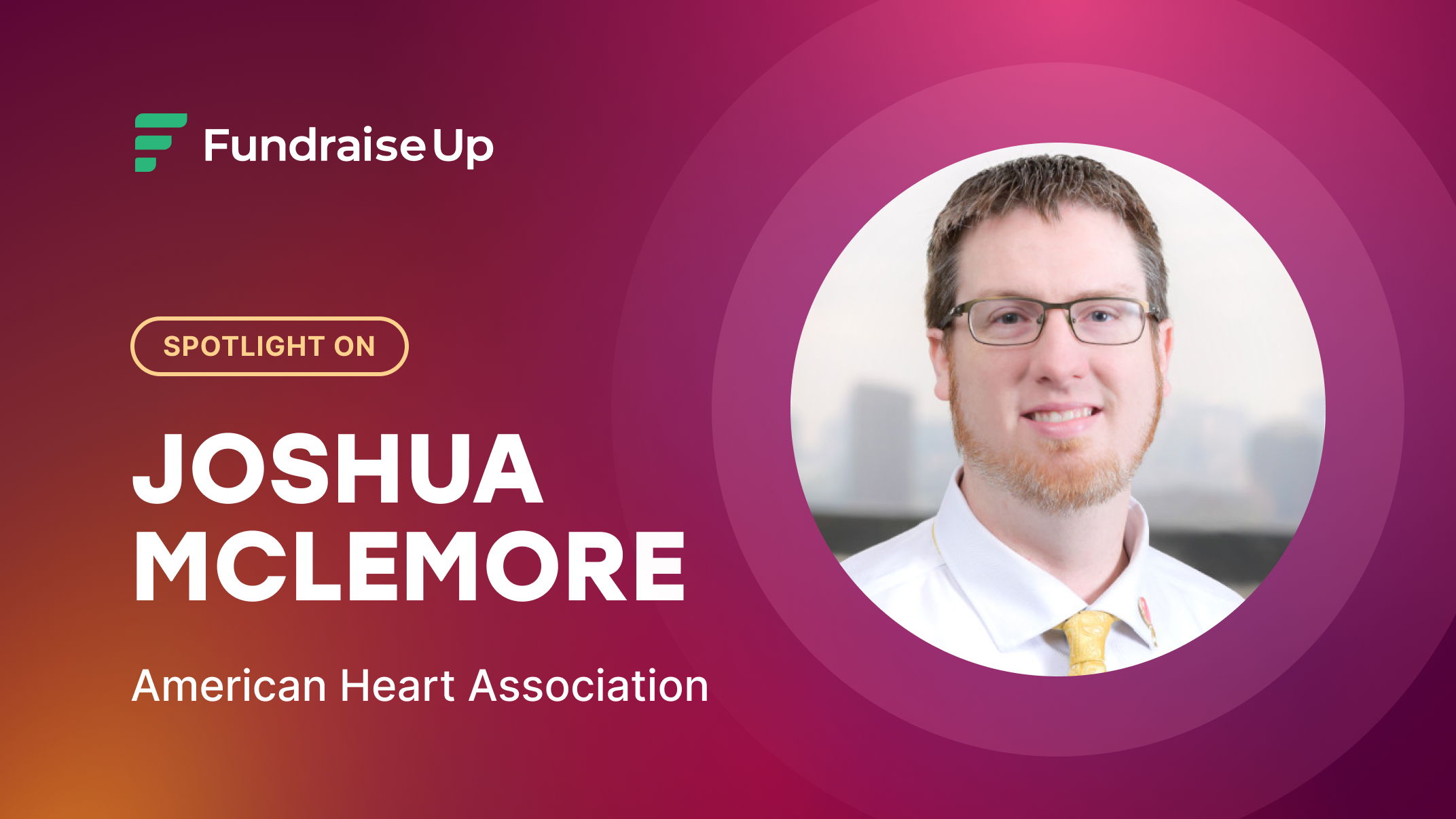 The American Heart Association is one of the most well-known nonprofits in the USA and has spearheaded some of the most important research in its field. But over the course of the last year, they realized they were missing out on valuable revenue.
We recently sat down with Joshua McLemore, Director of Direct Response & P2P Fundraising, to discuss Fundraise Up's partnership with The American Heart Association and how our platform has helped them grow their monthly giving and better engage with their organic web traffic.  Our conversation has been edited and condensed for clarity.
---
I am sure that most people are aware of the American Heart Association, but can you tell us a bit more about what you do and what it means to you?
A lot of people know of the American Heart Association, but unfortunately, people often don't know what we do. If anything, people know that we fund research — which is true — but don't necessarily know that we have funded more research than any other organization outside of the U.S. government. But beyond research, we focus on a few key areas:
Through our Go Red for Women campaign, we make sure women know how they can reduce their risk of heart disease and stroke as well as how to know the signs that they are having a heart attack or stroke.
We have a huge focus on COVID and how it affects heart and brain health as well as how those with existing heart disease and stroke survivors are specifically affected.
We are leading a strong effort to inform the public about the risks of smoking or vaping and why they shouldn't start in the first place!
We have a program called "Get With the Guidelines" where we work with hospitals to ensure high standards of care so that patients have better health outcomes.
We are working within communities to help reduce blood pressure, increase food security (or make healthy food accessible to all, no matter where you live), and mental well-being. We do that in a variety of ways throughout communities across the country and even around the world.
... So how does that affect me personally?
My wife was born with congenital heart disease and had many surgeries throughout her life. She quite nearly died multiple times as a child. But due to new research and innovations, much of which the AHA funded, my wife's life was saved. Additionally, she had a post-operative stroke at the age of 3.  And so, we also deal with the effects of that stroke even to this day and are grateful that the AHA/ASA (American Stroke Association, a division of the AHA) is leading the charge to help others recover and even avoid the effects a stroke can have, as well as how to know you or someone you love is having a stroke and what to do.
My son — who we adopted from birth — was born at 24 weeks gestation and also has congenital heart disease. During his stay in the NICU, he had heart surgery that saved his life. Again, thanks to research and treatment innovation that the AHA has funded. He now continues to contend with pulmonary hypertension, which currently has no cure. But I know that the funds we are raising right now at the AHA will someday lead to a cure for him as well.
So that's what gets me up each morning to raise funds for the American Heart Association. But beyond that, we like to say that our work really does affect every single person. We sincerely hope to eliminate heart disease and stroke one day in the future, but right now, heart disease is the #1 killer of people worldwide and stroke is the leading cause of disability and the #5 killer of people in the U.S.A. So, our reach is far and the work is so important.
When choosing a fundraising platform, what features were the most important to you?
As an organization, we needed a platform that brought in donations! But as humans, we needed a platform that was very easy to use for our donors. Those two needs were paramount and both of which Fundraise Up met. But beyond those points, we love (our web team especially) that Fundraise Up's checkout means that the donor doesn't leave the page they are on, and the data/analytics we can gather from Fundraise Up is fantastic. We also needed a solution that would integrate nicely into our other systems and Fundraise Up offered so many different ways to integrate so that data could flow.
And, now more than ever, we are focused on sustaining donations. Fundraise Up has some wonderful features that allow us to up-sell our one-time donors to sustaining donations with literally a one-click implementation.
Finally, ease of use for our staff in the backend of the platform was important, and Fundraise Up definitely delivers there. With the intuitive layout and options, our new staff members can literally learn how to use Fundraise Up in a matter of minutes.
Tell us about your experience with Monthly Giving before and after Fundraise Up.
Until the pandemic, we really didn't have a focus on monthly giving. Recently, we started a new DRTV program at the American Heart Association which had led us to be more motivated to acquire, upgrade and retain monthly donors.
Since implementing Fundraise Up, we are seeing 3x more monthly donors each day – and most of that is just by using the built-in features that Fundraise Up provides.
How was the experience of integrating the Fundraise Up platform onto your site?
We had anticipated about a 6-week time to integrate the new platform into our systems. I think it realistically took us less than a week. And that was mostly due to checking data and making sure everything was correct. The process of "flipping the switch" took minutes and was much easier than anticipated.
We had the Fundraise Up team holding our hand the entire time and shouldering the technical setup within [the platform] the entire time. So we really felt like we had a strong partner on the inside helping us along the way.
Do you feel you're able to optimize your connection with your donors and provide them with a more engaging experience?
We feel the user experience has definitely been engaging for our donors, and the data tells us the same!
We've seen an increase in conversion rate, an increase in monthly donors, and 86% of fees being covered – all those things tell us that donors enjoy using our donation platform. And with the elements/widgets that Fundraise Up provides, we've been able to recapture donors and target them in places on our websites that we wouldn't have previously been able to do.
Any particular statistics, shout-outs, or anecdotes you would like to share in addition?
Again, we've seen an increase in monthly donors from 1.5 per day to 5 per day on average. It's amazing!
We also recently "turned on" the P2P functionality within Fundraise Up for our donors and had one fundraiser raise more than $20K within a couple of weeks.
And finally, we've seen an increase in organic web revenue YoY over the time that we've been using Fundraise Up. While we hope that's because we are doing a great job presenting great value propositions to our donors, we also believe that Fundraise Up has been able to convert and upgrade more of those donors to help us achieve that YoY growth and success within our organic web channels.
And one shout-out: we really appreciate the Fundraise Up team always being willing to jump on a meeting with us to discuss ideas that we have, how we can make the most of the platform, and answer any questions we have. The customer service we get from Fundraise Up has been really excellent.
About Joshua McLemore
Josh is motivated by a personal mission to make a positive impact in the world. In pursuit of this mission, he has invested the last 14 years leading, executing, and perfecting fundraising strategies and marketing campaigns for a multitude of nonprofit organizations. His experience spans both offline and online fundraising channels with direct response as well as peer-to-peer campaigns. He is currently at the American Heart Association as Director, Direct Response and Peer-to-Peer Fundraising and works alongside the AHA national team leadership to advance the AHA's mission on the direct response team as well as strategy and execution of digital marketing for special events such as Heart Walk, CycleNation, Kids Heart Challenge, and American Heart Challenge. Additionally, he leads the digital marketing work for Salesforce Marketing Cloud with the AHA. Joshua resides in Fort Worth, Texas, and has been married to Katie, the love of his life, for 10 years and they together have one son, Carson, who is 5 years old.
Stay connected
Get updates and insights delivered to your inbox