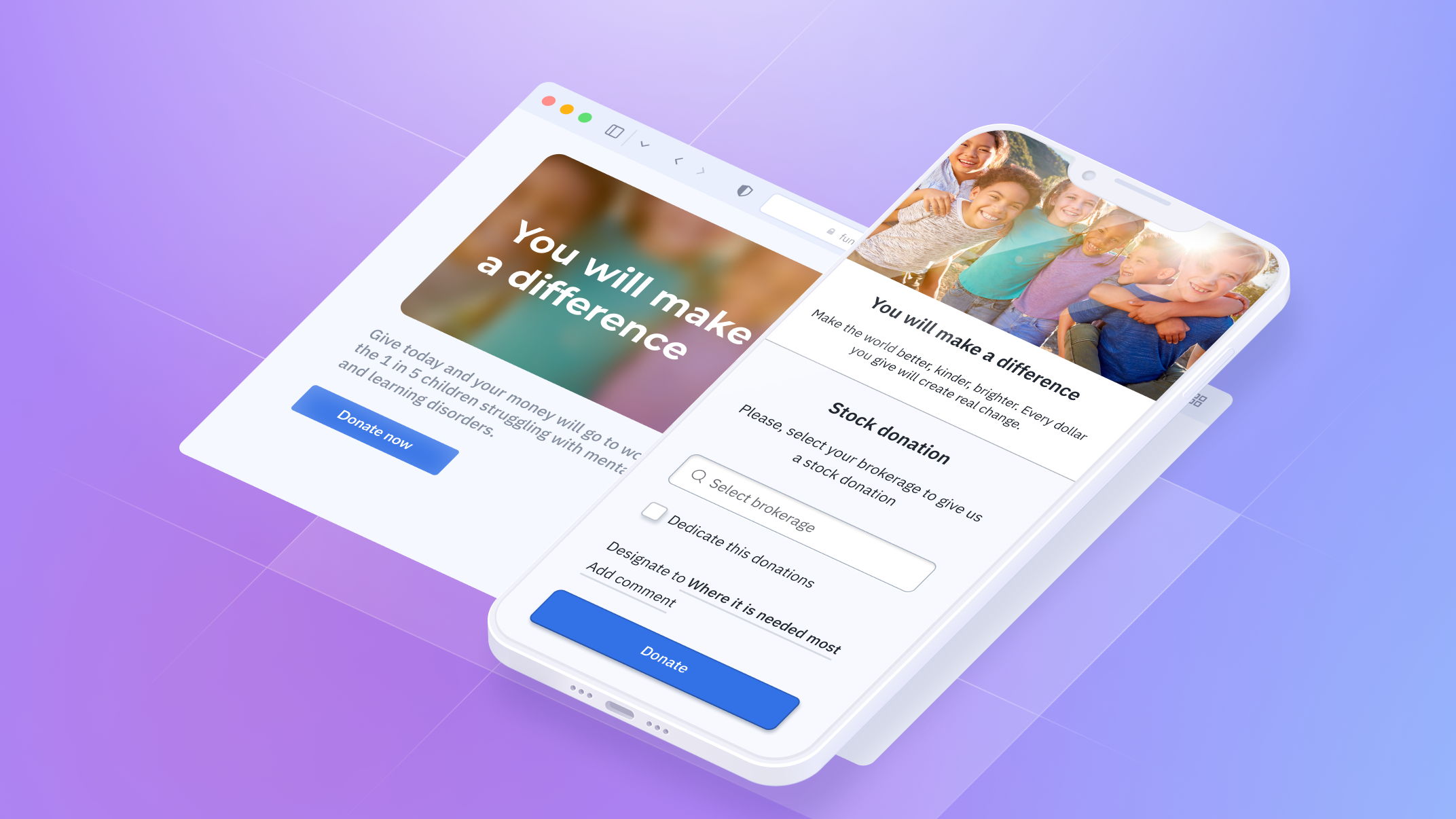 Product Marketing Manager
Use Fundraise Up to accept stock donations. With this high-value way to give, your organization can now easily and securely accept stock donations directly through your website. Stock giving joins cards, wallets, bank transfers, and crypto as an available payment methods in Checkout Modal and Campaign Pages.
Add stock giving to your online donor experience
Until now, giving stock has been a cumbersome and offline process, and the responsibility has always been on the donor to navigate complicated donation instructions provided by nonprofit organizations and brokerage firms.
Fundraise Up's launch of stock giving takes the entire process online, removes the burden from donors, and provides nonprofits with a single platform to handle virtually any type of online giving.
How it works
To help you accept stock donations, we developed a flow in Checkout and Campaign Pages that handles everything from brokerage account login using Plaid, to stock selection and signature capture. The stock giving flow is seamlessly integrated into the existing donation checkout experience, making it easy for donors to dynamically switch between standard currency and stock donation modes, or initiate donations from dedicated stock donation checkouts.
Making a donation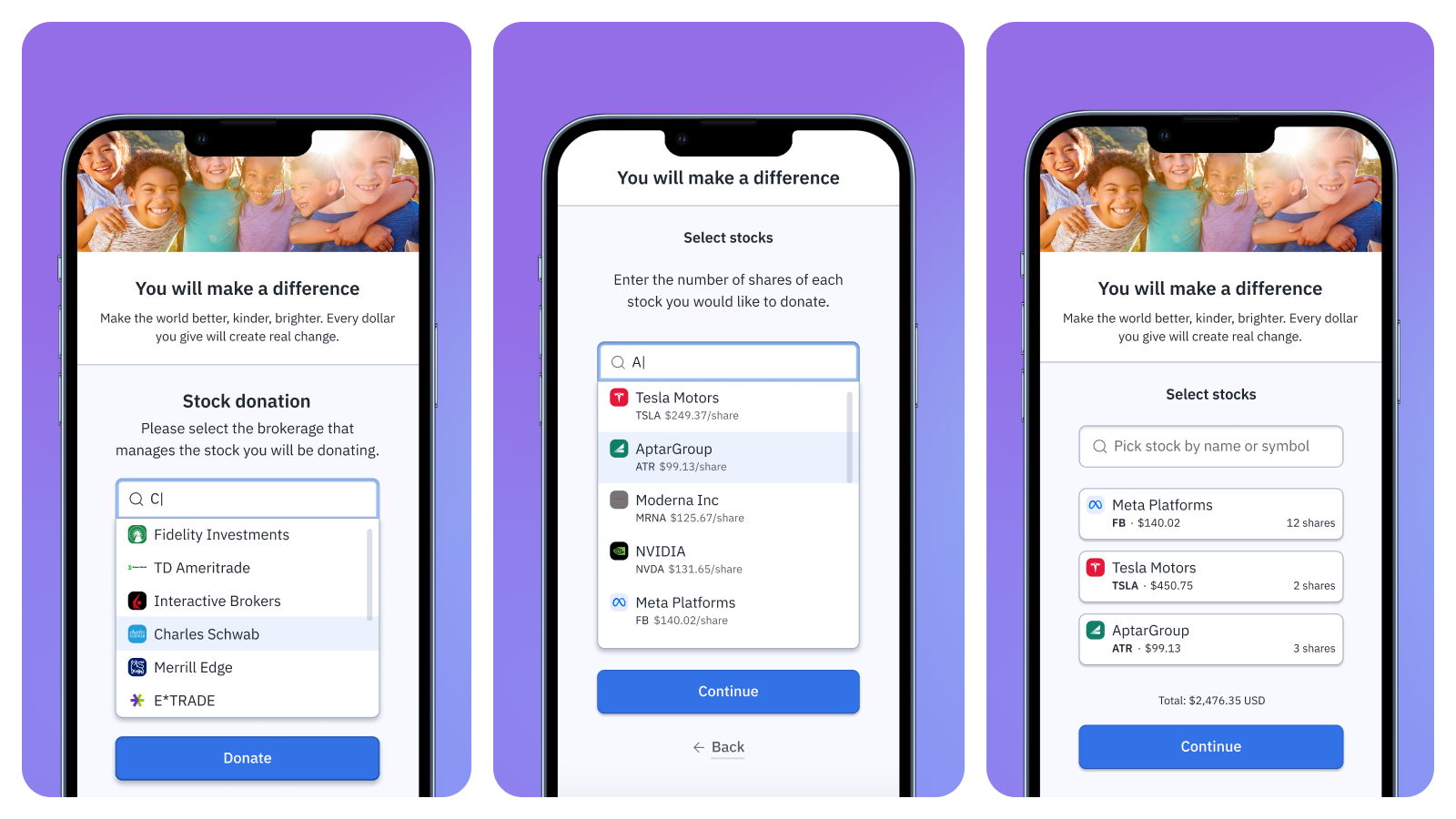 With Fundraise Up, donating stock is as easy as making a credit card donation.
Once a donor has entered a stock donation checkout, they are prompted to log-in to their brokerage account. This can be done automatically using our integration with Plaid, or manually by providing brokerage account details.
Based on what we've seen with Instant ACH bank transfer donations, we expect that a majority of stock donors will take advantage of logging into their brokerage accounts with Plaid. This method displays the stocks held in a donor's portfolio and validates the number of shares available to donate so that a donor doesn't accidentally donate more shares than they're able to.
With both the Plaid and manual stock donation methods, Checkout provides the real-time dollar market price for shares, making it easy for donors to know the value of their stock donations.
Once a donor has selected shares to donate, they authorize the transfer using an e-signature, which completes the transaction.
Just like a standard currency checkout, a stock donation checkout can be customized to toggle features like tribute giving, gift designations, and language localizations.
Transferring stocks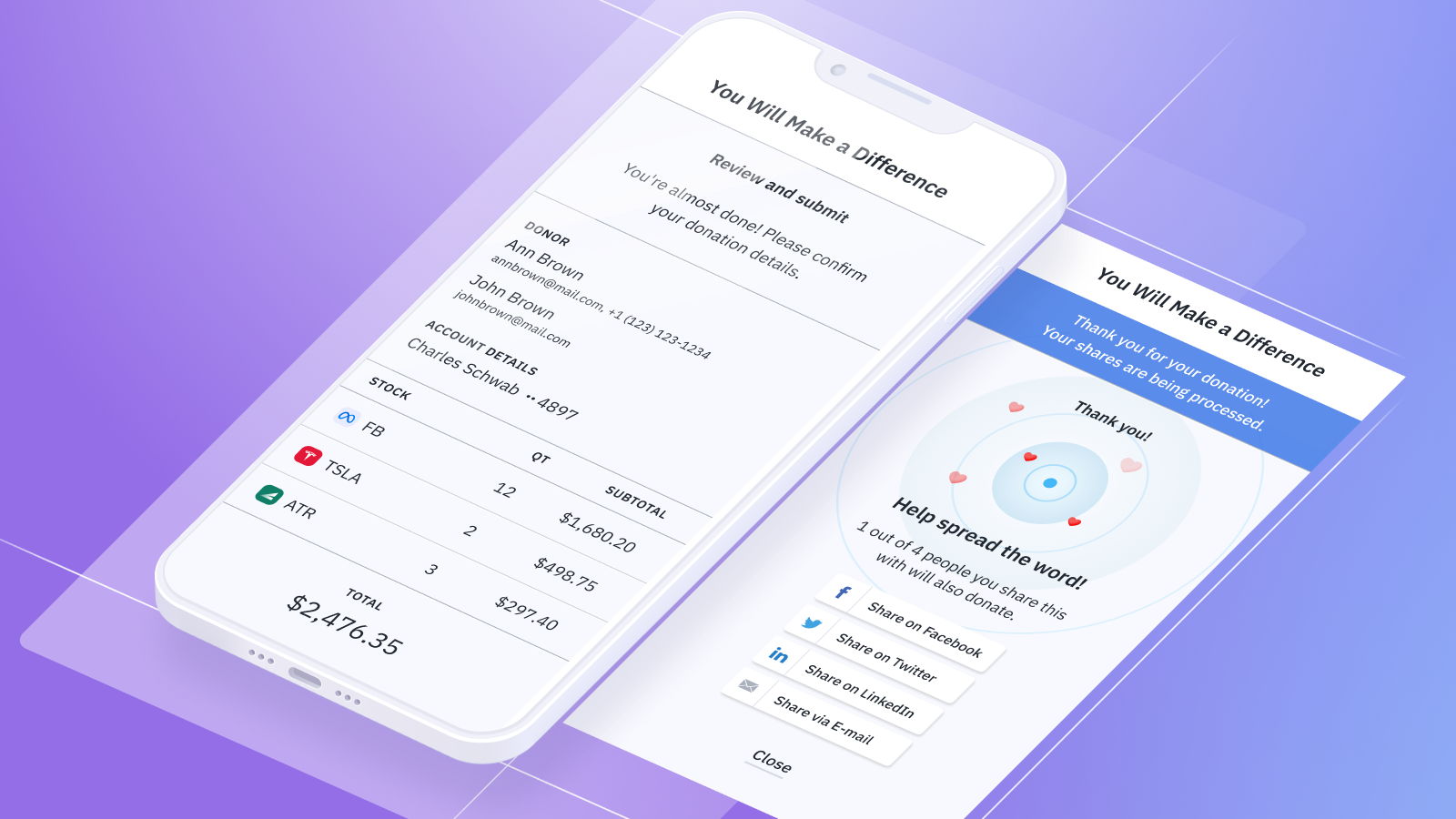 Move away from paper forms and the complex steps. Fundraise Up automates the entire stock donation process.
After a donor has completed their stock donation using Checkout, Fundraise Up begins the transfer process. This involves creating a transfer request with the donor's brokerage firm and tracking the progress of the transfer until it is complete. If any issues pop up along the way, we have a team that handles them on behalf of the donor and recipient nonprofit.
Completing the donation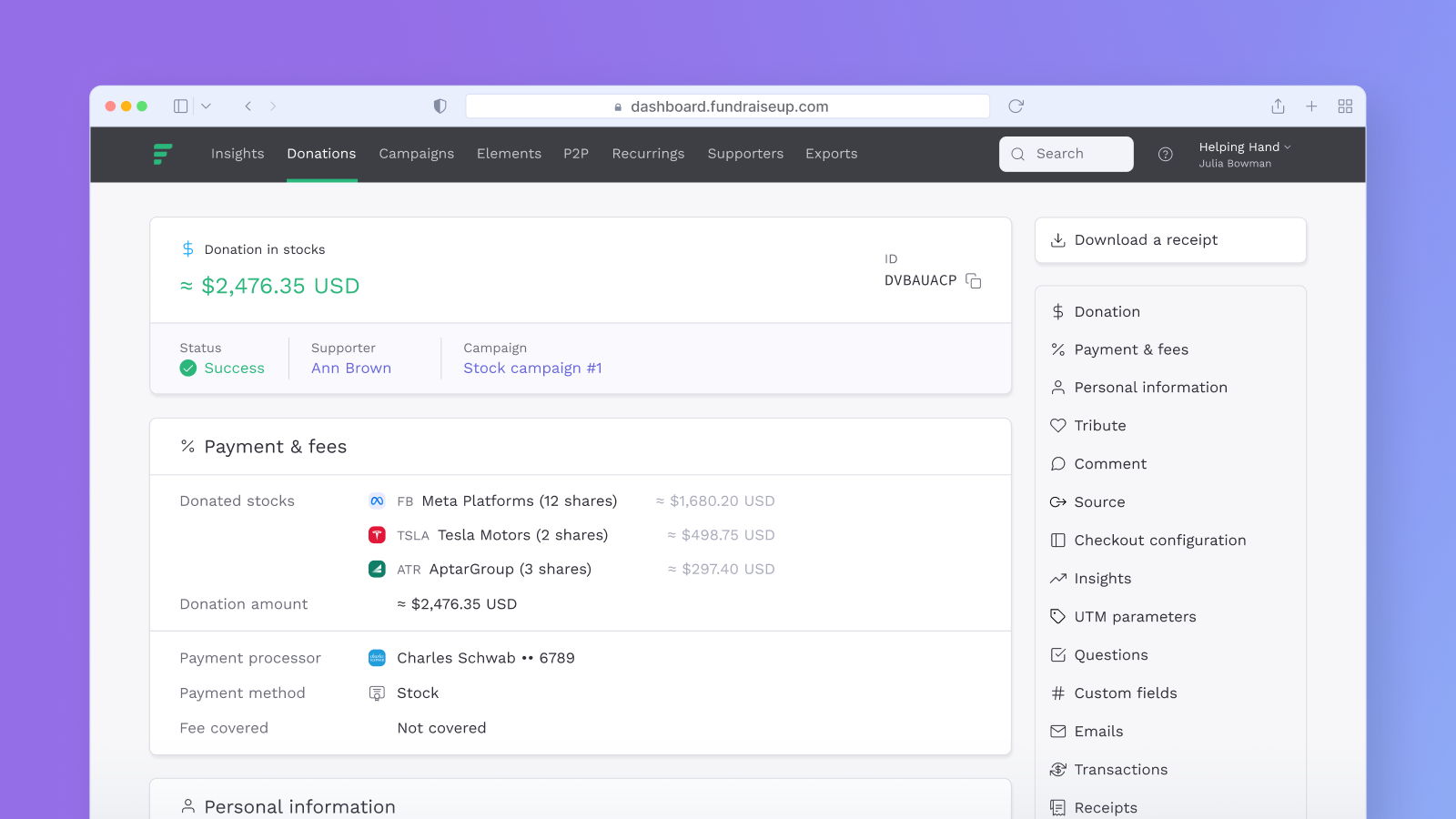 Simplify the donor experience by using one platform to accept any type of donation through your website.
Once we confirm that a donor's stock has been transferred from their brokerage account to the nonprofit's account, the donation receipt email is sent, which includes a PDF receipt for the donor's tax records. Since stock is classified as property by the U.S. government, we send an in-kind donation receipt that displays the total number of stocks and shares donated and not the approximate dollar value of the shares.
In a nonprofit's Fundraise Up dashboard, they have access to all of the details about the donor's stock donation and can automatically sync the donation to a connected CRM like Salesforce, Microsoft Dynamics, or Blackbaud CRM.
Donor Portal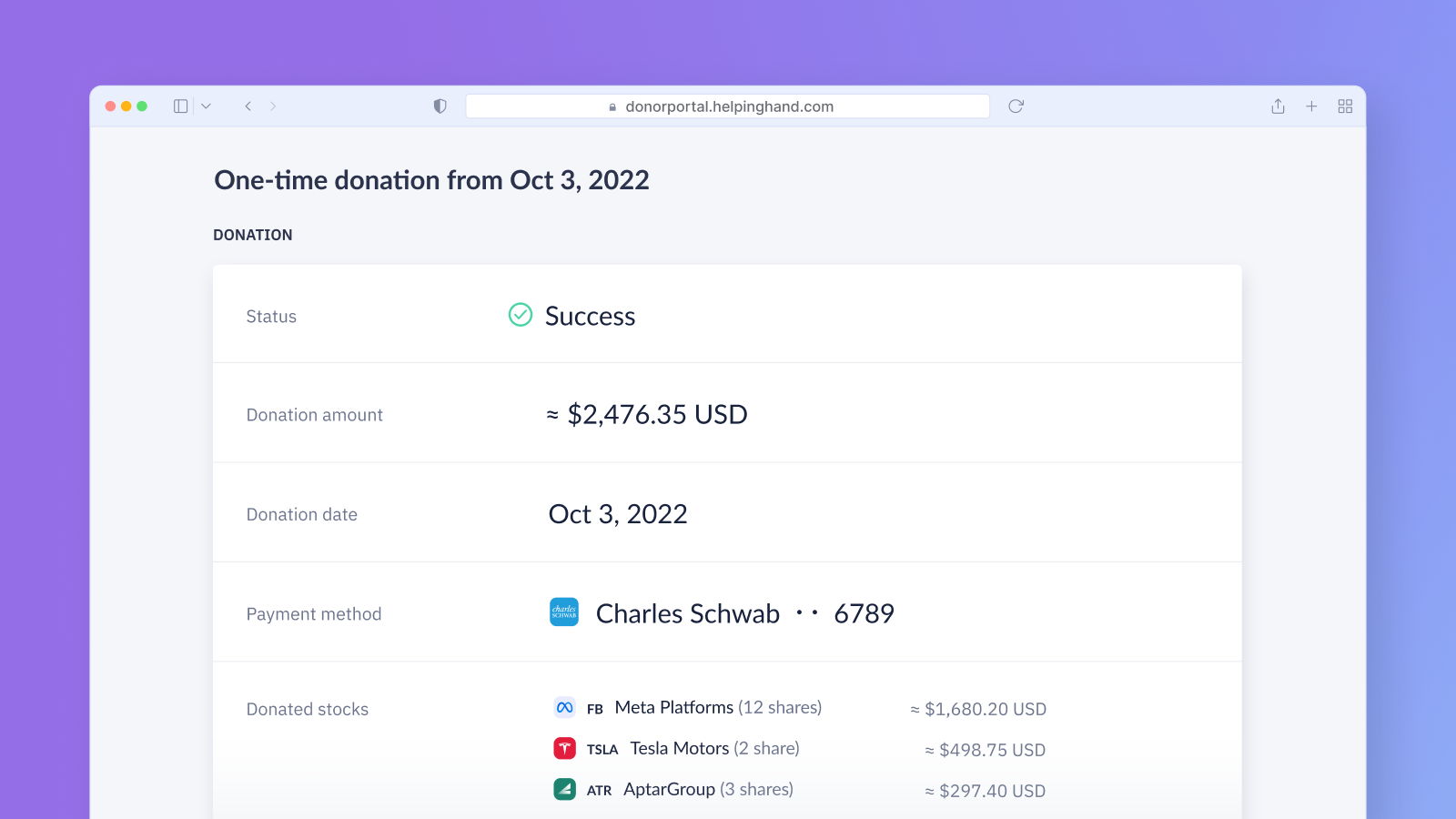 In Donor Portal, donors can view and manage their stock donations.
Just like other donations made using Fundraise Up, stock gifts are displayed in Donor Portal, a self-service dashboard that lets donors manage their online giving. With stock donations, Donor Portal is a great way to track the status of an in-progress transfer, and after the transfer has been completed, Donor Portal offers access to the transaction's details, the donation receipt, and other helpful donor tools.
Liquidating donated stocks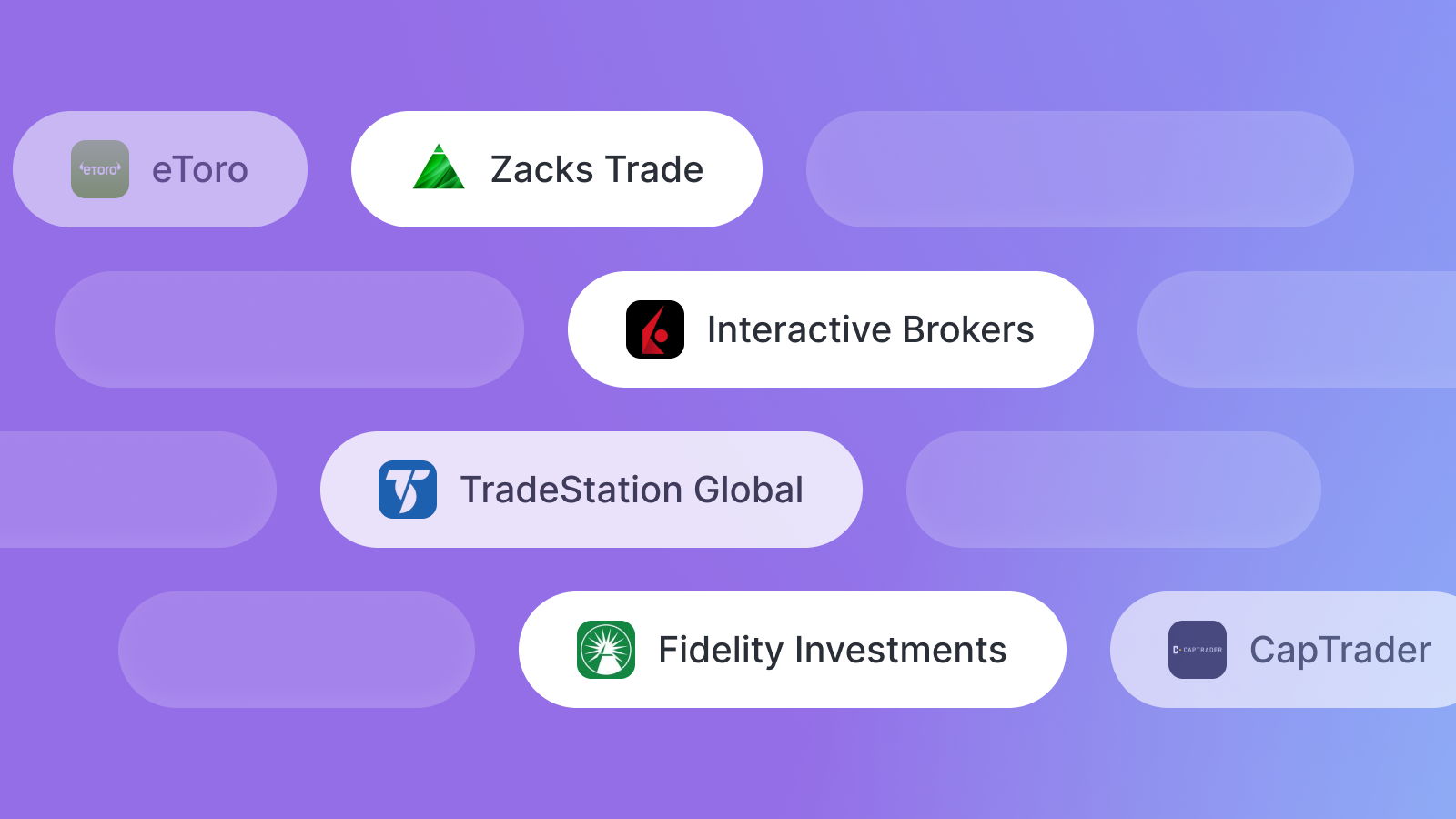 We take a bring-your-own-account approach to stock giving. This means that instead of Fundraise Up controlling and liquidating your stock donations through a brokerage account that we own, you connect your nonprofit's brokerage account to our platform to directly receive stock donations from donors. This gives you the opportunity to either hold onto the stocks (useful if you use stock giving as an investment strategy), or liquidate them.
If you liquidate stocks by selling them through your brokerage, you can then transfer the funds to your nonprofit's bank account and apply them toward the programs and services that you offer.
Unlock donations worth 70x more than cash gifts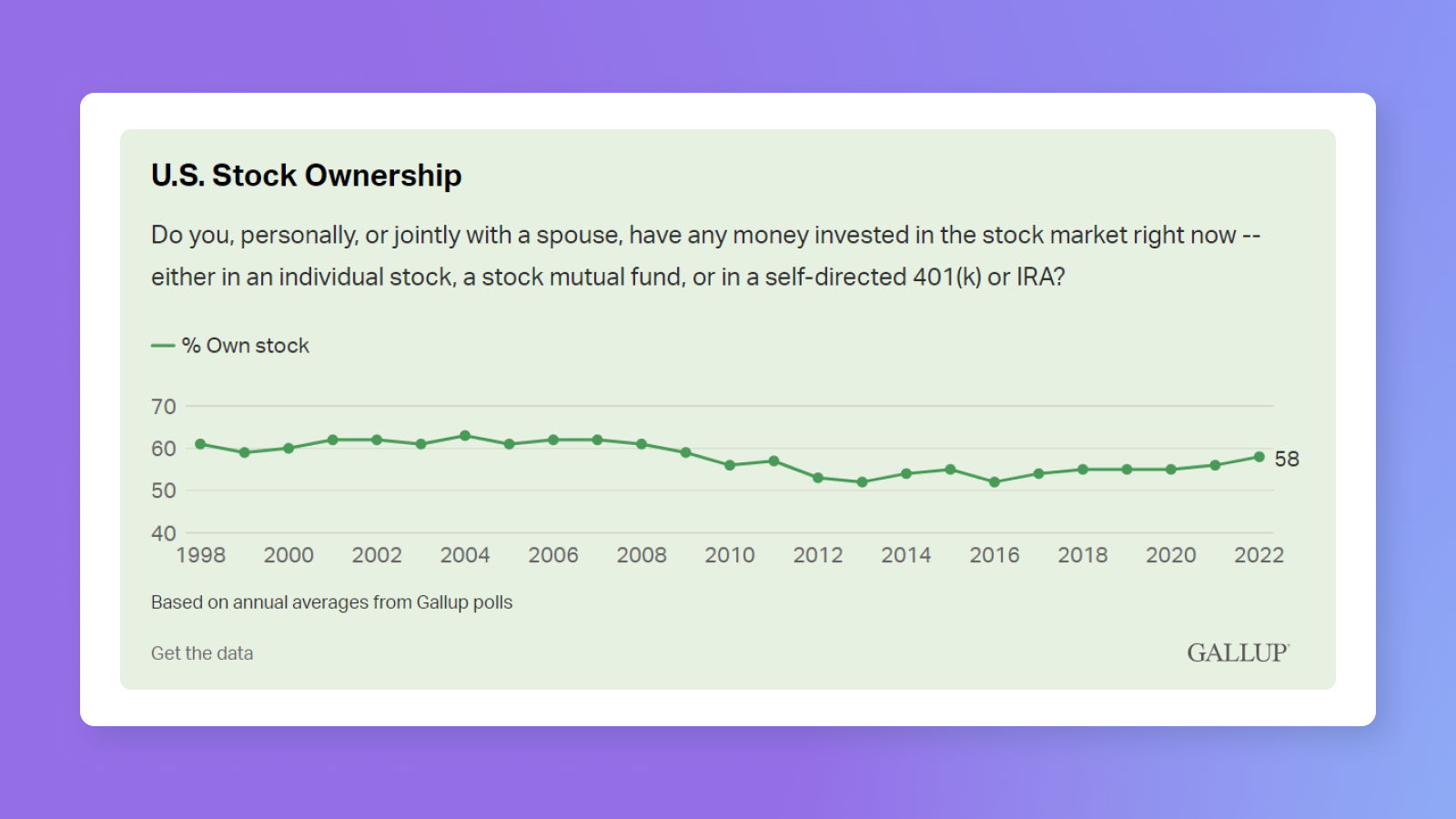 In the U.S., 58% of Americans own stocks, and those stocks carry a $48M market valuation. Source: Gallup.com
A survey we conducted found that a majority of stock donations recorded by nonprofits exceeded $5,000 in value, and 28% of respondents reported receiving stock donations worth more than $10,000.
Adding stock as an online donation method is not only a way to engage high-value donors directly on your website, it's a proven catalyst for growing your nonprofit. A study that analyzed donations to nonprofits over a five year period found that organizations that accepted gifts of securities like stock experienced a 66% growth factor. The proof is in the punch that stock donations pack.
In the U.S., 58% of Americans own stocks, and those stocks carry a $48M market valuation. These stocks are typically held by older, well-educated individuals whose household income exceeds $100,000. But stock ownership spans the generations, and you'll find potential donors in Millennial and even Gen-Z segments of your audience.
And from all generations, you can anticipate a propensity to give using stocks. Philanthropy powered by non-cash assets has grown over the years. In fact, a 2020 report by Fidelity Charitable found that more than 68% of contributions made to member giving funds had been fueled by cash alternatives.
Accept million-dollar donations with the Medallion Signature Guarantee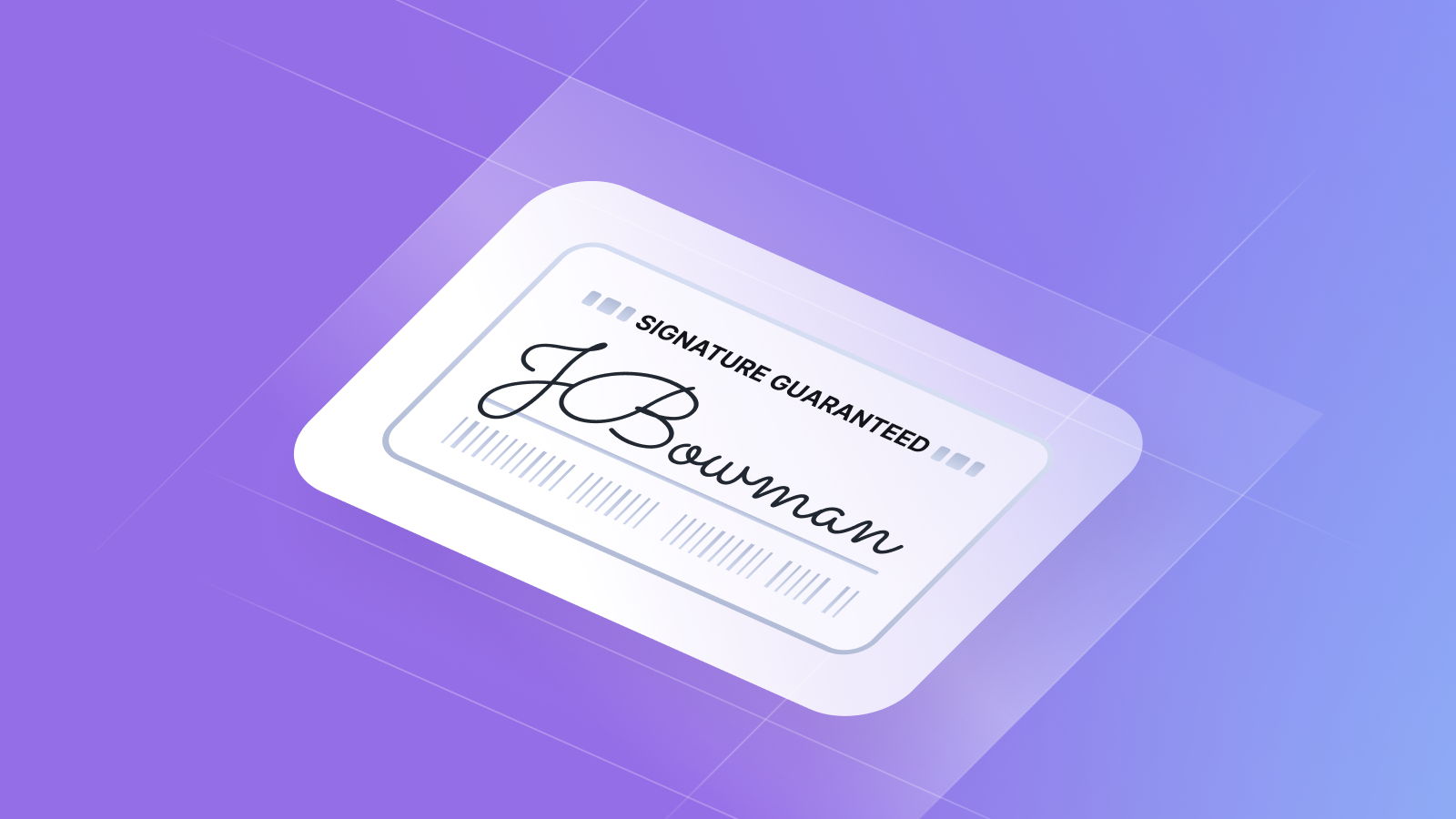 Fundraise Up provides the Medallion Signature guarantee, which is required for high-value stock transfers.
The Medallion Signature Guarantee is a program that is used to authorize high-value stock transfers. For stock donations — typically those that are valued at $15,000 or more — the Medallion Signature Guarantee is often a requirement.
Getting a Medallion Signature Guarantee can be a complicated and sometimes costly task. It requires extra, in-person steps for donors that add significant friction to the donor experience.
To remove this friction, Fundraise Up has become a certified member of the Medallion Signature Guarantee program. This means that we can authorize and seamlessly process stock donations of up to $1M in value.
The certification is an industry-first for technology companies serving the nonprofit space, and even across other industries, Fundraise Up is one of only two companies known to provide online Medallion Signature Guarantees.
Get started with Fundraise Up
If you're not yet using Fundraise Up and want to learn more about stock giving and how you can use it to engage donors, talk to our sales team. They'll fit a solution to your nonprofit's needs, provide you with pricing details and help you get started with the platform.
---
About Fundraise Up
Fundraise Up is a technology company unlocking the world's generosity potential by optimizing how people give. Our donation platform helps nonprofits engage more supporters and grow revenue by providing easy ways to increase conversion, enable modern payment methods, and personalize the giving experience for every donor. Fundraise Up is the partner of choice for UNICEF USA, The Salvation Army UK, American Heart Association, and other impactful organizations across the globe.
Stay connected
Get updates and insights delivered to your inbox