Exports View Item
Advanced exports are here! Easily get the exact export files you need, on a schedule or as needed.
The Exports tab of your Fundraise Up account provides you a one-stop shop for exporting your Fundraise Up data as CSV spreadsheets.
---
Files
The Files tab is the first tab you land on in Exports. Once you have run at least one export using a template, all of your previously exported Files will be easily and quickly available on this page.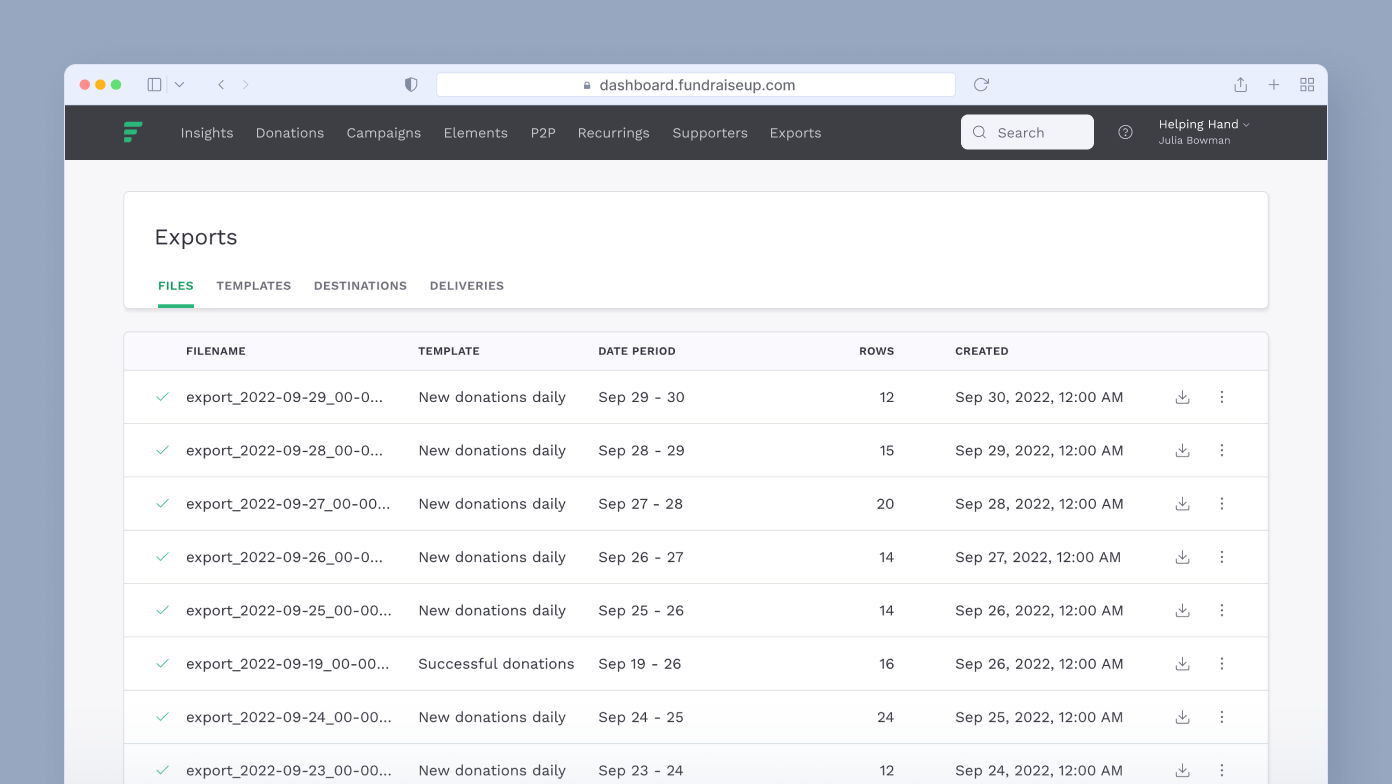 The leftmost column will show you the status of each File (either a checkmark to indicate that it is available, a clock to show that it is pending, or an X to show that it is unavailable).
The buttons on the right will allow you to download each File (if available), or remove it from your dashboard.
---
Templates
The Templates tab will show you a list of all previously-created Templates. A Template (short for export template) is where you define what data will be included any resultant Files, how the columns will be formatted, and what schedule it has for delivery to any destinations you've set.
To make a new Template, click the New Template button in the top right.
You can also edit any existing Template, clone it as a starting point for a new one, or remove it from your dashboard by clicking the three-dot menu button in its row in the list.
General Settings
Within the General Settings tab for a Template, you can set the Template Name, File Name, and Export Type.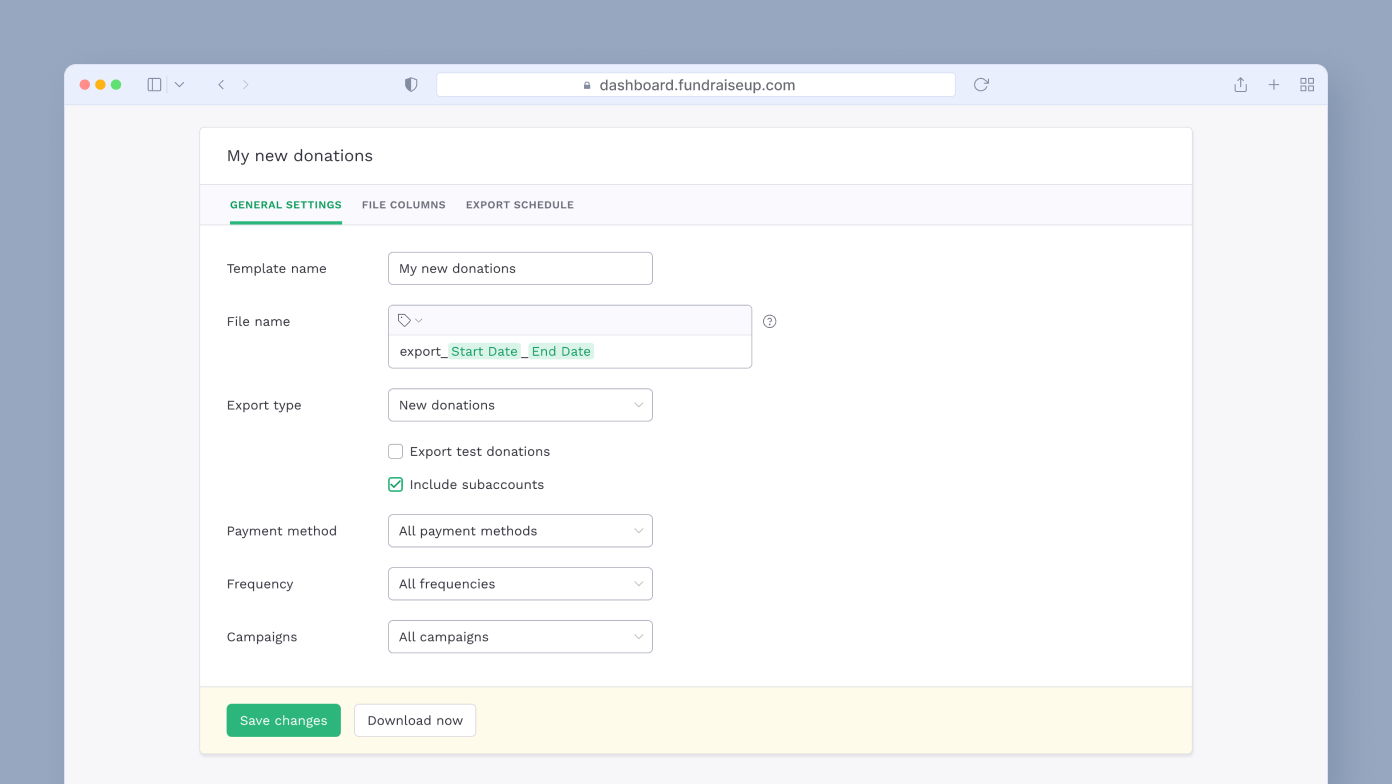 When you choose an Export Type for a Template, you're choosing a few things:
the type of records returned in each row,
the date field or fields automatically used for filtering any exports,
which additional filters are available to you further down on this screen,
and which columns of info are available in the File Columns tab,
Here's a breakdown of the Export Types, explaining what records they'll return:
New donations: Donations by Donation Date
Successful donations: Donations by Success Date
Refunded donations: Donations by Refund Date
Failed donations: Donations by Failed Date
New recurring plans: Recurring Plans by Recurring Began or Latest Reactivation Date
Cancelled recurring plans: Recurring Plans by Cancelled Date
Failed recurring rlans: Recurring Plans by Failed Date
Shared tributes: Tributes by Tribute Shared Date
New P2P fundraisers: P2P Fundraisers by Fundraiser Creation Date
So, for example, setting a Template to use the "Successful donations" Export Type and scheduling it to run weekly will cause it to export files each week that include Donations with a Success Date in the past week.
Based on your chosen Export Type, the screen offers options to filter the included data to include or exclude test data, subaccount data, specific payment methods, and specific frequencies of giving if applicable.
File Columns
The File Columns tab for a Template is arguably the most important; this tab is where you set what columns of information will actually be included in any exported files from this Template. When you first are creating a Template, we automatically add all standard columns based on your choice of Export Type.
You can:
drag and drop columns to control what order the columns will appear in,
use the trash icon on the right to remove a given column or use the Clear All button at the top to remove all columns,
add fields individually via drag or drop or clicking on them from the Available Fields,
adjust the data exported per-column, for example, Donation Date offers multiple date and time formats,
rename fields to assist with legibility and reimporting of information,
and apply presets to quickly include frequently needed combinations of fields.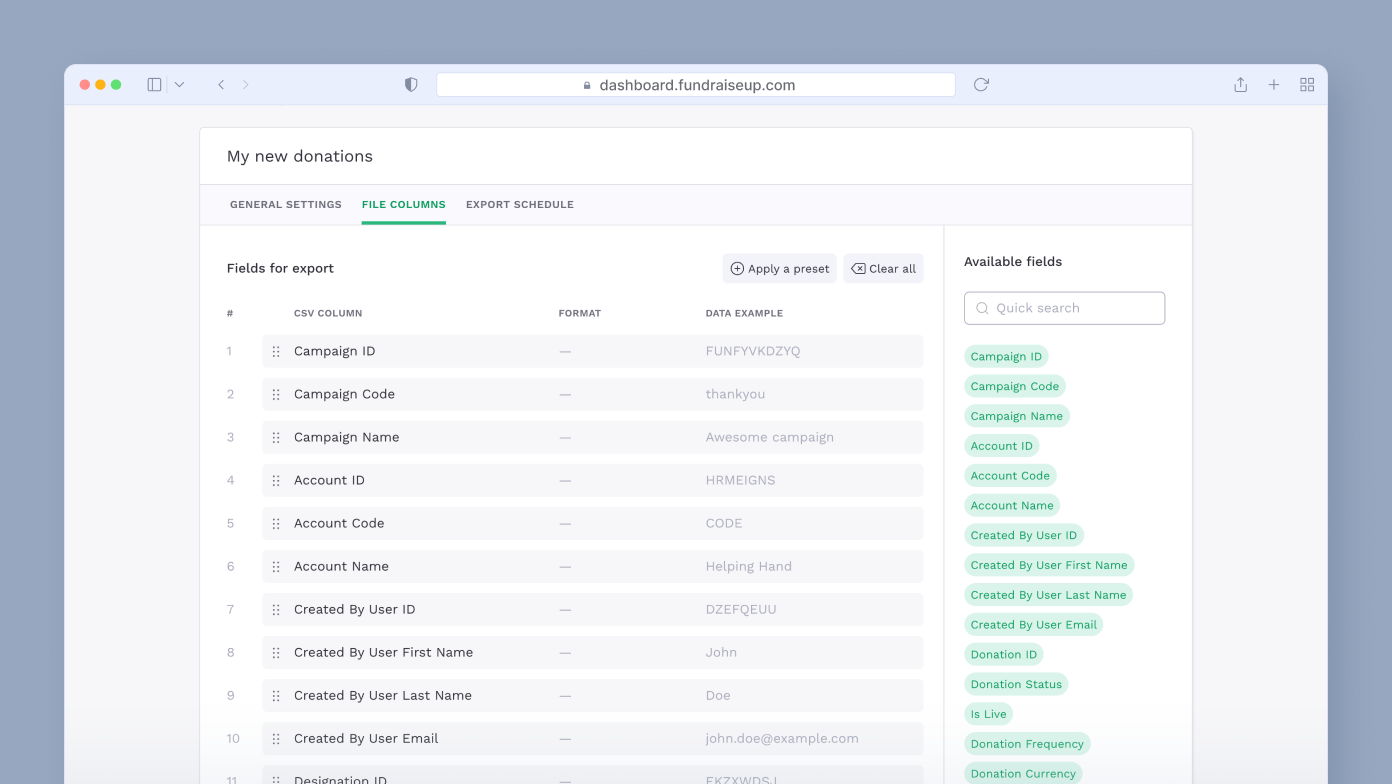 Questions
Please be aware that extra Questions asked of supporters during donation checkout or fundraiser setup will not automatically be in a new Export Template. To add Questions to an export, search for the Question needed in Available Fields (or scroll down), and drag it into the list of fields for export.
Once you've added a Question column, make sure you're getting the right value exported. Click the format dropdown in its row, and choose whether that column will contain that Question's:
Answer (meaning the supporter's response),
Question Code (meaning the internal name for that question),
or Question Text (meaning the label that shows publicly for that question)
To make it easier to see which Question a person is answering, you can either:
add each Question to the "Fields for export" list twice - one column to show the Code or Text, one column to show the supporter's Answer,
or, rename the column so that it says clearly what question was asked.
Export Schedule
The Export Schedule tab allows you to determine if this Template will create files on a schedule (at which time, they'd be available from the Files tab) and if those files should also be automatically delivered to one or multiple Destinations.
---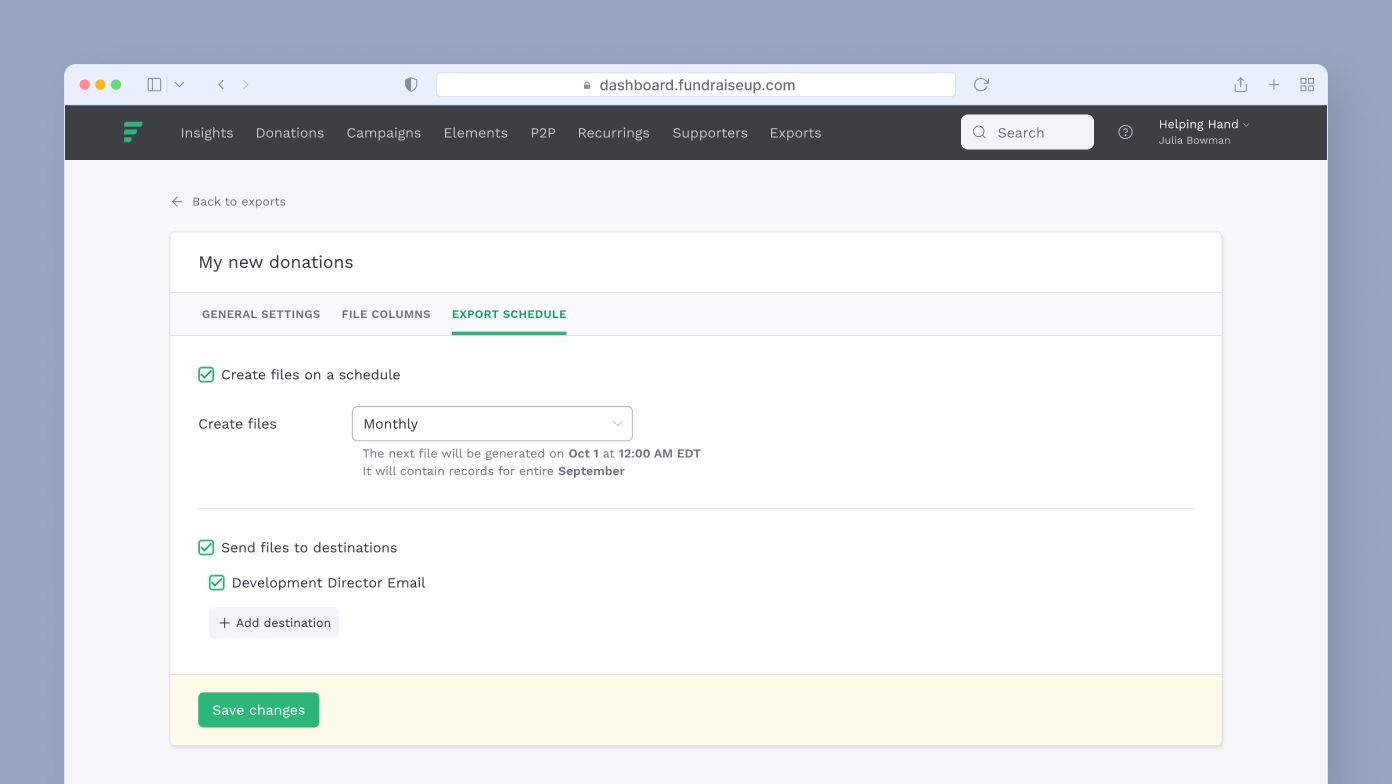 Destinations
The Destinations tab shows all locations to which a File can be delivered.

New Destinations can be added by clicking the New Destination button, at which time you'll be asked to specify the internal name for the Destination, the type (email or sFTP), and any needed information to deliver to that Destination.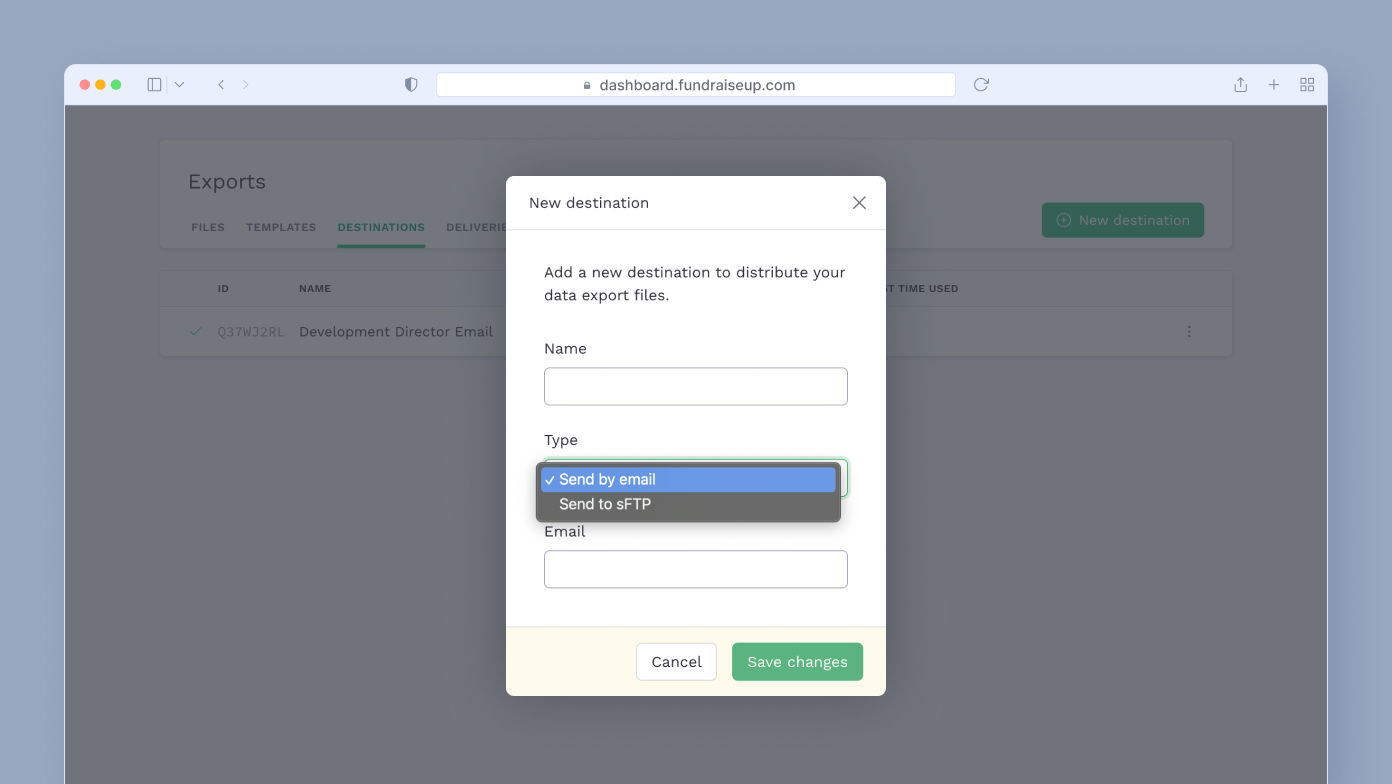 The leftmost column will show you the status of each Destination; if it's showing a checkmark, that means a Destination is considered available by the system to the best of our ability to verify.
The three-dot menu button on the right will give you options to edit or remove each Destination from your dashboard, as well as from any inclusion as a Destination for existing Templates that use it already.
Special considerations for SFTP
If your SFTP server is behind a firewall, you may need to pre-approve our IPs so that we can upload your exported files as needed.
Currently, our SFTP export traffic should come from these IPs:
1

135.148

.34

.150




2

135.148

.54

.19




3

135.148

.55

.166




4

135.148

.55

.169




5

135.148

.55

.167




6

135.148

.55

.174




7

135.148

.55

.176




8

135.148

.55

.175
---
Deliveries
Last but certainly not least, the Deliveries tab will show you all previous attempts to send an exported File outside of your Fundraise Up system.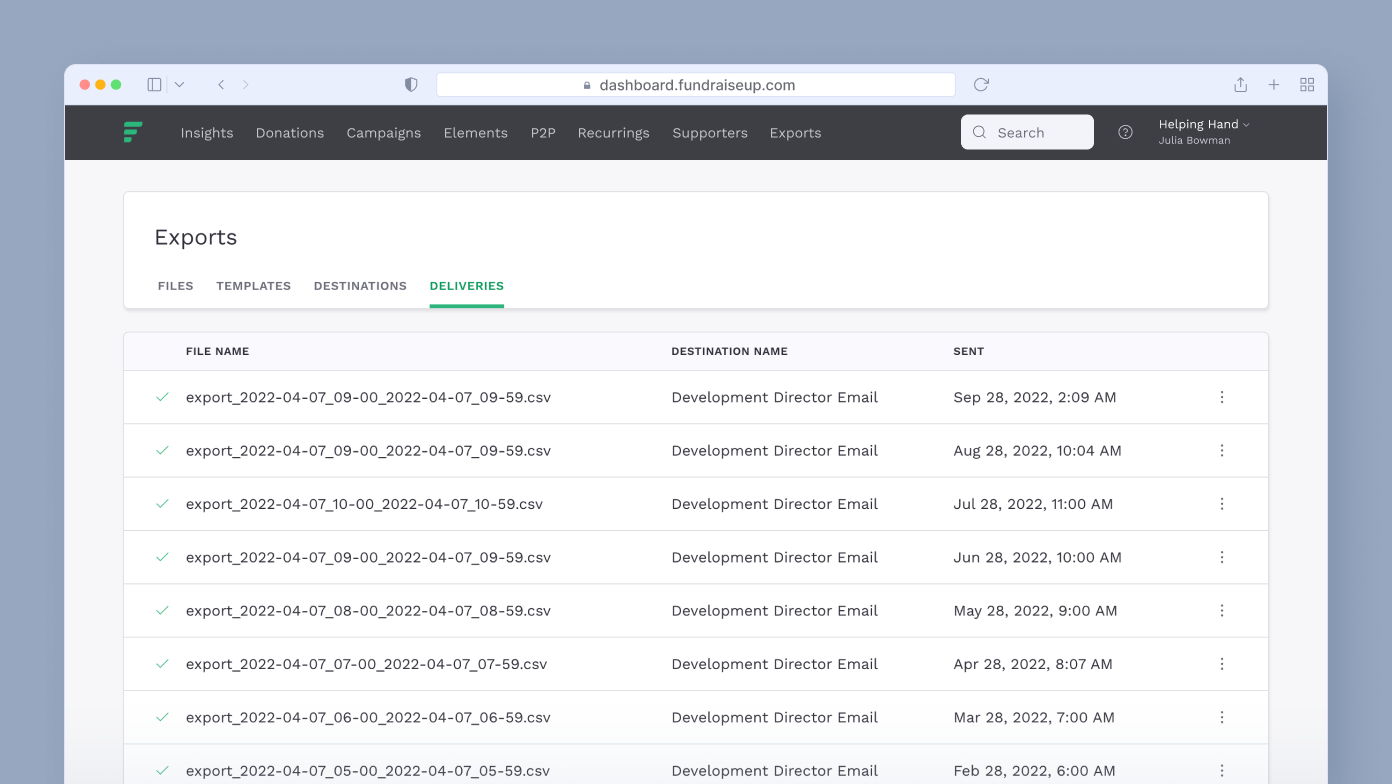 The leftmost column will show you whether each Delivery succeeded or failed, and the three-dot menu button on the right will give you options to retry the Delivery or remove it from your dashboard so it can no longer be attempted or retried.
---
Special Considerations
Donation Status shows the core statuses, not any of the substatuses. For example, Donations that, in the dashboard, show up as Retrying will show as "pending" in the Donation Status column because that's the main status.