Making and managing campaigns
Each Campaign allows you control over one avenue of giving, from the questions you ask to the emails you send. Whether you use one Campaign or many, it's vital to make sure you ask for what you need.
Campaigns, when active, allow anyone viewing their checkout form to make donations and provide information as you structure it. This article will guide you through:
---
Making a new Campaign
Making a new Campaign is so quick – just do the following:
Go to the Campaigns tab in your Fundraise Up dashboard
Click the New Campaign button in the top right of the dashboard
Set the Campaign Name and click the Create button.
Alternately, if you have a Campaign that's already got most of the settings you want, Clone that Campaign by going to the Campaign, clicking the Settings tab, and scrolling to the bottom to find the Clone button. A Clone option is also available in the three-dot menu for each row on the Campaigns tab.
We default to Campaigns being active when created, and set the most popular default options out of the box, so your new Campaign is may indeed be ready to go right away. However, we do recommend that you give at least the Checkout and Settings pages a quick once-over to make sure donations go into any integrated systems appropriately.
---
Reviewing a Campaign's settings
Clicking into any Campaign will take you right to that Campaign's Dashboard tab, so that you can review its information. The key settings that govern Campaign behavior are on the Checkout, Settings, and Emails tabs.
Checkout tab
The Checkout tab doesn't just control money - it controls everything around checkout behavior. From this area, you can manage the following:
Currency
Set your default currency for multiple checkout configuration options, including the transaction itself, processing fees, and suggested giving amounts.
Recurring Giving
Set your default giving option between a "One Time" or "Monthly" donation in your widget.
You also are provided 2 Upsell options targeted at one time donors, with the aim of getting them to replace or supplement their contribution with a recurring gift, which can be enabled by checking either or both of the following options:
Suggest a recurring gift before checkout
Suggest a recurring gift after checkout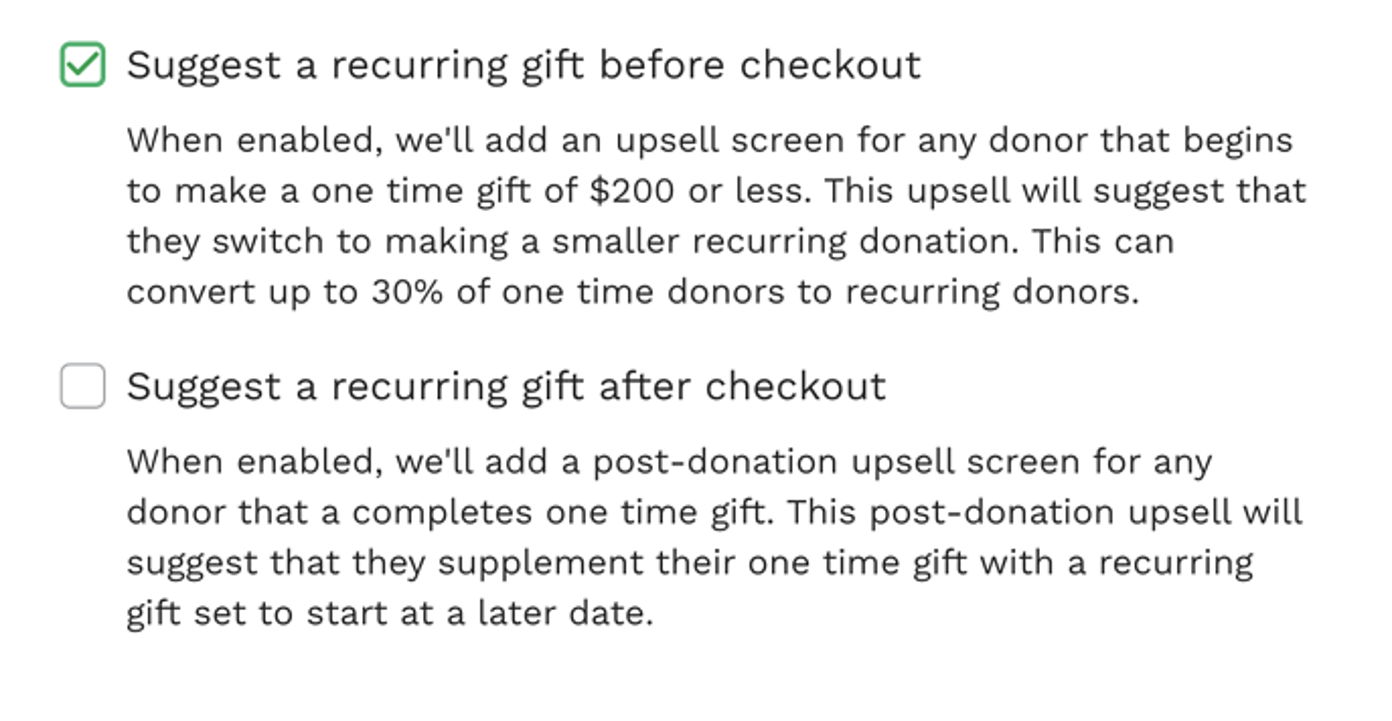 Suggested Amounts
Set your suggested donation amount presets for both One Time and Monthly donations in your widget. Here you can set six (6) suggested donation amounts on your widget, including a default donation amount for One Time and Monthly donations.
This is also where you can enable personalized suggested amounts and take advantage of our machine learning to present the "right sized ask" to each donor.
Minimum Amounts
Enforce a minimum donation amount to prevent credit card fraud on online transactions. We recommend setting that to ~ $5 USD.
Designations
Enabling gift Designations will give your donors a dropdown during checkout that allows them direct their gift to a specific program or initiative. You can also set the default Designation option during checkout, and it's even possible to select different default Designation for one-time vs recurring donations.
Once you've created Designations, they can be centrally managed on the Designations page of your account's settings; for more info, see our Managing Designations article.
Tribute
Enable Tributes to allow your donors to give in honor or in memory of a loved one. This is also where you can control tribute notifications and choose to send the following:
Tribute Email: You can edit and customize your Tribute e-card in the "Emails" tab of your Campaign
Postal mail card: Your donor will be asked to provide a mailing address where the tribute notification should be sent and your organization can send the card via postal service.
Comment
Allow donors to add a personal note to your organization upon completing their transaction.
Fees
This is where you give your donors the opportunity to cover processing fees in the checkout process. By including processing fees in the donation amount, we are transparent about the fees associated with making an online donation.
You have the option of the following default settings in your widget:
Require that your donors cover the fee
Give your donors the option to cover the fee (default to yes)
Give your donors the option to cover the fee (default to no)
Don't allow your donors to cover the fee.
When enabled by default, donors using Fundraise Up are willing to cover the fees 92% of the time.
Company Matching
Allow your donors to double their impact using employer matching gifts.
Enabling this feature will ask your donors to provide the name of their employer to verify that their donation can have an additional impact, and Fundraise Up will send all donations to Double the Donation 360MatchPro for processing.
Supporter
Here is where you can choose to collect more personal information about your donors after a transaction is completed, including:
Phone number
Option to donate anonymously
Option to give on behalf of a company.
Mailing List
Give your donors the option to subscribe to your mailing list after a transaction is completed.
Terms & Conditions
Provide links to your Privacy Policy and/or Terms & Conditions. When enabled, your donors will have to agree to accept your terms in order to complete the donation.
Please review and edit the provided stock text, as it includes example links to pages that should be replaced with the real URLs of any real pages where you display your terms & conditions and/or privacy policy on your website.
Questions
Use Questions to collect additional information from your donors after a transaction is completed.
Ask
Use the Ask Page to add custom imagery, branding, and links to your widget and personalization to your Campaigns.
Sharing
Give your donors the option to share your Campaign on social media. Here is also where you can customize the message that appears along the social media share.
URL
Customize a direct checkout URL to bring donors directly to your checkout form. When a donor clicks on the custom URL, they will be redirected immediately to your checkout form.
Settings tab
The Settings tab allows you to set key info about the Campaign itself, as well as giving you buttons to Disable (at which point, any links to it follow your global settings' Disabled Campaign Behavior) or Clone the Campaign.
The Offline section allows you to count donations not made via Fundraise Up (either front-end or via the Virtual Terminal). That way, your checks and cash received can be factored in to any counter or thermometer Elements you show on your website.
Custom fields allow you to define a field to show on each donation made to a campaign. On each donation, the field can be blank, filled with the default value, or filled with another value by using the name of that field as a URL parameter.
Emails tab
Our email tools provide easy automation of post-donation emails. We cover Emails in more depth in the Emails section of our Campaign documentation.
---
Should I re-enable Campaigns?
There is no harm in enabling Campaigns you've disabled previously, but it is worth reviewing their settings first! A possible pitfall is the reactivation of a Campaign that uses designations or custom fields that have year-specific information.
One great reason to disable and re-enable a Campaign is to manage perennial Campaigns that you show and hide seasonally, so that you could have a counter or thermometer Element that shows your aggregated goal and process across all years.