It takes a village… for 2023 fundraising success
Apr 13, 2023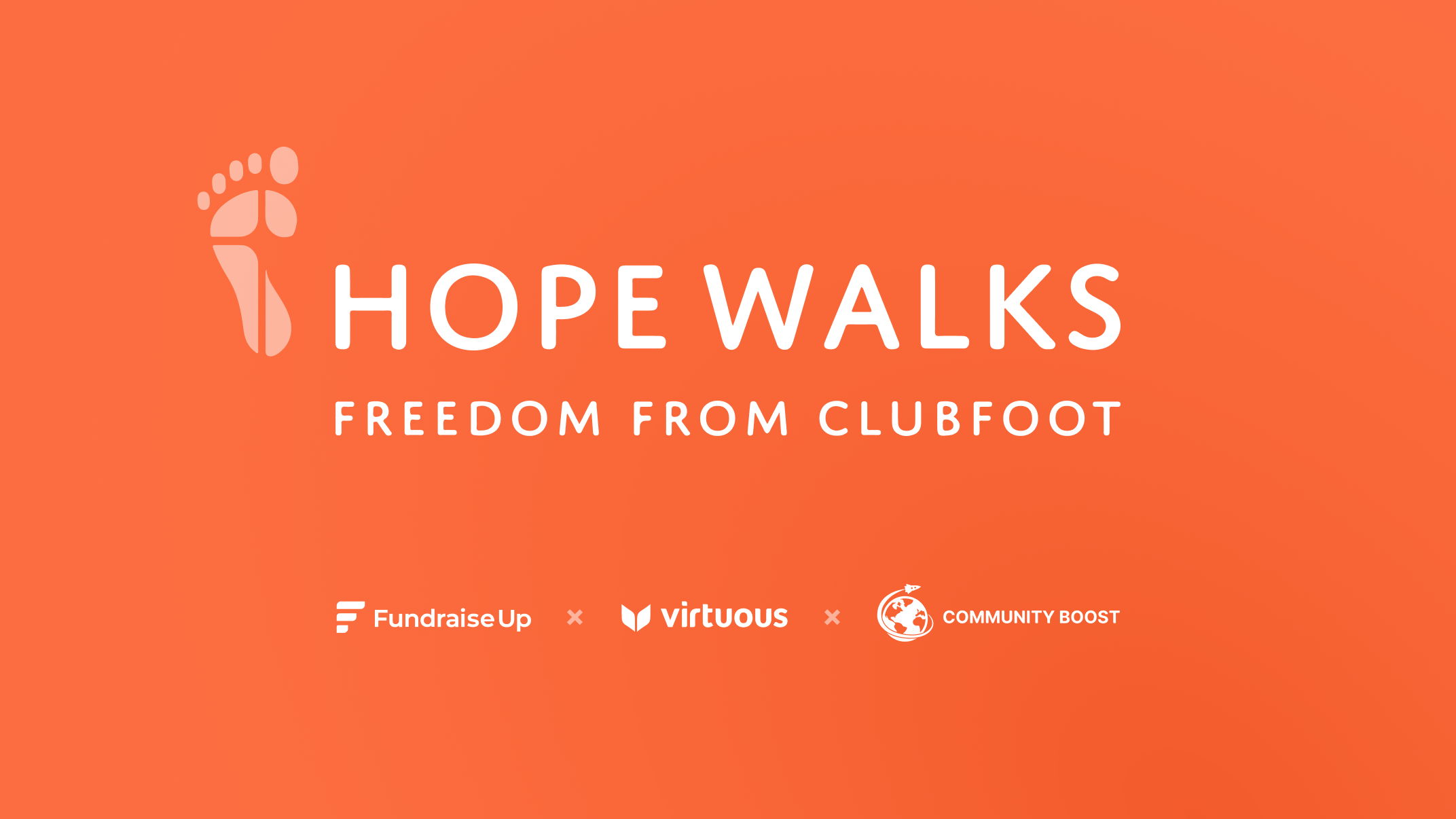 Senior Partnerships Manager
If you've ever been employed by a nonprofit organization, you've worn many hats. The skills required for a digital-first workforce are vast.
Similar to synchronized swimming the technological components for any campaign have to be in alignment to track, analyze, and report on individual fundraising tactics.
Otherwise, how will any modern organization learn, improve, and build on previous efforts?
It may sound trivial, but it takes a village for today's nonprofit organization to be successful. Regardless of size, all organizations rely on their technology and agency partners to help them realize a return on their investment.
For Hope Walks, Fundraise Up's online giving tools and Virtuous' nonprofit CRM proved to be the partners they needed for fundraising success.
Hope Walks
Steve Robinson, Hope Walks' Marketing & Content Manager, oversees the communication and marketing village that supports the organization's growth plans.
Hope Walks is the largest Christian provider of clubfoot care in the world. Since the organization independently formed in 2019, Hope Walks has used a combination of tools and partners to pair quality clubfoot treatment with compassionate care from clubfoot clinic parent advisors.
We became an independent organization in 2019 and have seen tremendous growth due to our partnership with Virtuous and Fundraise Up. The combination of tools has empowered us to grow our base of supporters from just a few hundred to more than 3,500 today.
Campaign
As a team of one, and the wearer of many hats, Steve manages the coalition of partners for the creation and execution of any campaign. And, the 2022 year-end campaign, "Walking free from disability," was the most ambitious yet.
The December 2022 fundraising goal was $250k. To break through the year-end noise, Hope Walks knew they needed a multichannel strategy for their campaign. The year-end campaign was the signature fundraising campaign that leveraged Giving Tuesday as the official kickoff.
The village that supported Hope Walks was grounded by Virtuous, a responsive fundraising CRM that has been with the organization since 2020. A partnership with Fundraise Up allowed for the seamless integration of online and offline donor data.
A Giving Tuesday campaign was not new to Hope Walks. In fact, previous years' efforts had surpassed the last week of the calendar year. In partnership with Community Boost, a digital marketing agency, the plan was to "warm up" the audience with a November social media push.
We're a young organization. With only nine US staff in programs and development, we appreciate the expertise of our partners to ensure every child has a chance to walk.
Mission-oriented videos and creative was developed and deployed in partnership with Community Boost. One week prior to Giving Tuesday, efforts were ramped up with more poignant asks, emails, and Facebook buys – a first for the organization.
Rally Corp, human-centered mobile messaging™ platform, was enlisted to expand reach, deepen engagement, and drive results. Though the organization had used SMS previously, incorporation of the communication channel at year-end was a fundraising first for Hope Walks.
Results
Across the nonprofit sector, fundraising was largely flat in 2022. A downward economy tempered the results for many organizations. Despite these odds, Hope Walks raised 35% more money in December 2022 over the previous year.
There was no significant change in strategy, but "really an evolution" asserts Robinson. He continues, "no texting in 2021, so we did it in 2022". This iterative approach allowed the organization to grow and expand while testing a new tactic.
SMS is the wave of the future. And for us, the results were very encouraging. It's another tool in our fundraising belt.
Looking to the future
As the organization prepares for 2023 they will be adding more mobile to their fundraising campaigns by utilizing Virtuous' native SMS tools in the upcoming year. With the addition of the native SMS tools, Hope Walks will have the tools they need to truly implement responsive multi-channel communications out of their nonprofit CRM.
After such a successful year-end campaign in 2022, the future looks bright for Hope Walks. With the right tools in place, they are well positioned to generate more generosity than ever in 2023.
Stay connected
Get updates and insights delivered to your inbox