How an optimized giving experience can help you recruit more year-end donors
Dec 6, 2022
The busiest time of the year for giving has arrived, which kicked into high gear on GivingTuesday and will go all the way to the last of the year — December 31. With more than a third of annual giving occurring in December and 12% of total donations received on the last three days of the year, many nonprofits prep their campaigns months in advance in hopes of exceeding their revenue goals for the year.
During a time of the year when generosity is at its highest, we've seen December giving grow significantly year over year. Looking at this year's GivingTuesday, US nonprofits collectively raised $3.1 billion, a 15% increase from 2021 and 25% from 2020.
Our data at Fundraise Up also shows a notable uptick in December giving from 2020 to 2021.
Giving trends from January 1, 2020 to October 1, 2022 with notable jumps in December 2020, December 2021, and March 2022.
How a forecasted recession might affect year-end giving
With high inflation rates and fears of a coming recession, many are concerned about how these economic factors will impact charitable giving. While we won't make any predictions about what is to come, what we can do is look back at past economic downturns to understand what to expect for the remainder of this year.
The pandemic caused both a public health and economic crisis, but what we saw was that the generosity of Americans never wavered. In fact, Americans gave an all-time high of $488 billion in 2020. And despite surging inflation rates following the pandemic, US giving only slightly dipped in 2021 totaling $485 billion.
As the possibility of a recession enters the fold, what we've learned from the past is that people have more reasons to give to charitable causes because of the increased need. Research from Fidelity Charitable finds that 59% of donors may be willing to give more this year — with a majority concerned about nonprofits amid threats of a recession.
If your organization is concerned about a slight dip in giving this year-end, now is the time to focus on improving your donation experience. With so many people browsing the web looking for ways to give back this holiday season, it's your chance to catch the attention of these website visitors and convert them into donors.
Double down on the giving experience
Our research at Fundraise Up tells us that seven in 100 donors actually click a donate button, and of those people, only one will complete their donation. This high abandonment rate is caused by points of friction in the donation process, such as page load time, too many data fields to fill out, generic giving levels, limited payment options, etc.
While there are supporters who will fill out lengthy donation forms and give to nonprofits, these organizations are not tapping into the potential of how much donors could give if the experience was better optimized, quick, and simple to complete.
Let's explore this a bit further.
The truth is, your donors are already receiving personalized and simplified online experiences with their favorite brands. These are the brands that your donors are loyal to and will return to time and time again. To garner this type of loyalty, nonprofits need to consider the quality of these experiences and find ways to mirror them.
The good news is that you still have time before December 31, but time is moving quickly so now is the time to evaluate your nonprofit's current donation experience.
Consider these questions:
How long does it take to complete a donation?
Are there too many required data fields?
Is there a recurring giving option so that one-time donors can upgrade their contributions?
Do you offer multiple payment options other than using a credit card — like digital wallets, crypto giving, and stock giving?
Is every donor receiving the same experience — generic messaging, donation asks, and payment options?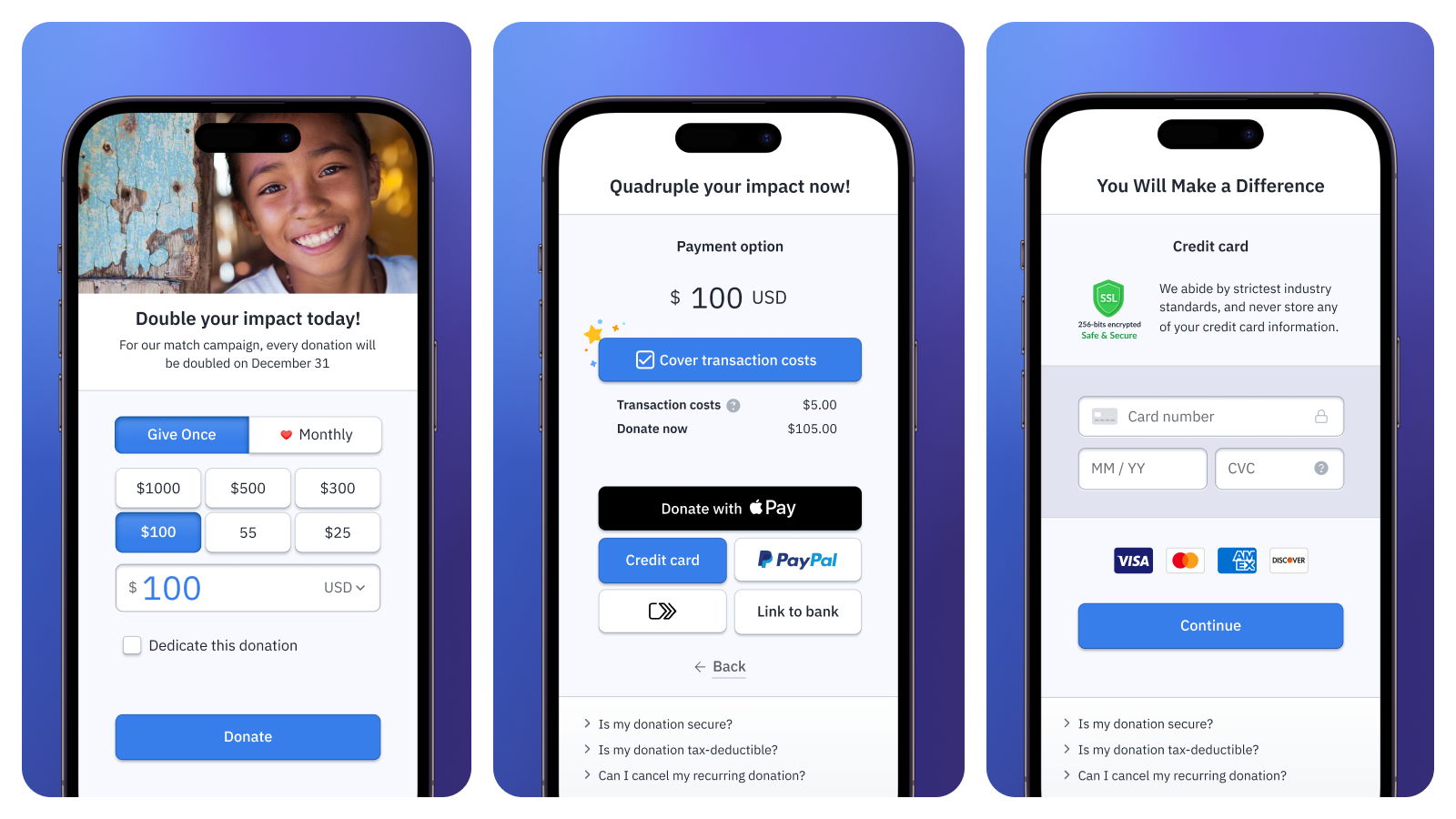 Bottom line: Your donors deserve a unique giving experience. When donors know their experience was tailored specifically for them, you build trust with them and they will want to play a bigger role in your organization.
At Fundraise Up, we understand how your organization can cater to every donor's preference. That's why we optimize the giving experience with your donor in mind to include personalized donation asks and payment methods based on device or geographic location.
To learn more, watch our recent live session on year-end digital recruitment strategies.
---
If you're interested in how Fundraise Up can help you optimize your giving experience to boost conversion this year-end, schedule time with one of our team members.
Stay connected
Get updates and insights delivered to your inbox