Introducing Adaptive Cost Coverage, an AI-Driven Feature That Increases Conversion and Revenue
Oct 24, 2022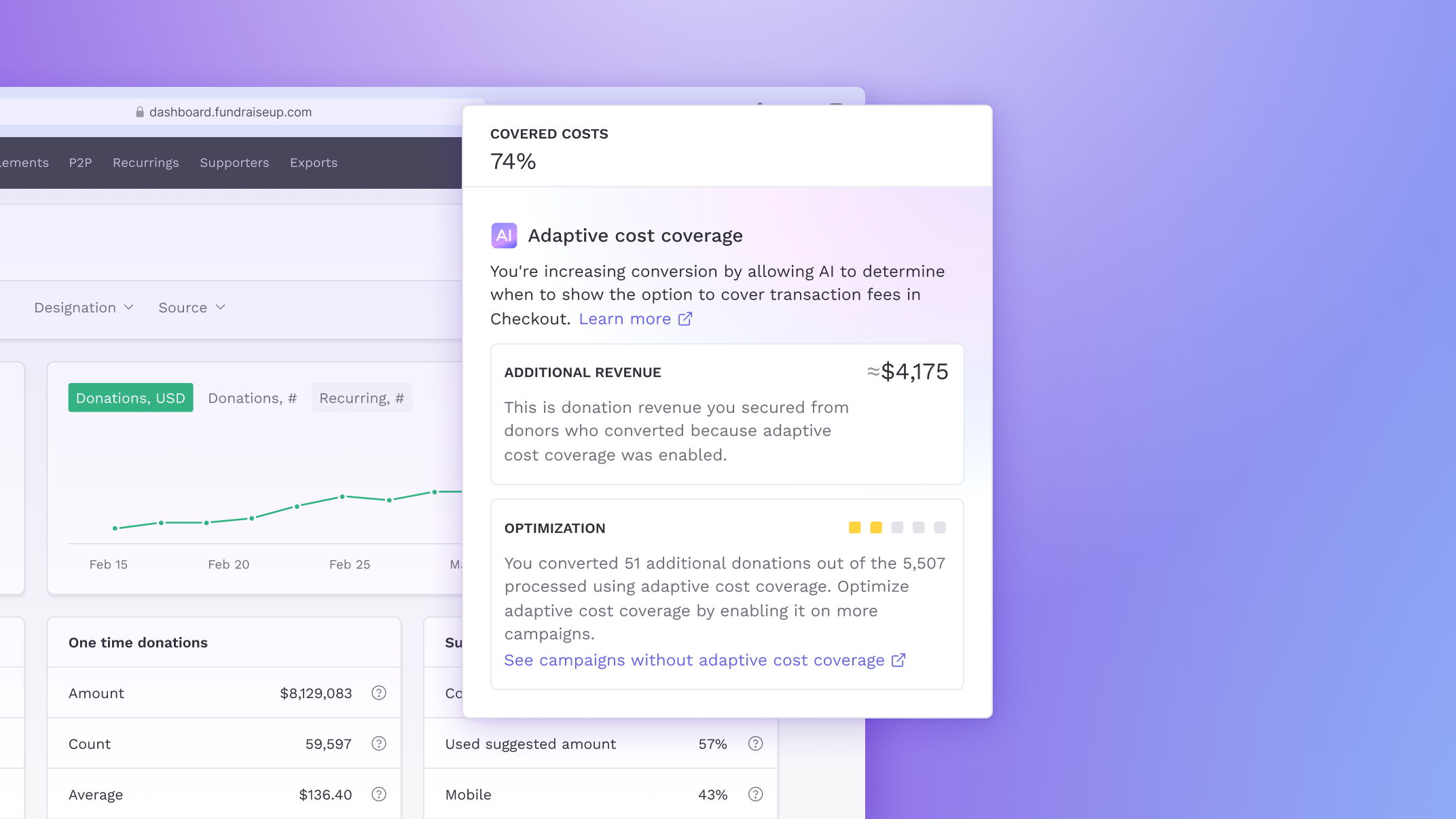 Head of Product Experience
Nonprofits using Fundraise Up can now enable adaptive cost coverage, a feature that uses artificial intelligence to determine which donors should be prompted to cover the fees for their donations.
Adaptive cost coverage is designed to increase conversion, and early results show a jump in conversion rate and a notable increase in donation revenue when the feature is enabled.
Previous research by Fundraise Up found that while a majority of donors are in favor of covering processing fees for a nonprofit — 92% of donors do when donating using Fundraise Up — there are some occurrences where the ask has a negative impact on conversion.
With adaptive cost coverage enabled, nonprofits can look forward to:
Increased overall conversion (+5% from early tests)
Increased online donation revenue (+4% from early tests)
Higher conversion on larger donation sizes ($1,000+)
Adaptive cost coverage can be toggled on for any standard currency Checkout. There is no additional cost to use the feature.
Learn more about AI-driven features like adaptive cost coverage on the Machine Learning page of our website.
---
About Fundraise Up
Fundraise Up is a technology company unlocking the world's generosity potential by optimizing how people give. Our donation platform helps nonprofits engage more supporters and grow revenue by providing easy ways to increase conversion, enable modern payment methods, and personalize the giving experience for every donor. Fundraise Up is the partner of choice for UNICEF USA, The Salvation Army UK, American Heart Association, and other impactful organizations across the globe.
Stay connected
Get updates and insights delivered to your inbox