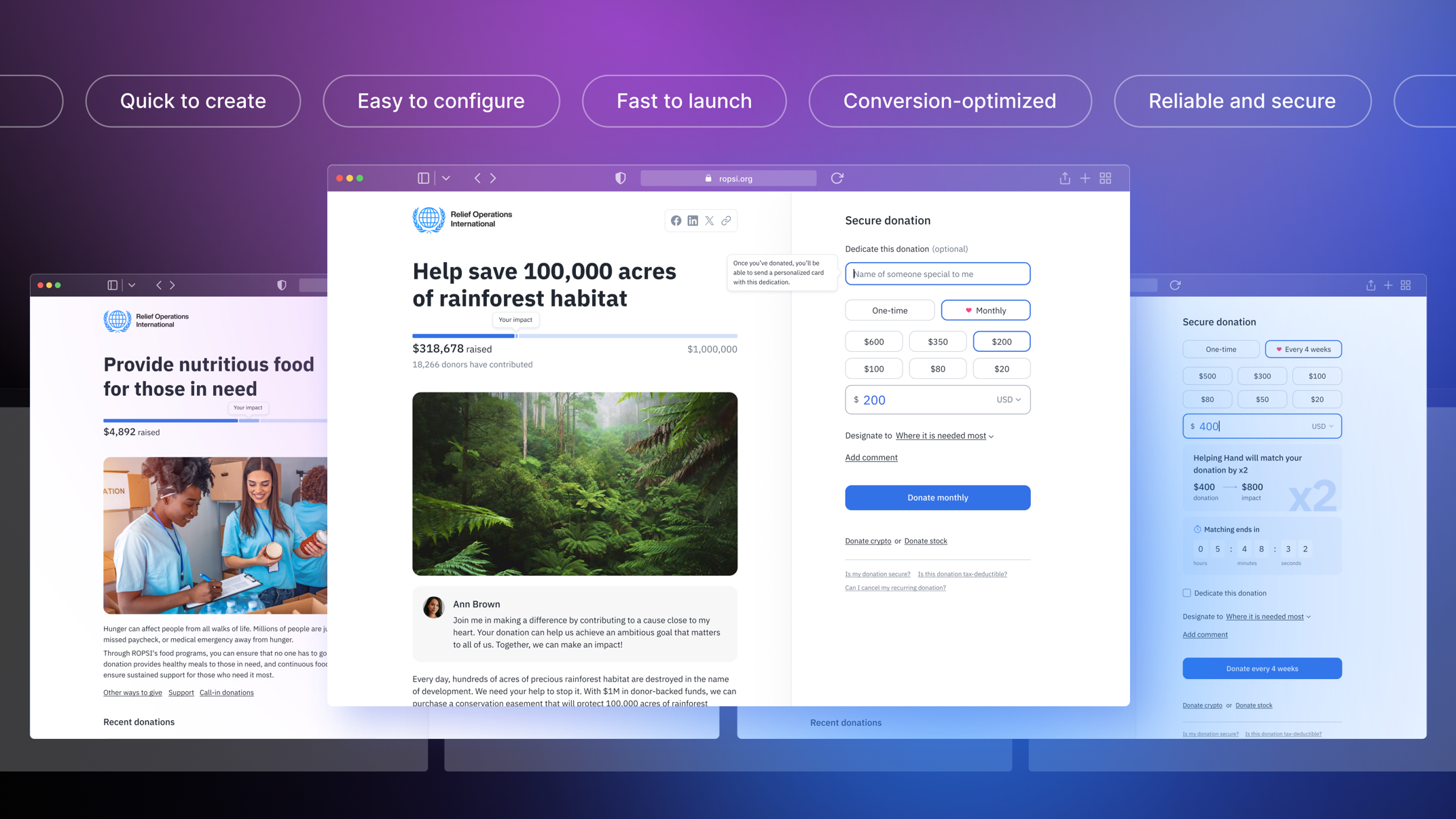 Product Marketing Manager
Big news! We've just released Campaign Pages, a new feature for building and launching donation pages using Fundraise Up.
Whether you need donation pages for general fundraising, special events (like GivingTuesday), digital advertising, or virtually any other type of campaign, Campaign Pages has you covered.
Create, configure, and launch donation pages in minutes
Say goodbye to long turnaround times for creating donation pages. With Campaign Pages, you can easily create and configure donation-optimized pages in just minutes, saving you time, effort, and resources.
Every Campaign Page you create renders perfectly across mobile and desktop devices and is designed to guide donors through an effortless and enjoyable giving experience.
Preconfigured with optimal fundraising settings, there's little setup work you need to do with Campaign Pages. Simply toggle features on or off based on your campaign needs and begin converting donors in minutes.
Show fundraising progress with a goal meter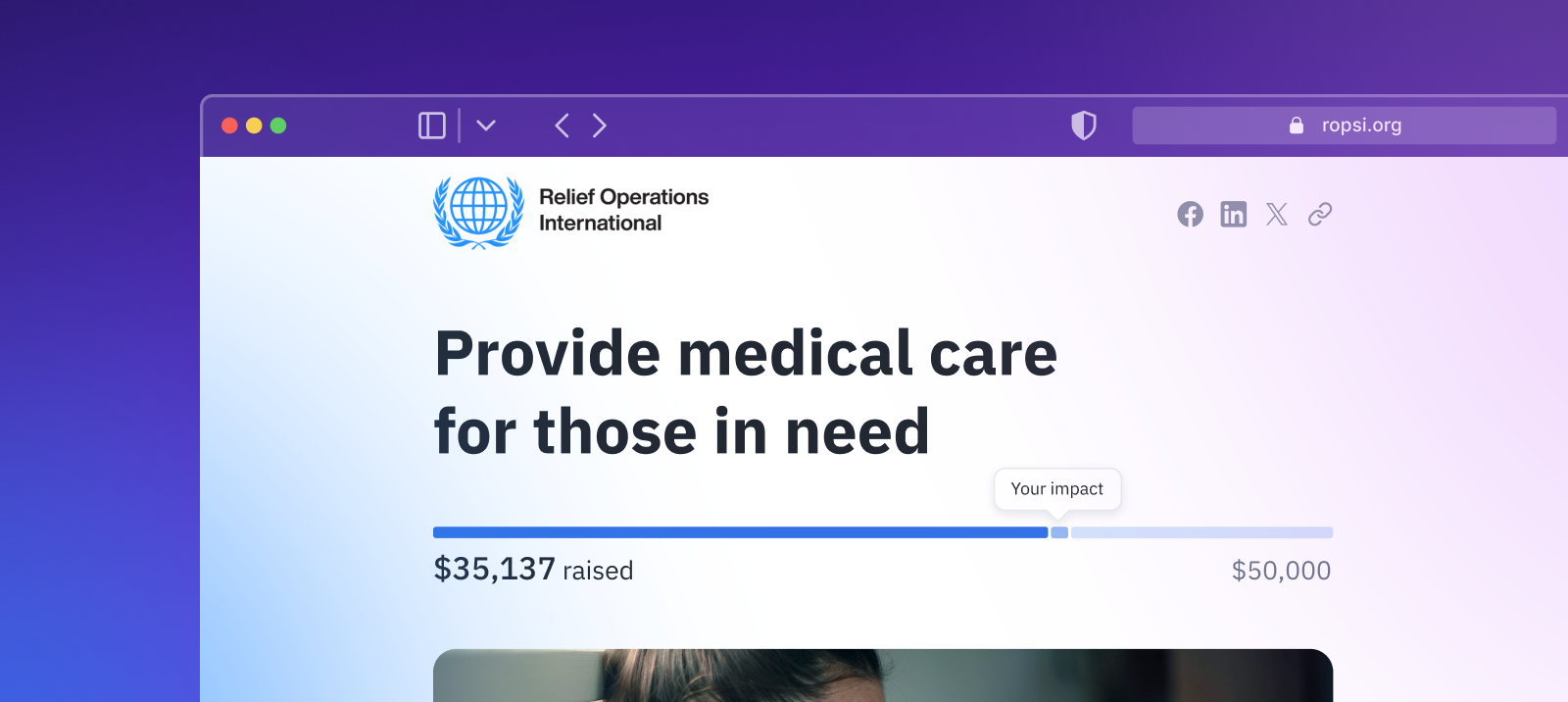 The built-in goal meter shows donors their impact and your organization's progress toward a fundraising goal.
Toggle on the campaign goal option to show donors the impact of their support. The goal meter updates automatically as you receive donations and can include offline amounts to represent support gained through other channels.
Demonstrate social proof with the recent donations feed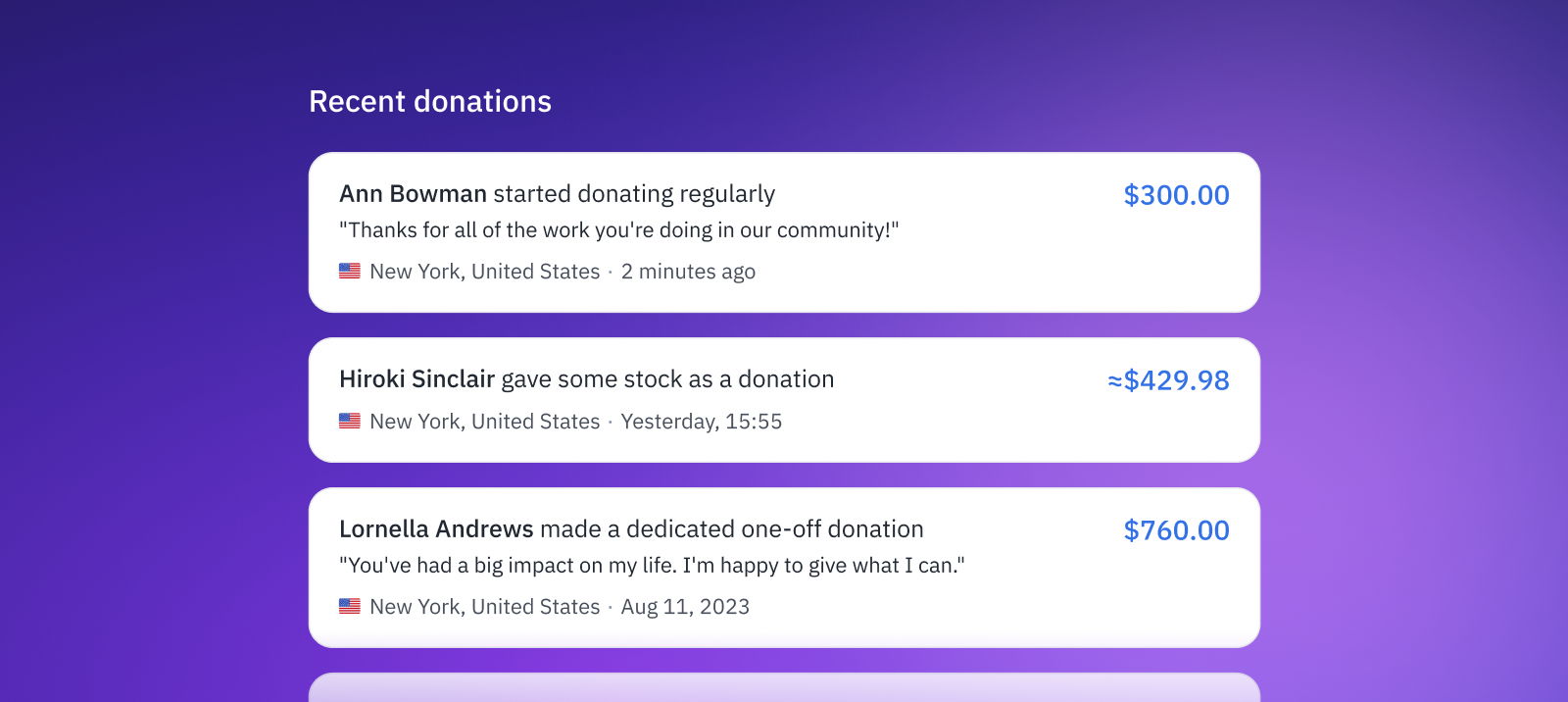 The Recent donations feed is a powerful social proof tool that encourages supporters to donate.
Include an auto-updating feed of recent donations to inspire giving. You can configure the feed to show details like the name of the donor who gave, the donation date and amount, and even the donor's general geographic location. Currency settings enable you to customize the display of donation amounts in the feed — perfect for engaging donors from every part of the world.
Multiply impact with rate matching campaigns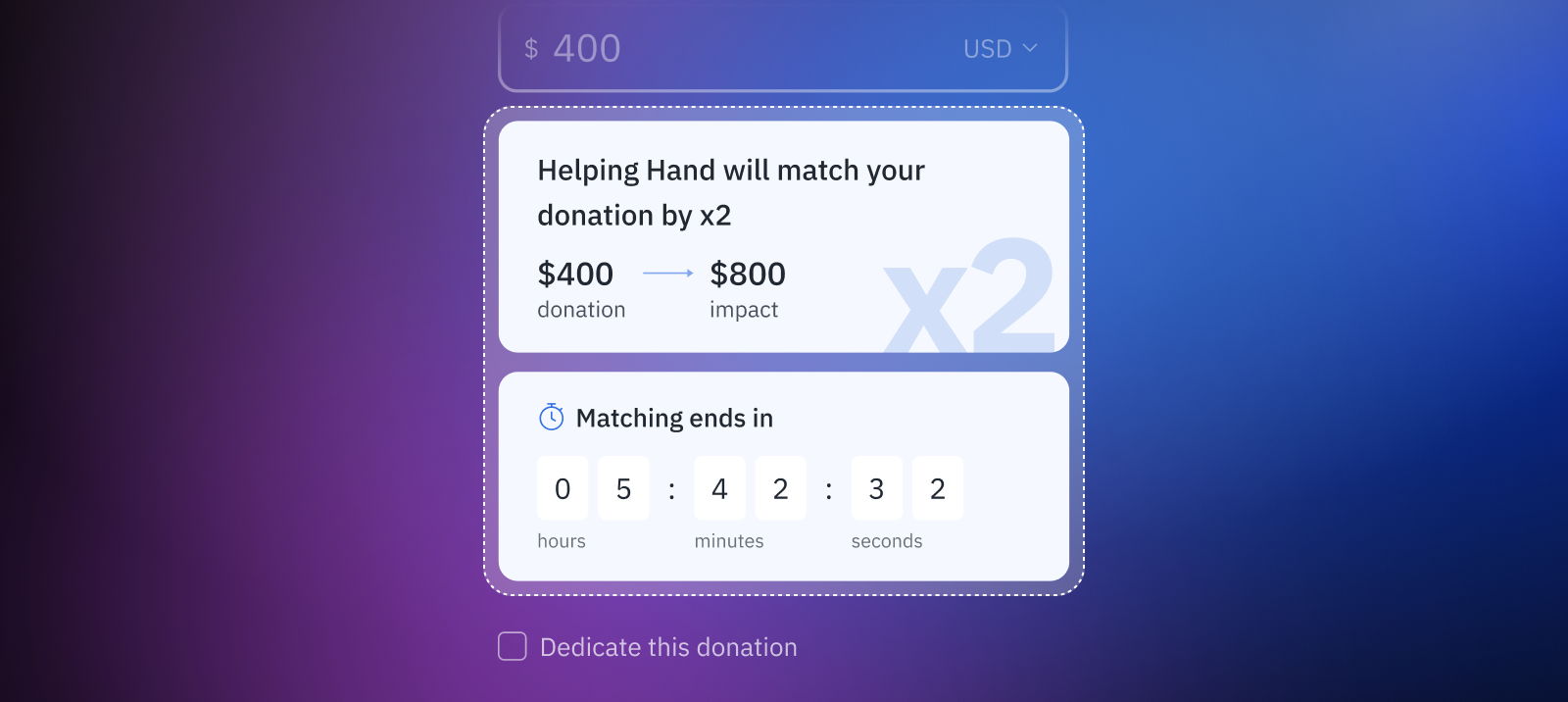 With the new rate matching feature, you can engage donors with match or challenge campaigns.
Engage donors with match or challenge campaigns. Using the new rate matching feature, you can call out donation matching opportunities directly on your donation pages. Add a matching rate to calculate the impact of a donor's gift, set minimum match amounts, and configure match dates to display a live countdown to the match end date. You can even include a match sponsor name to create meaningful brand awareness for your organization's fundraising partners.
Raise more with conversion-optimized donation pages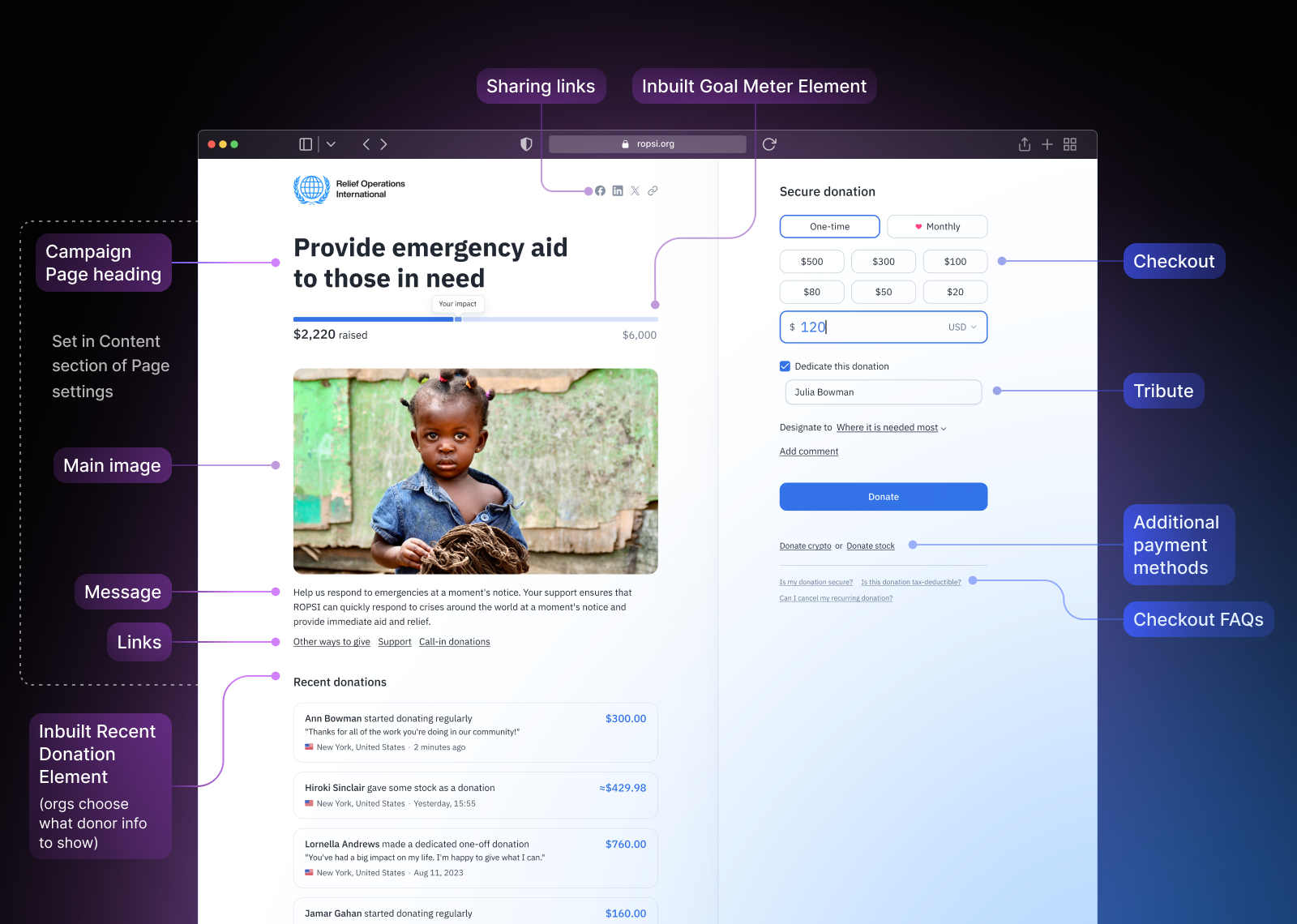 Campaign Pages include powerful optimizations that increase conversion.
Just like Checkout Modal, Campaign Pages can be configured with an array of fundraising optimizations that increase conversion and lead to greater giving.
Use Campaign Pages to accept standard, money-based donations while also seamlessly integrating stock, crypto, and 135+ currency options into a single-page giving experience.
And because Campaign Pages leverage the same standard-setting AI-optimizations that power Checkout Modal, you can provide donors with personalized ask arrays and intelligently present opportunities to convert to recurring support.
With support for more than 20 language translations and a selection of region-specific payment methods, Campaign Pages also give your organization further reach and the ability to engage diverse communities at home and abroad.
Fundraise with features built with your team in mind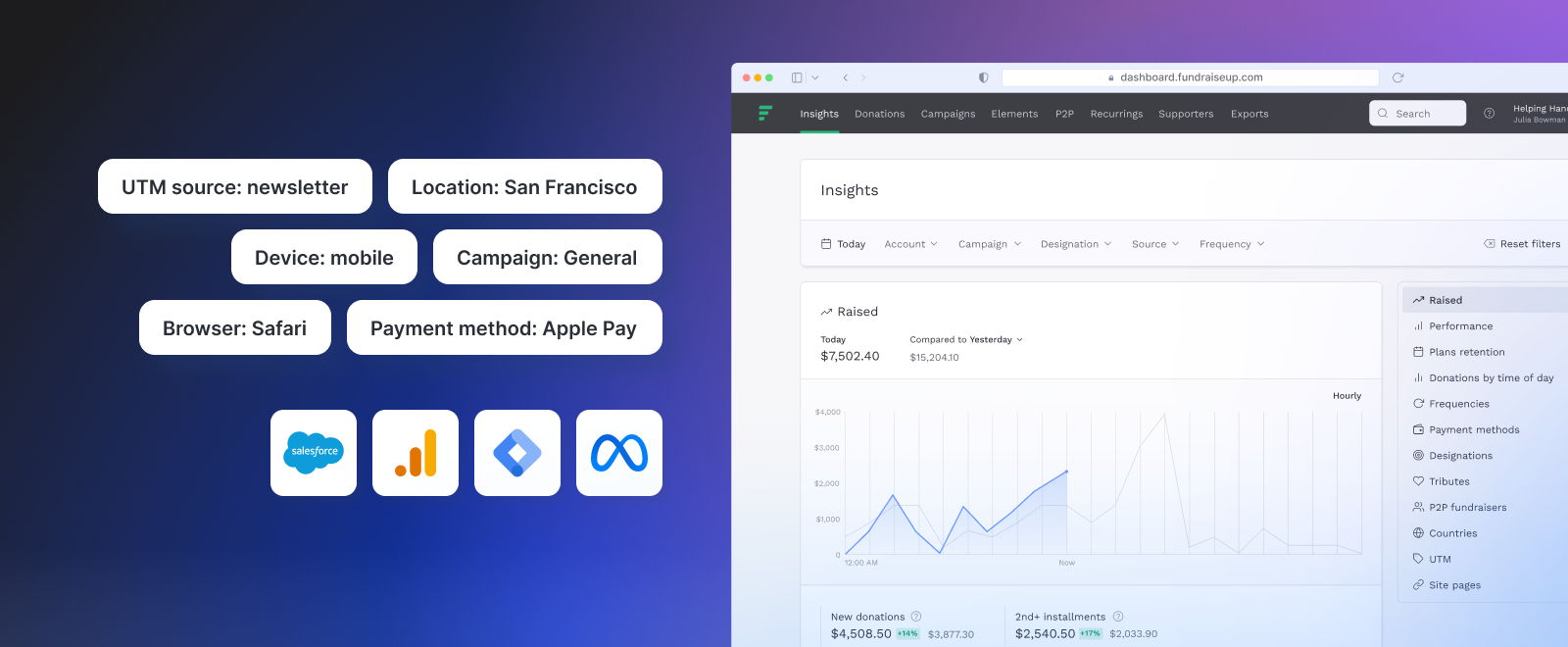 From lead fundraisers to heads of compliance, there's a checked box for everyone. Campaign Pages are built to meet the needs of every team at your organization.
Check every box with Campaign Pages, the only tool for creating donation pages that empower fundraisers, satisfy compliance officers, and make the marketing, finance, and IT people smile.
Flexibility for fundraisers
With Campaign Pages, fundraisers have all of the tools they need to create effective campaigns. Campaign Pages effortlessly handle general giving, help grow recurring support, and serve personalized experiences for P2P fundraisers and tribute giving.
Not only can Campaign Pages support your everyday fundraising objectives, it's a powerful asset when the stakes are at their highest. Supporting up to 200 real-time transactions and boasting unmatched uptime and reliability, Campaign Pages provide perfect performance during important events and high-volume days of giving like GivingTuesday and December 31st.
Powerful tools for marketers
Campaign Pages are the perfect endpoint for your marketing team's digital campaigns. With Campaign Pages, you can create an unlimited number of donation pages tailored to specific audience segments, allowing you to experiment with, refine, and optimize funnels for any online channel.
And it's not just your team's digital work that benefits from Campaign Pages. Use Elements like QR Code to create scannable, trackable touch points on direct mail pieces that route donors to Campaign Pages.
Multiple integrations with tools like Google Tag Manager, Google Analytics 4, and the Meta Pixel close the loop on reporting, segmentation, and audience building. With Campaign Pages, you have a complete solution for digital-first fundraising.
And with support for custom subdomains, you can ensure that the donation pages and links you share with donors are familiar and aligned with your brand.
Safety and security for IT and compliance teams
Behind the scenes, Campaign Pages check all of the important boxes for your IT and compliance teams. Featuring the most robust set of compliances possible, including SOC II type 2, PCI DSS Level 1, and ISO 27001 certifications, you can rely on Campaign Pages to serve secure and fully compliant donation experiences wherever you're based. Plus, adherence to WCAG 2.1 AA standards ensure that you offer every donor an accessible way to give.
Ways to use Campaign Pages
Use Campaign Pages for any type of fundraiser. Pages are easy to create and launch, and are proven to grow giving.
Campaign Pages offers you the flexibility to fundraise for virtually any type of cause or fundraising need.
Example uses for Campaign Pages:
Special events
P2P fundraising
Year-end fundraising
GivingTuesday
Display ads
Corporate sponsorships
Religious holidays
Crisis fundraising
Chapter fundraising
Fiscal sponsorship
Restricted funds
Get started with Campaign Pages
Campaign Pages is available now for all customers. Simply enable the Campaign Page option from the settings view of any new or existing campaign to get started.
And if you're not yet using Fundraise Up, there's never been a better time to make the switch. Request an account by connecting with our sales team.
---
About Fundraise Up
Fundraise Up is a technology company unlocking the world's generosity potential by optimizing how people give. Our donation platform helps nonprofits engage more supporters and grow revenue by providing easy ways to increase conversion, enable modern payment methods, and personalize the giving experience for every donor. Fundraise Up is the partner of choice for UNICEF USA, The Salvation Army UK, American Heart Association, and other impactful organizations across the globe.
Stay connected
Get updates and insights delivered to your inbox