Coinbase vs. Gemini: a crypto exchange comparison for nonprofits
Sep 13, 2022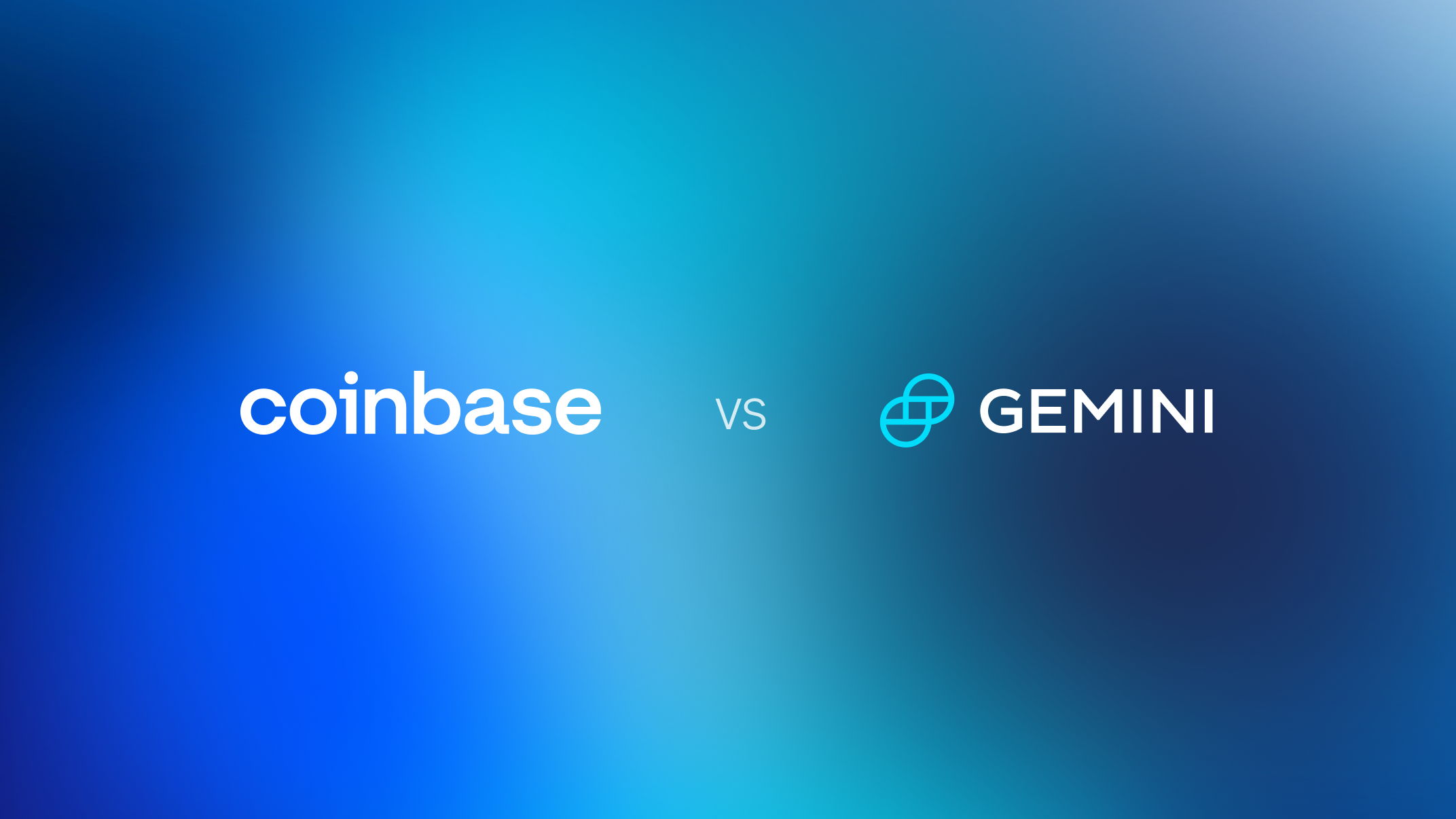 Senior Director of Marketing
When you get started with crypto giving, one of the first steps to tackle is figuring out which crypto exchange you want to use to process crypto donations.
A crypto exchange is a core component in your crypto giving tech stack. You'll use a platform like Fundraise Up to create a streamlined donor experience on your website to accept crypto donations, but it's the exchange that's working behind the scenes to process and store the digital assets donated to your organization.
There are two players you need to know about: Coinbase — specifically their Coinbase Commerce product — and Gemini. Read on to see what both options have to offer, and get our take on which one you should opt to partner with (spoiler: it's Coinbase!).
| Consideration | Coinbase Commerce | Gemini |
| --- | --- | --- |
| Pricing | 1% per transaction | Transaction ≤ $200 ($0.99-$2.99) Transaction > $200 (1.49% of transaction) + Convenience fee 0.5% of the coin's value |
| Auto-conversion | Available with a Coinbase-managed Commerce account | Not available |
| Toggleable currencies | Yes, nonprofits can select which cryptocurrencies they want to accept | No, nonprofits can't select which cryptocurrencies they want to accept |
| Number of supported cryptocurrencies | 10 most popular | ~100 |
| Number of supported countries | 100+ supported countries | ~60 supported countries |
| Security | SOX compliant | SOC 2 compliant |
| Getting an account | Self-managed account: easy to get, immediate access Coinbase-managed account: somewhat easy to get. Application required, processed within 3-4 weeks | Gemini nonprofit account: difficult to get. Application required, processed within 3-6 months |
| Best for | Nonprofits that want to add crypto as a new donation channel | Nonprofits that want to use crypto giving as a long-term investment strategy |
Now, let's take a closer look at the two exchanges:
Pricing
Coinbase Commerce offers simple pricing. At just 1% per transaction, it's easy to know what your costs will be. In contrast, Gemini's fee structure is based on the size of the transaction. On some transactions, you'll pay a set dollar amount, and on others, you'll pay a percentage of the transaction size. In both cases with Gemini, you'll additionally pay a convenience fee.
Auto-conversion
For nonprofits that are keen on quickly cashing out the crypto donations they receive, Coinbase Commerce's auto-conversion feature makes it easy to do that. The feature is specifically available with a Coinbase-managed Commerce account.
You can learn more about the auto-conversion feature here. While in Coinbase Commerce, auto-conversion is a simple toggle, to achieve similar functionality in Gemini, you have to configure a Stop-Limit order using the complex ActiveTrader interface.
Toggleable currencies
With Coinbase Commerce, you can select which cryptocurrencies you want to enable. This is useful for nonprofits that want to accept some currencies, but not others that may have larger carbon footprints. At this time, Gemini doesn't have toggleable currencies as a feature.
Number of supported currencies
Gemini supports the greatest number of cryptocurrencies with support for over 100 currencies, allowing your nonprofit to tap into a broad network of crypto holders. Coinbase Commerce, on the other hand, supports 10 of the most popular cryptocurrencies. Both exchanges support the most popular currencies, including Bitcoin (BTC), Ethereum (ETH), and USD Coin (USDC).
Number of supported countries
Between Coinbase Commerce and Gemini, Coinbase leads the way with the number of countries its platform supports — more than 150 versus Gemini's roughly 60 supported countries. Support for more countries not only means opportunities for global giving, it also enables nonprofits operating outside of the US to take advantage of crypto as a donation channel.
Security
Both Coinbase Commerce and Gemini provide robust security features such as encryption, two-factor authentication, and compliance with standards such as SOX or SOC 2. Overall, both platforms will check the boxes for even the most security-conscious nonprofits.
Getting an account
If your nonprofit is considering accepting crypto donations, something you need to consider is how long it will take to get an account with an exchange like Coinbase Commerce or Gemini. With Coinbase Commerce, you have two options.
With a Coinbase self-managed account, you can get start accepting crypto donations immediately, though you won't have access to Coinbase's auto-conversion feature. To access that feature, you need to take advantage of a Coinbase-managed Commerce account.
This account type offers additional features but requires nonprofits to complete an account application. While straightforward, the process can take about three to four weeks to complete, so nonprofits should plan accordingly.
Gemini offers a special account provisioning process for nonprofits, but similar to its standard account types, the timeline for getting a Gemini account ranges from about three to six months.
Which exchange is best for you?
Fundraise Up recommends Coinbase Commerce for most nonprofits. It offers simple pricing, flexibility with the cryptocurrencies your organization accepts, an auto-conversion feature, and an intuitive account interface that makes it easy to manage and withdraw assets. It's the best option for nonprofits that want to add crypto into their fundraising mix.
However, for nonprofits that see crypto giving as an investment strategy, Gemini's investment tools may offer a feature set that's better aligned with that goal.
In either case, your nonprofit is covered with Fundraise Up. You can easily connect to either Coinbase Commerce or Gemini with just a couple of clicks. To learn more about accepting crypto donations using Fundraise Up and Coinbase, contact our sales team.
---
About Fundraise Up
Fundraise Up is a technology company unlocking the world's generosity potential by optimizing how people give. Our donation platform helps nonprofits engage more supporters and grow revenue by providing easy ways to increase conversion, enable modern payment methods, and personalize the giving experience for every donor. Fundraise Up is the partner of choice for UNICEF USA, The Salvation Army UK, American Heart Association, and other impactful organizations across the globe.
Stay connected
Get updates and insights delivered to your inbox