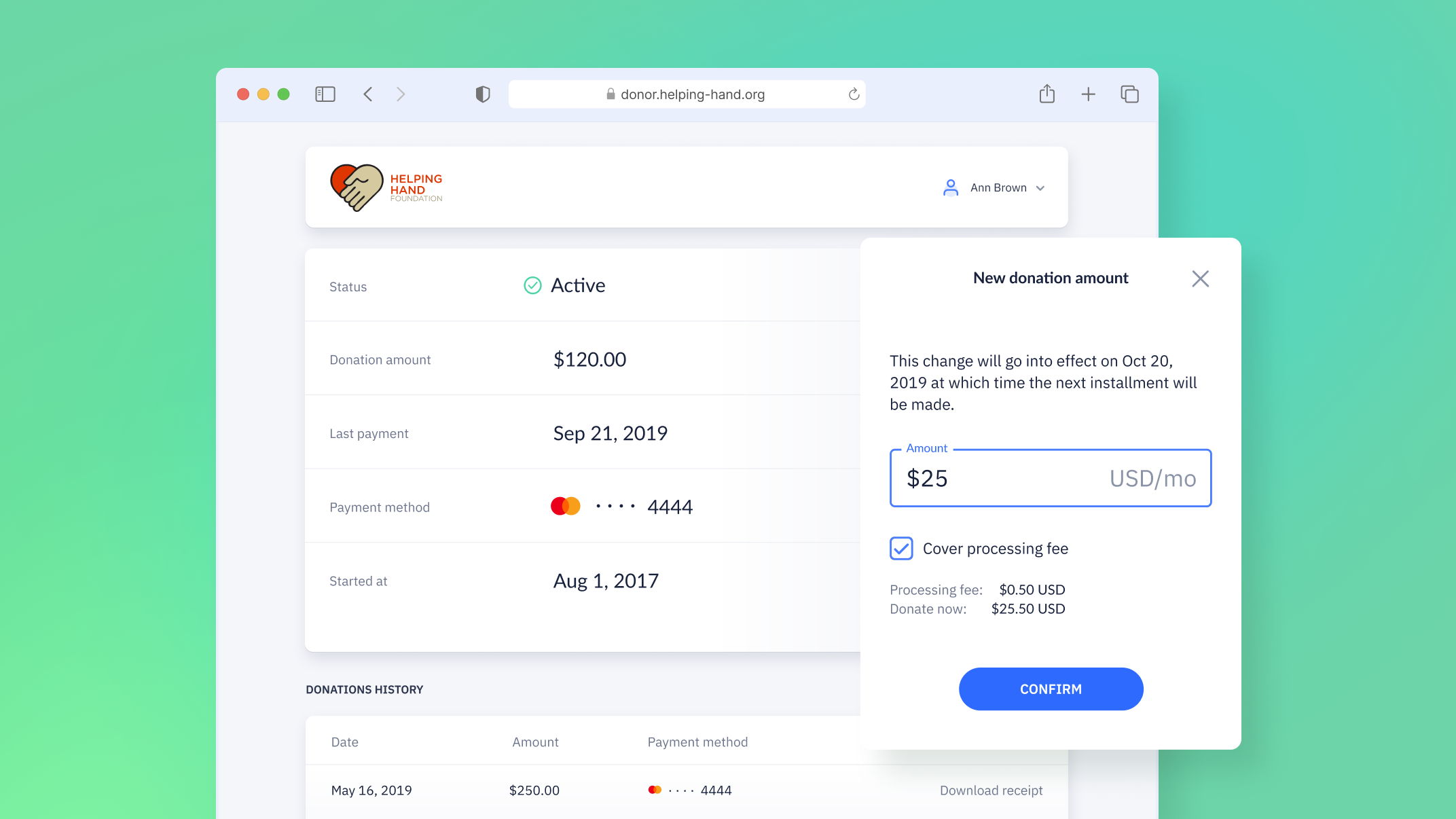 Product Marketing Manager
Donor Portal saves you time and cuts down on donor attrition — here's how.
You're probably familiar with this call: the one where a donor phones your organization's office to request a stack of donation receipts, make a change to their recurring plan or even cancel it.
The call takes precious time for your day and means digging through your CRM's records to locate the donor's account, generate a receipt letter, or find the details of the donor's recurring plan. It shouldn't have to be this way, and with Donor Portal, it's not.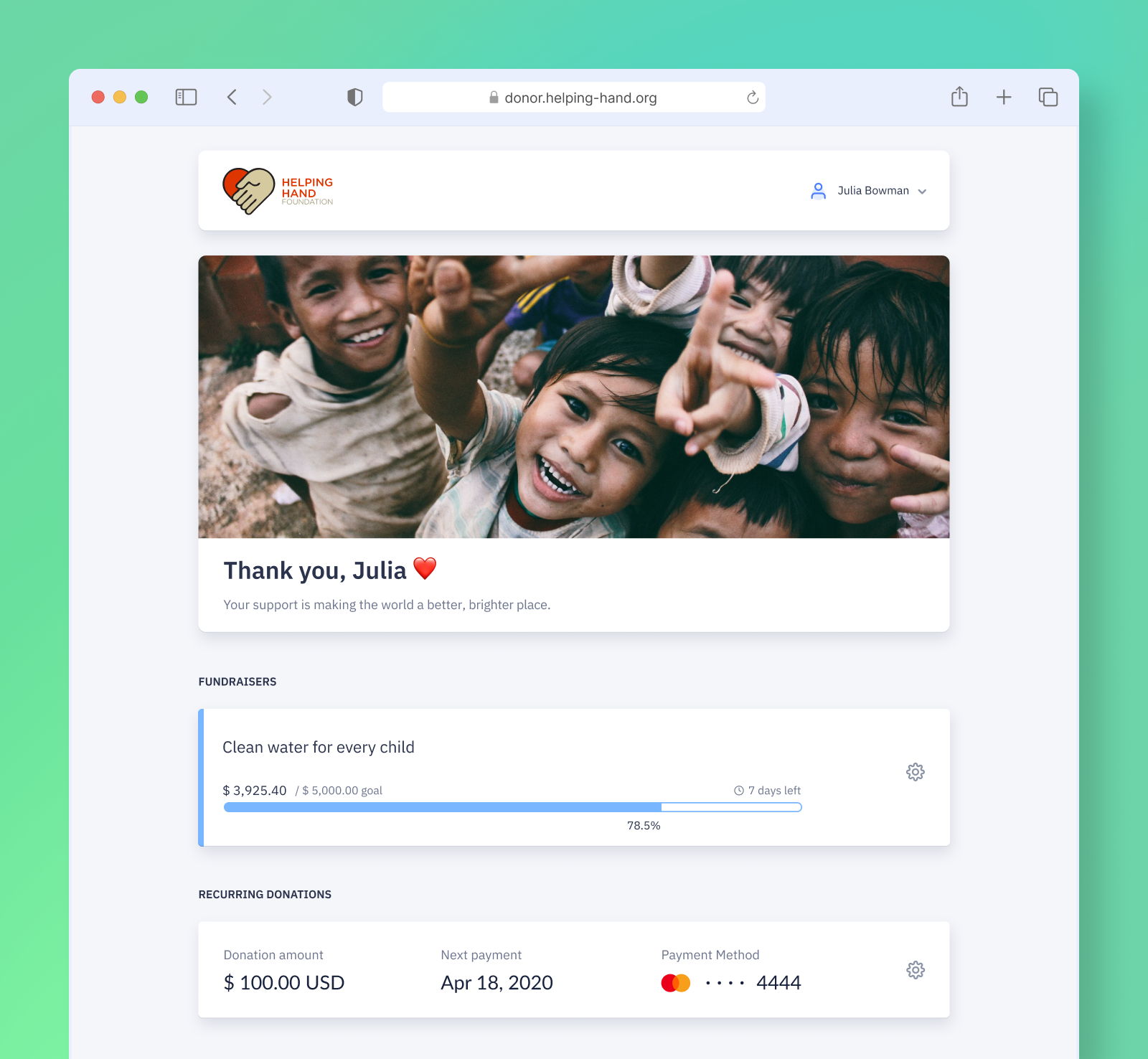 Donor Portal gives your donors easy access to their recurring plans, receipts, and even P2P Fundraisers they're running.
Donor Portal is a free self-service dashboard that every donor has access to when your organization uses Fundraise Up. It's easy to use and access — donors don't even have to worry about managing yet another username and password — Donor Portal is accessible using a secure, magic link.
And as this post's title suggests, Donor Portal saves you time and cuts down on donor attrition — here's how.
⏰ Donor Portal saves you time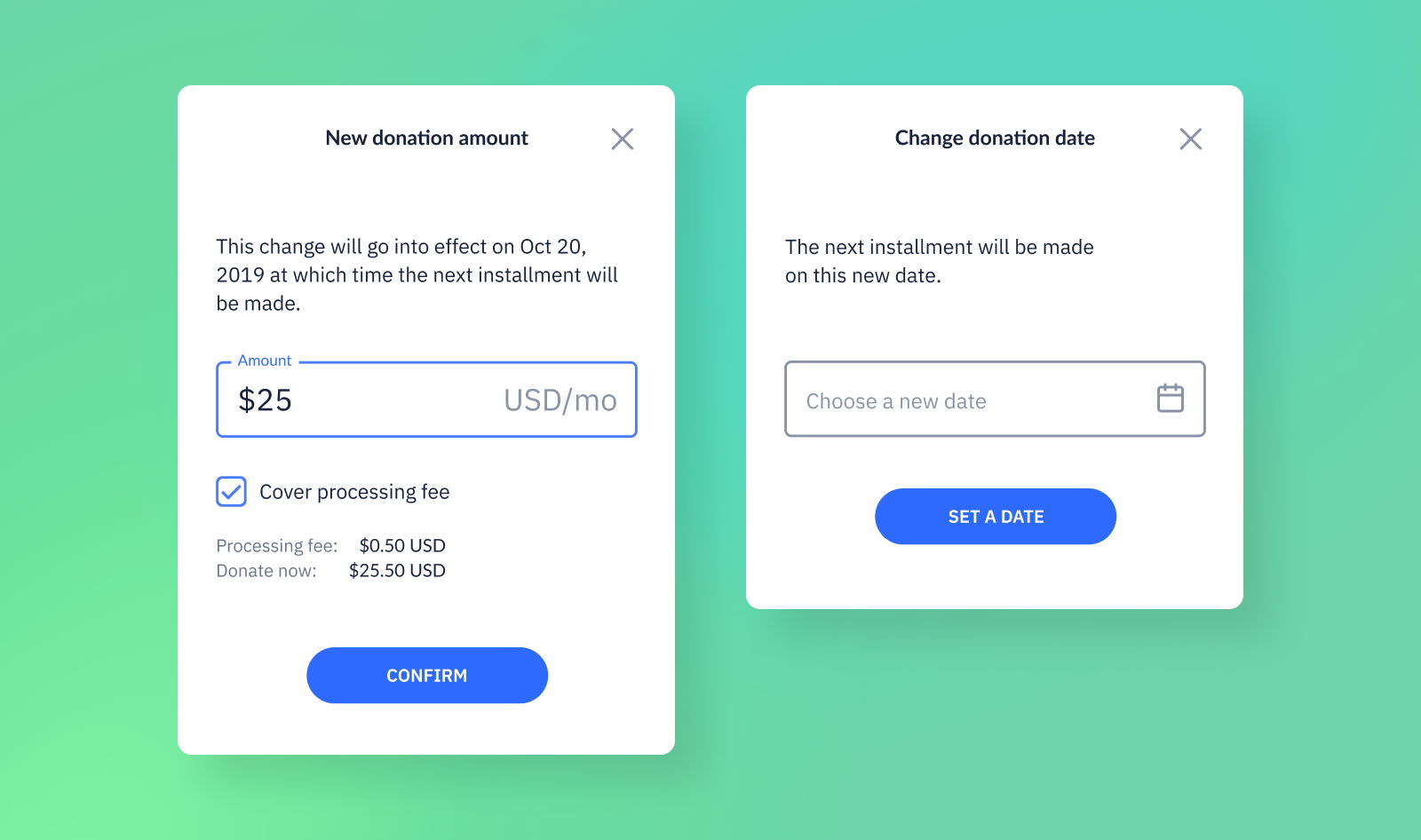 Donors don't have to call you in order to update their recurring plans — they can make changes directly from the Donor Portal.
Let's have the next call to your office be from a donor ready to write a big check, not someone needing a stack of receipts. With Donor Portal, every donor can view their donation history and download PDF receipts for each donation they've made to your organization.
Another reason a donor might call your office is to update the donation amount for their recurring gift or to change the day of the month on which the gift is given. With Donor Portal, your donors can easily update a recurring plan's donation amount and installment schedule.
Since your donor is empowered to update their own plan through Donor Portal, there's no need for them to call into your office and you save time that can be dedicated to strategy and stewardship.
📉 Donor Portal cuts down on attrition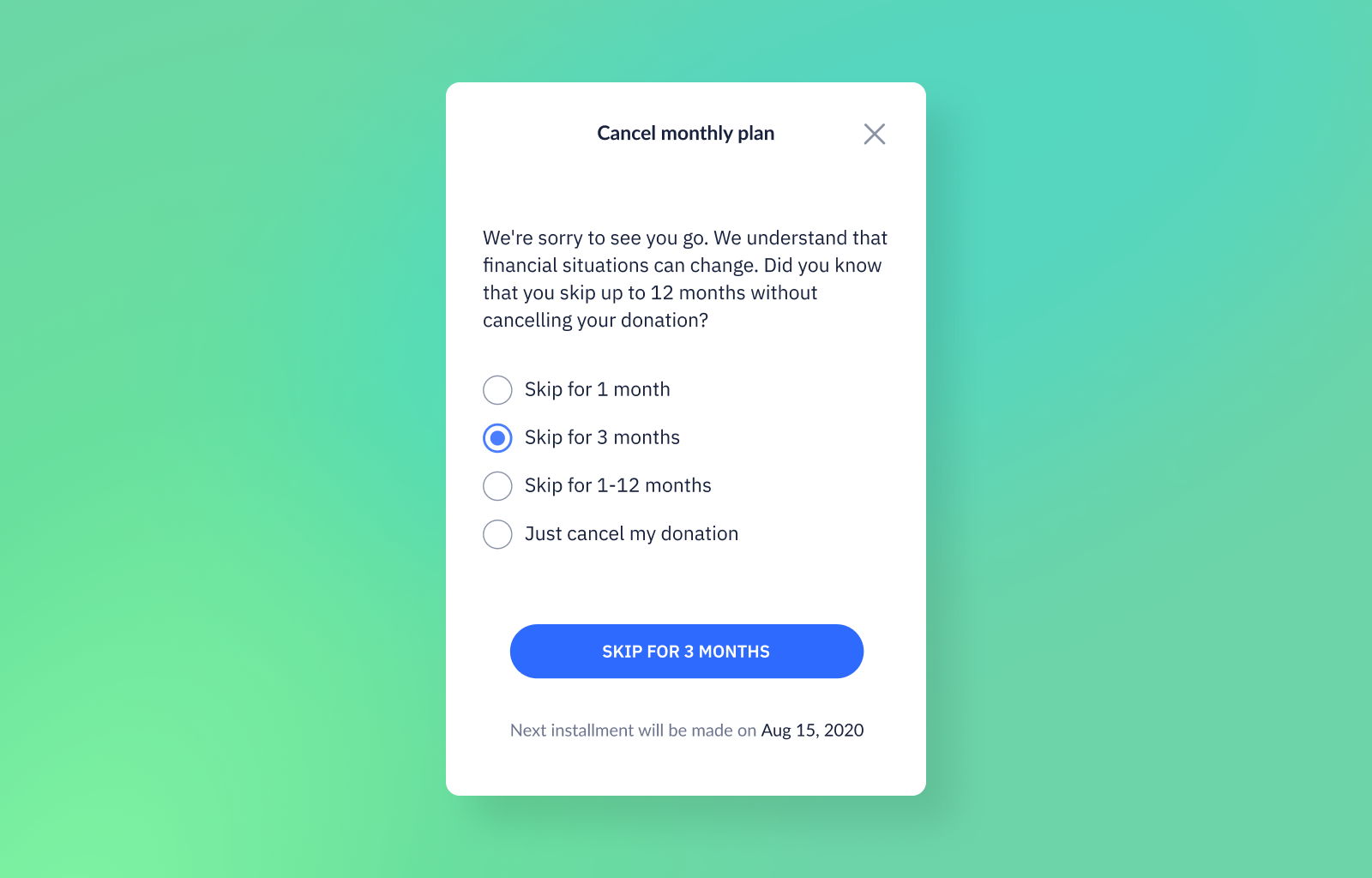 Rather than canceling their recurring plan, a donor can put it on pause for a few months.
One of the easiest ways to lose recurring donors and see an unfortunate spike in donor attrition is to make canceling a recurring gift the only option for donors who need to adjust their level of support.
With Donor Portal, there are two key attrition-busting features.
First, a donor can easily, and at any time, adjust their level of support in Donor Portal to fit their needs or financial situation. And of course, when the donor is ready, they can increase their giving amount back to its previous level or even opt to give more.
Second, even if a donor moves to cancel their recurring plan, Donor Portal will automatically prompt them to consider modifying the plan rather than canceling it. By modifying their recurring plan, a donor can reduce the size of their monthly gift or even pause the plan for a few months.
🎨 Match Donor Portal to your look and feel
Like the rest of the Fundraise Up platform, Donor Portal is customizable to match the look and feel of your organization. You can upload your logo, include an impactful image, and customize the text to engage your donors. You can even configure Donor Portal to use your own subdomain for a more deeply branded experience.
🙌 Ready to get started with Fundraise Up?
Donor Portal and so many other Fundraise Up features help you convert more website visitors to donors, get better donations from a greater number of donors, and boost monthly support. And because there are zero monthly or annual fees, no contracts, and free onboarding and support, your organization can get started with Fundraise Up today.
Stay connected
Get updates and insights delivered to your inbox