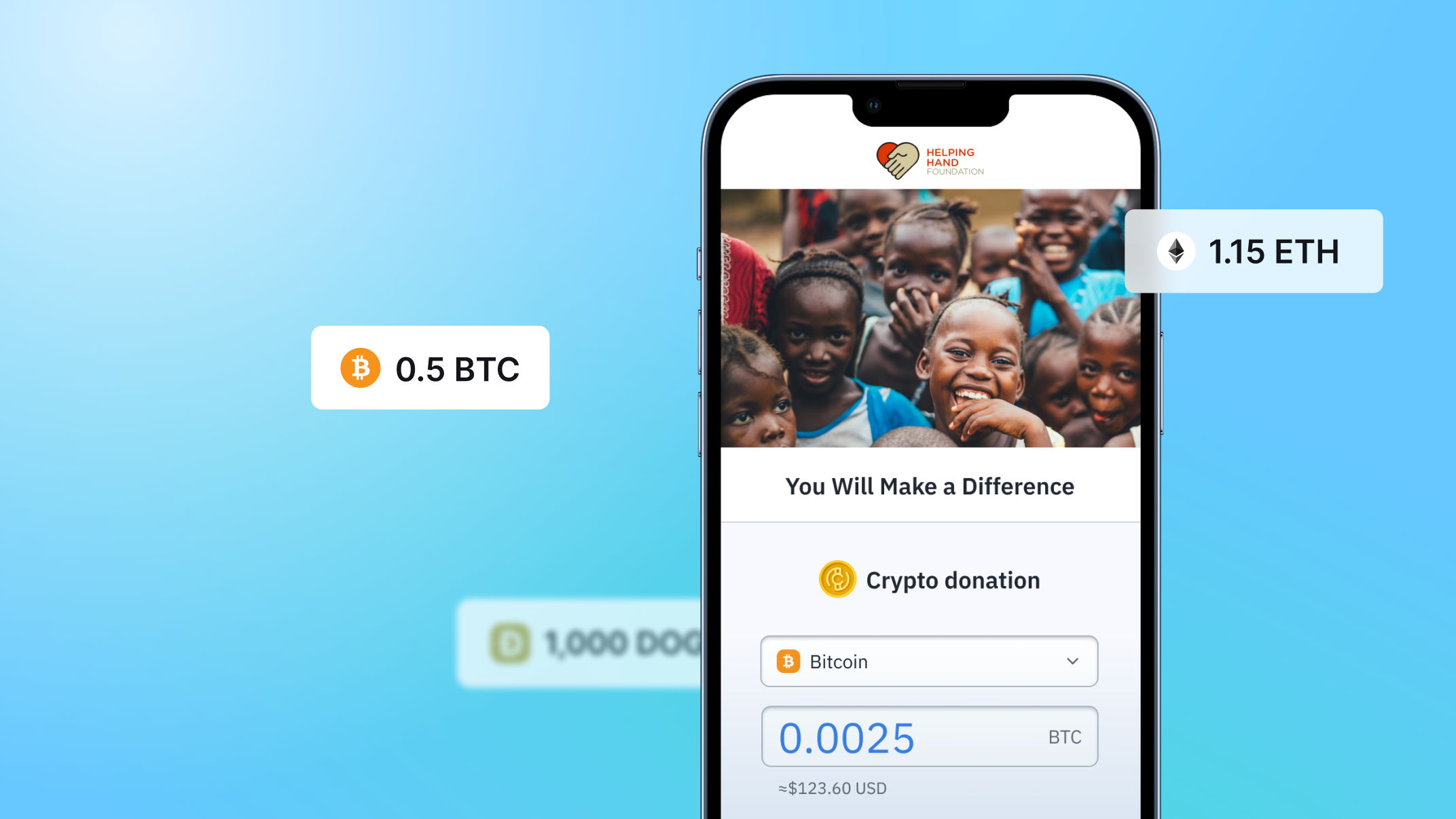 Product Marketing Manager
With the value of cryptocurrency on the rise, Fundraise Up is excited to announce that crypto donations for nonprofits are coming very soon. Crypto as a donation payment option is currently planned for May 2022, giving nonprofits yet another way to receive donations to help them accommodate every donor's giving preference.
With Fundraise Up, nonprofits can accept crypto donations just like any other payment method on our platform, avoiding any disruption in the donation process caused by a redirect to a third party's landing page.
Crypto has grown at an enormous rate within the past few years — with the value of Bitcoin growing from $0.09 in July 2010 to nearly $69K in November 2021. With more than 10,000 different types of cryptocurrencies, the market for crypto hit a high of $1.63 billion in 2021, and it's projected to grow to $2.73 billion by 2025.
With more and more people looking to invest in this rapidly growing market, crypto owners will be highly motivated to donate to their favorite charitable causes: Gifting crypto is a non-cash, in-kind donation so the donor does not have to pay capital gains taxes, and the donor's tax deduction will be equal to the fair market value of the donated crypto asset.
Nonprofits would be remiss if they missed this opportunity to cultivate these high-net-worth individuals. Many nonprofits, like UNICEF and charity: water, understand the value in these donors and have already begun accepting crypto donations. To put the value of a crypto donor into context, 45% of crypto owners donated $1,000 or more to charities in 2020. By October 2021, donors already donated $158 million to their Fidelity Charitable donor-advised funds.
If you are already a part of the growing Fundraise Up community and are interested in adding crypto to your evolving library of donation payment options, jumpstart your account setup by getting in touch with your customer success manager today.
Interested in learning more about Fundraise Up and how you can start accepting crypto donations? Contact your Customer Success Manager or schedule a call with one of our awesome team members.
---
About Fundraise Up
Fundraise Up is a rapidly growing financial technology company headquartered in Brooklyn, NY, that provides online fundraising software to enterprise nonprofits. Fundraise Up's AI-powered platform is leveraged by trusted organizations like UNICEF USA to double annual digital donation revenue and triple recurring donor acquisition.
Stay connected
Get updates and insights delivered to your inbox