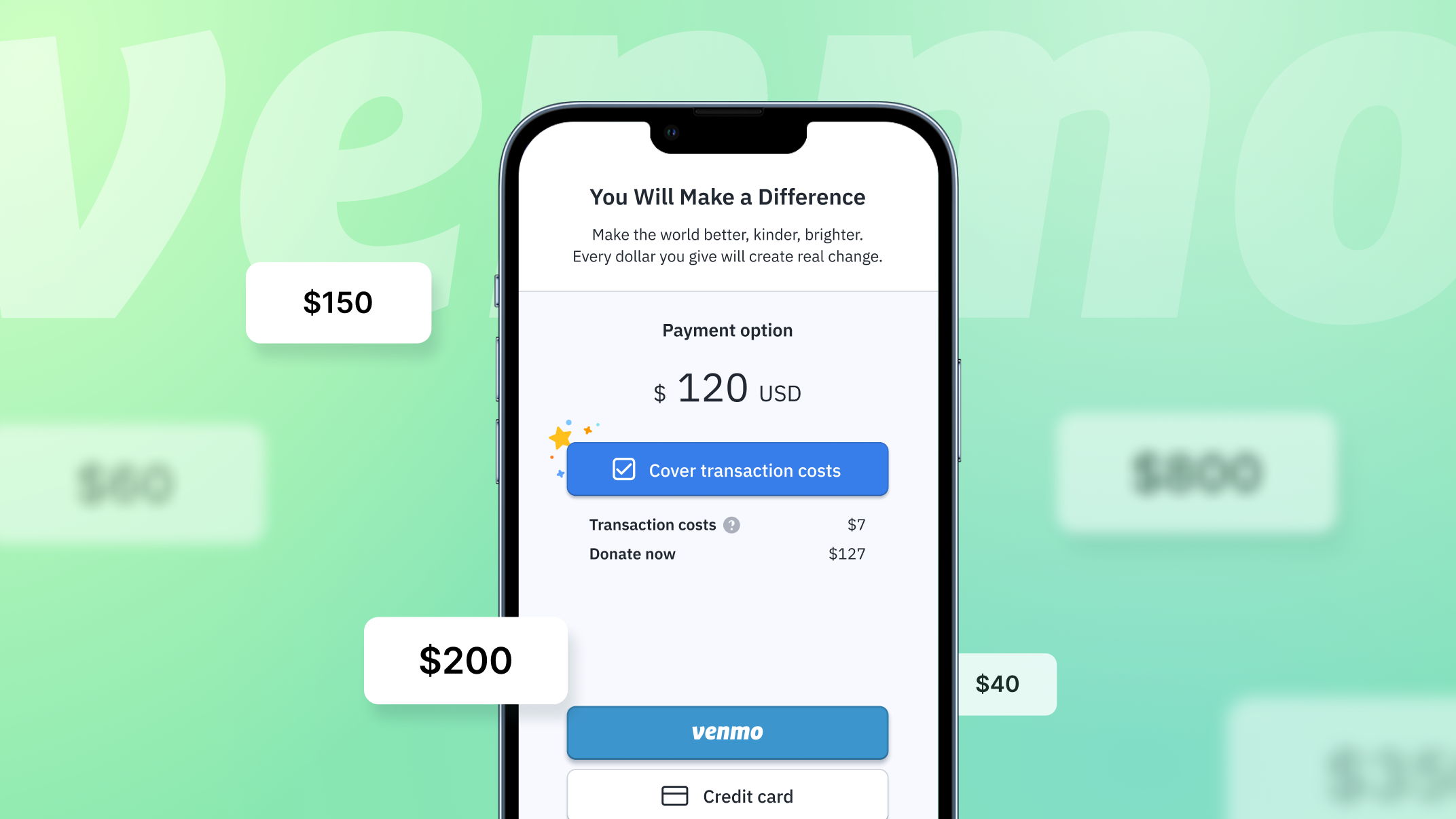 Product Marketing Manager
To give donors more giving options and to help nonprofits meet more donors where they are, Fundraise Up is excited to announce that nonprofits are now able to accept Venmo donations, further expanding our portfolio of digital wallets — which also includes Apple Pay, Google Pay, and PayPal.
With over $60.6 billion transacted on Venmo in Q4 of 2021 alone, it further proves the validity of this popular app-based payment service. Many of your donors are already using Venmo every day to pay their bills, buy merchandise from their favorite vendors, and easily split the bill with their friends and family members for shared experiences.
Activating Venmo as a donation payment option is simple and takes seconds to set up. We process Venmo donations through PayPal, so you have to connect your PayPal account to your Fundraise Up account. Then, you just have to enable Venmo on the payment options settings page with one click.
For donors who choose this donation route, there are two Venmo donation checkout options:
Desktop browser: For donors who click the Venmo button from a desktop browser, the donor will be provided a screen with a QR code that they can scan from their phone's camera to approve their Venmo donation.
Mobile browser: For donors who click the Venmo button from a mobile browser, the donor will be taken to the Venmo app to approve the donation.
Once someone makes a donation through Venmo, they will receive an email receipt in addition to a push notification from the Venmo mobile app letting them know that their donation has been processed.
To learn more about Venmo and how to enable this popular payment option, read our help center documentation.
---
About Fundraise Up
Fundraise Up is a rapidly growing financial technology company headquartered in Brooklyn, NY that provides online fundraising software to enterprise nonprofits. Fundraise Up's AI-powered platform is leveraged by trusted organizations like UNICEF USA to double annual digital donation revenue and triple recurring donor acquisition.
Stay connected
Get updates and insights delivered to your inbox