Maximizing donations during giving season 2023
Nov 3, 2023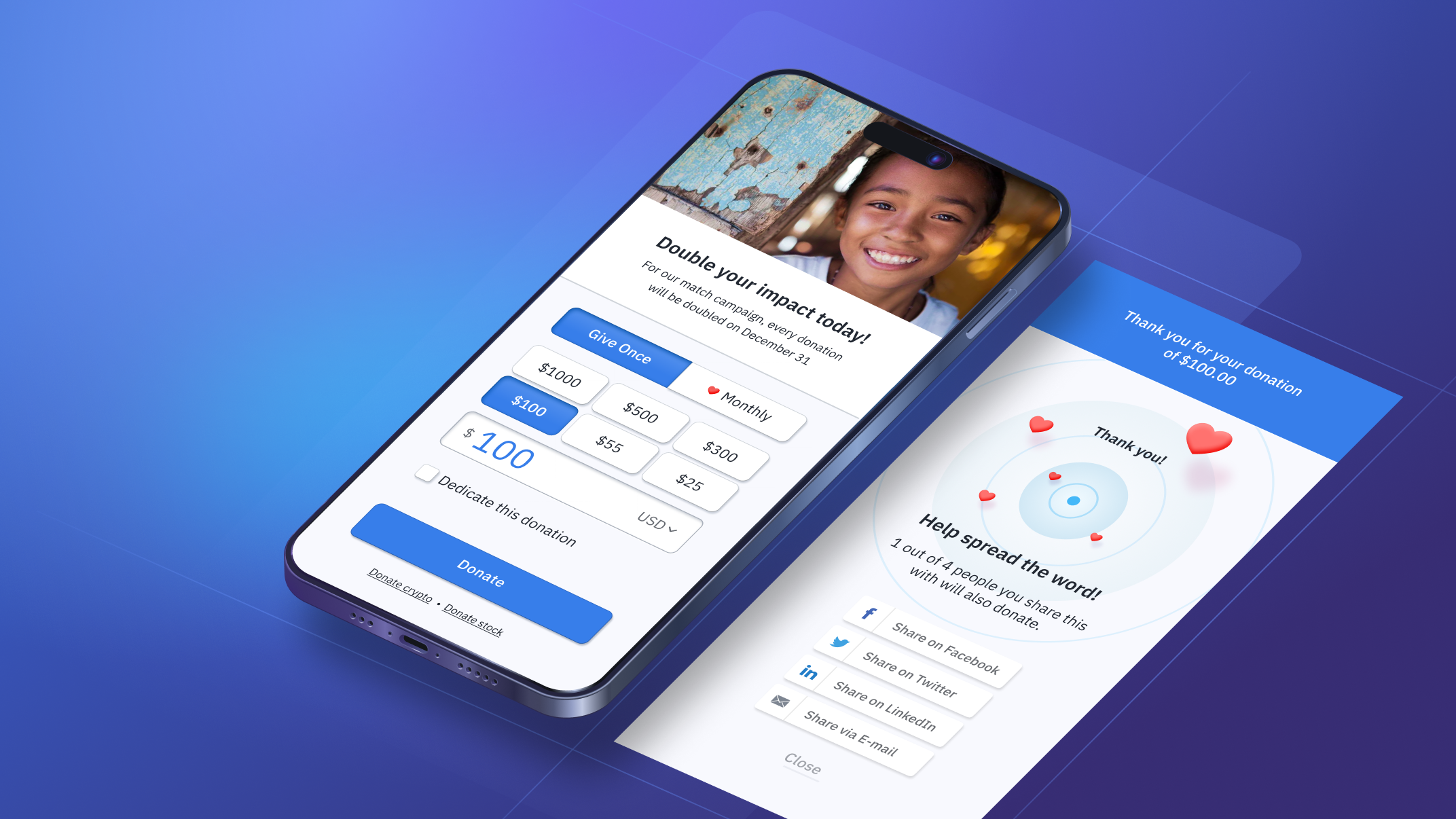 Q4 is in full swing. I'm sure you're head-down with final GivingTuesday and year-end campaign prep. I hope everything is coming together well and that you're feeling ready for giving season.
We're here to support you—always—and especially during this critical time of the year. A lot of what we have to offer has to do with features and functionalities, but know that there's also 100+ team members here at Fundraise Up who are deeply invested in your success.
In this post, I've compiled a collection of resources that I hope provide you with value in this final stretch of the year. Again, I'm sure you're busy and short on time, but skim what you can. You never know what inspiration you might find or help you might get from what I've included below.
What I cover in this post
Fundraise Up's GivingTuesday pre-launch guide
Top 3 new and notable features
How to view and subscribe to product updates
Gaining major donors through your website with stock and crypto
AI optimizations that increase donation revenue
Support information — people and resources that are here to help
GivingTuesday pre-launch guide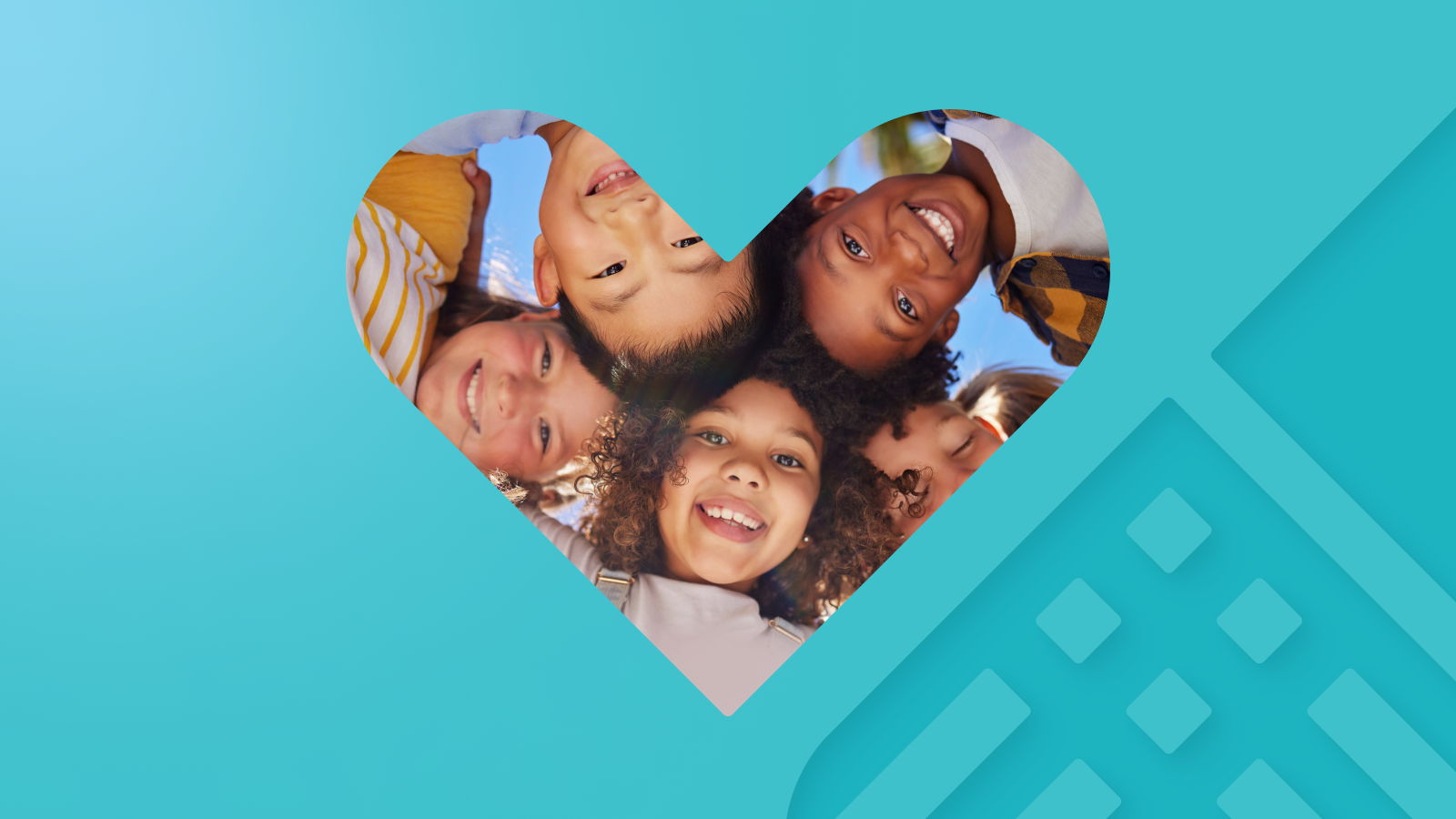 Get ready for GivingTuesday with resources from Fundraise Up.
The GivingTuesday pre-launch guide walks you through Fundraise Up features you should leverage and settings you should configure ahead of November 28.
Flip through the virtual pages to learn about Elements that are easy to enable and use for boosting conversion, alternate payment methods like stock and crypto (more on these options later on), and customizations you can configure from your Dashboard.
New and notable features
Over the past two quarters, our roadmap has focused on high-impact features that significantly increase donor engagement and revenue. Here are three new and notable features that I want to make sure are on your radar.
Campaign Pages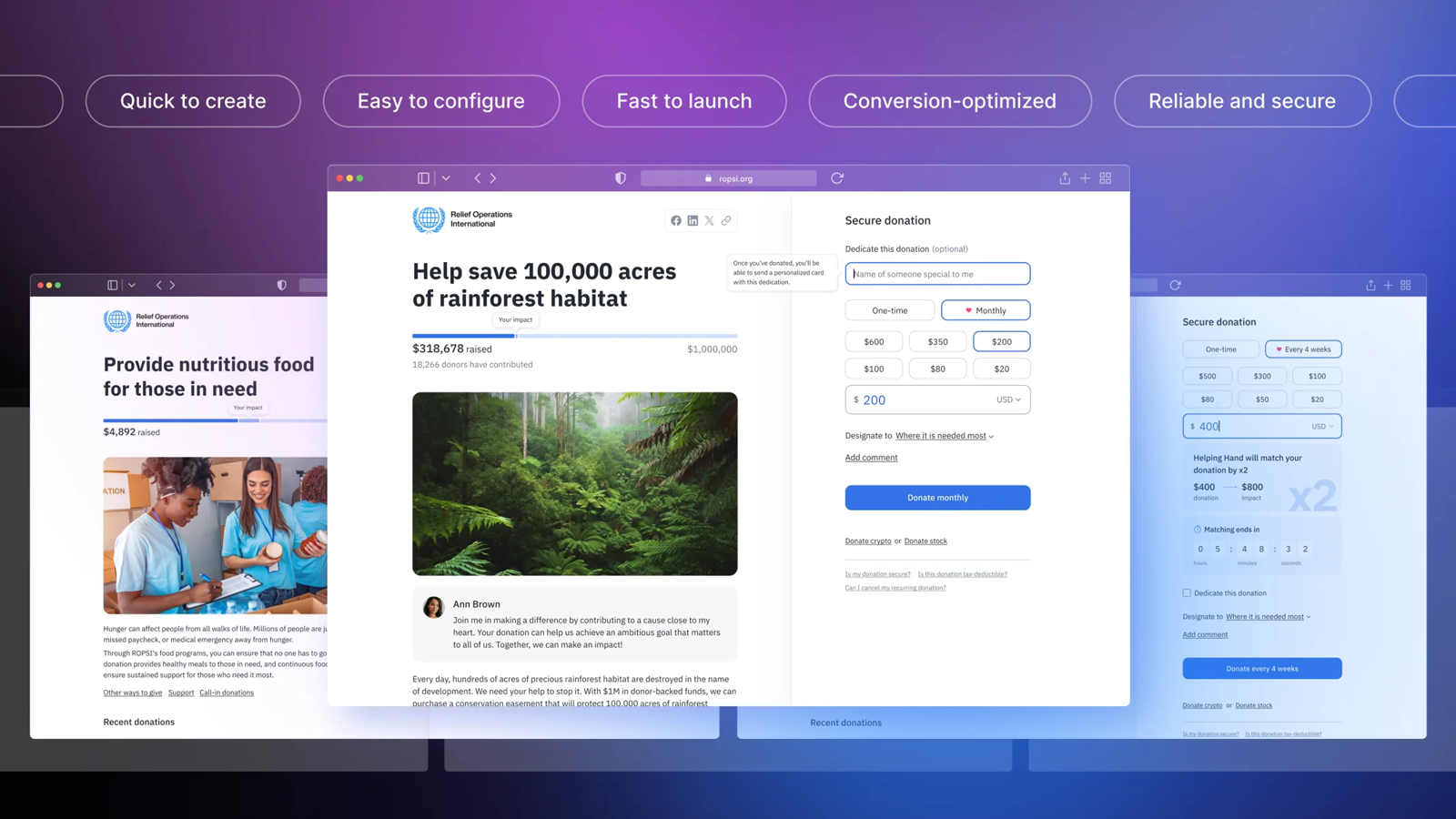 Create and launch donation landing pages quickly with the recently released Campaign Pages feature.
Use Campaign Pages to quickly create and launch high-conversion donation landing pages.
Campaign Pages excel at driving conversions off of paid ads, email blasts, SMS campaigns, corporate sponsorships, and other scenarios where hosting a dedication page makes the most sense.
Upgrade Links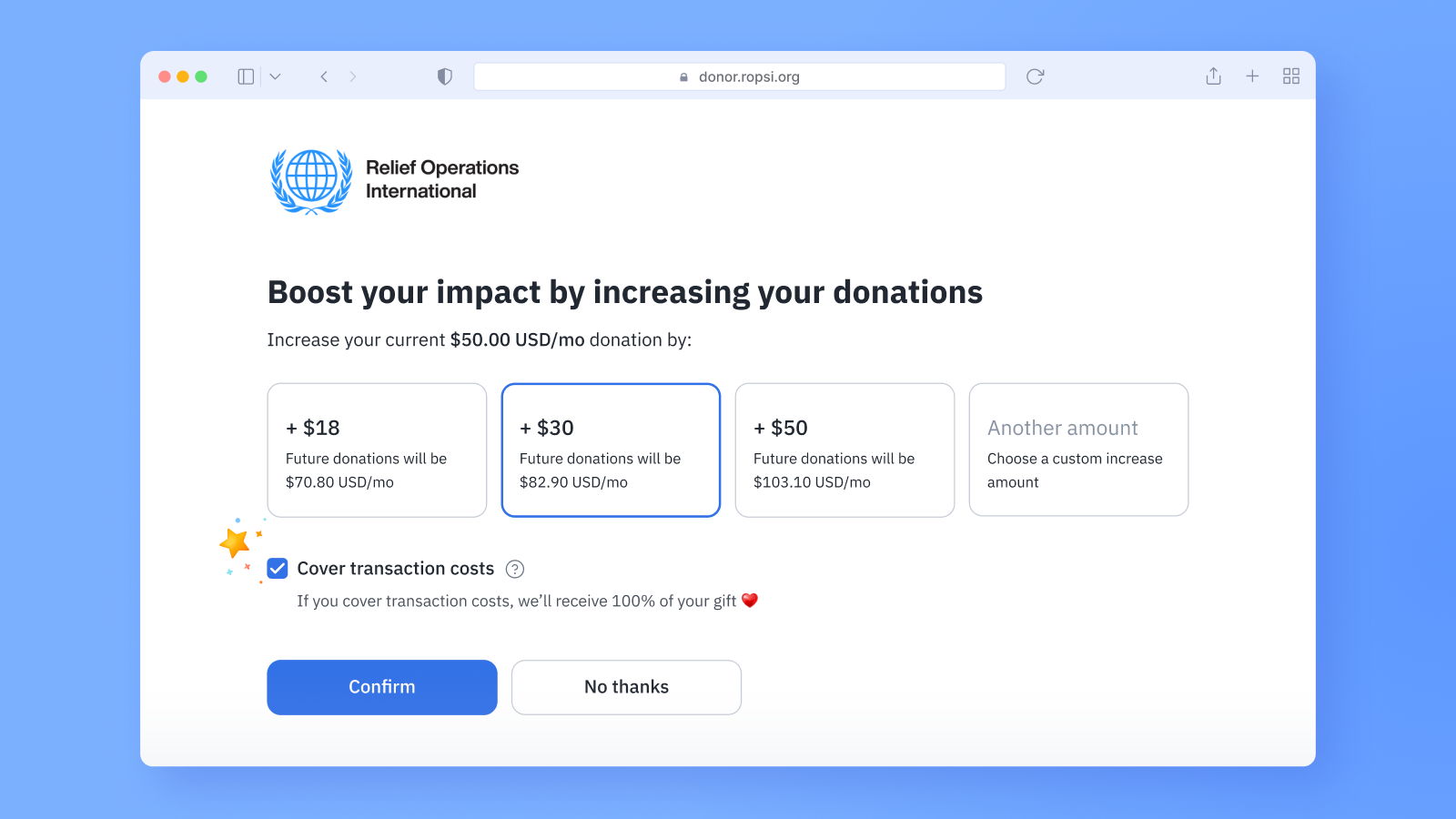 Using Upgrade Links, you can create personalized upgrade links for your recurring donors. These links can be included in emails, text messages, and other communications. When a donor visits the link, they're invited to upgrade their existing recurring donation.
If you're looking for an alternate GivingTuesday ask for your existing donors, I recommend asking them to upgrade their support instead of making a new one-time donation.
ACH Direct Debit
Our recent enhancements to the ACH payment method activate an incredible new functionality: automatic verification. With automatic verification, you can validate a donor's bank account and routing information without micro-deposit verification. If you've ever had to deal with micro-deposit verification, you know how big of an improvement this is.
Automatic verification is designed to increase ACH donation conversion. Since ACH is typically used by supporters to make substantial donations, this ACH improvement is a big win ahead of your year-end fundraising push.
Average ACH donation size: $117 USD (~1.7x greater than a cash donation).
More new features and product updates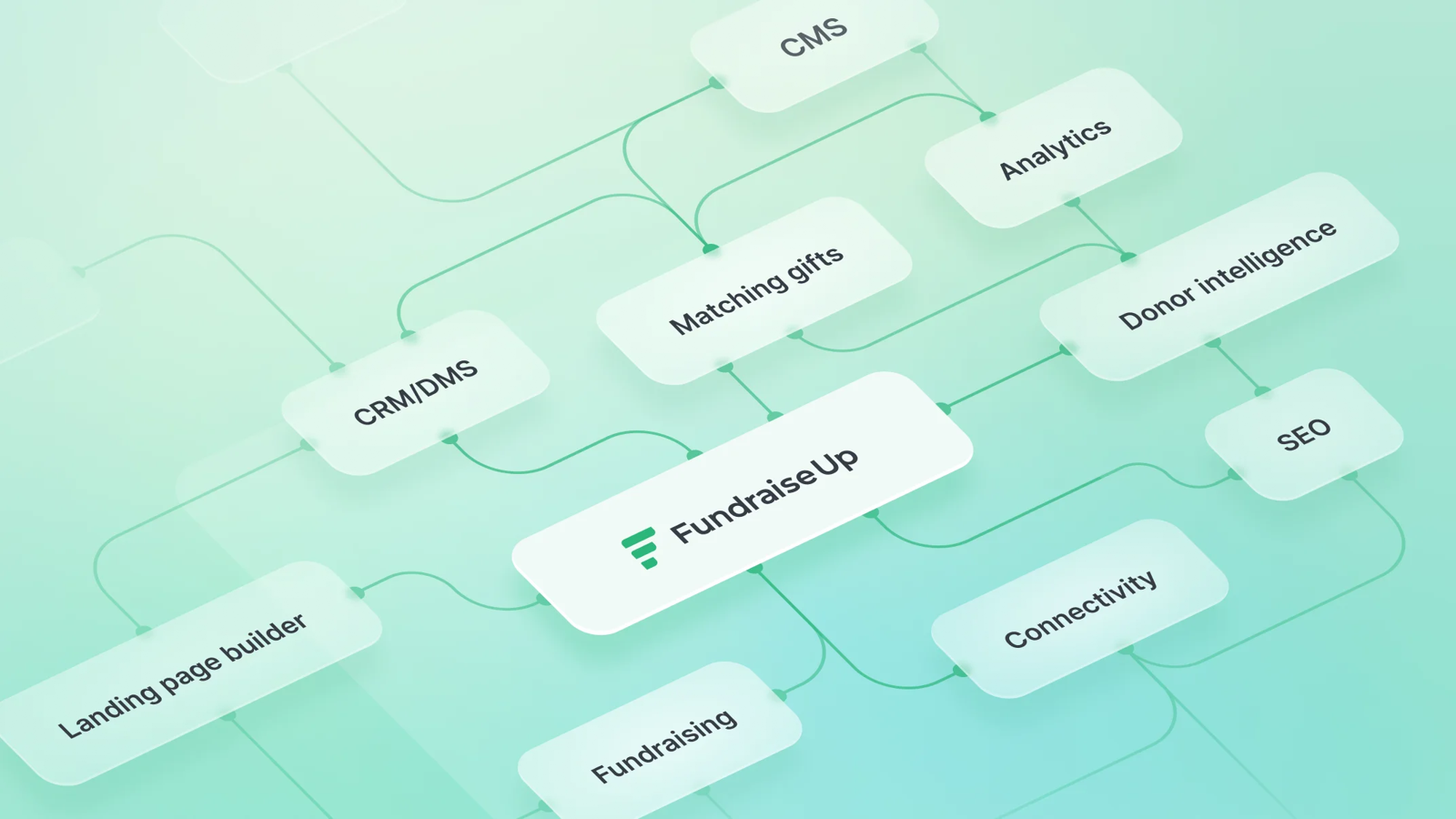 Explore new features and subscribe to product updates on the What's new page.
Above, I highlighted three key features you should know about, but there's more too explore! New features and improvements roll off the assembly line and into your Fundraise Up account every day. To stay up to date with the latest releases, bookmark the What's new page on our website and sign up to receive monthly product updates.
Stock giving on your website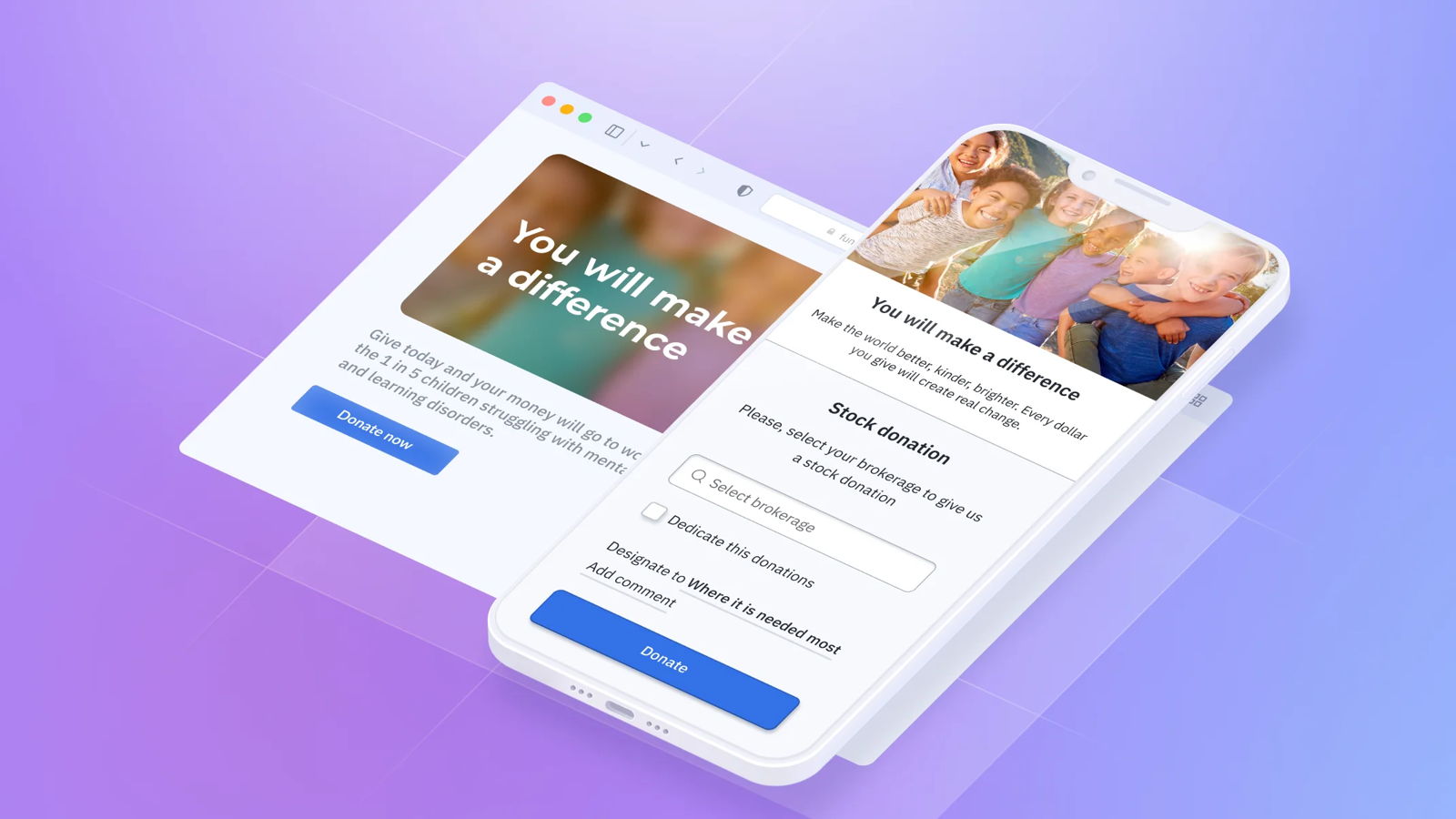 Accept major gifts on your website by offering stock as a donation option.
By offering stock as a donation option on your website, you create a pathway to greater incredible generosity. I encourage you to think of online stock giving not as a replacement for your traditional stock giving, but as an augmentation — a way to capture major support from even more donors.
Average stock donation size: $5,000 USD (~74x greater than a cash donation).
Crypto giving on your website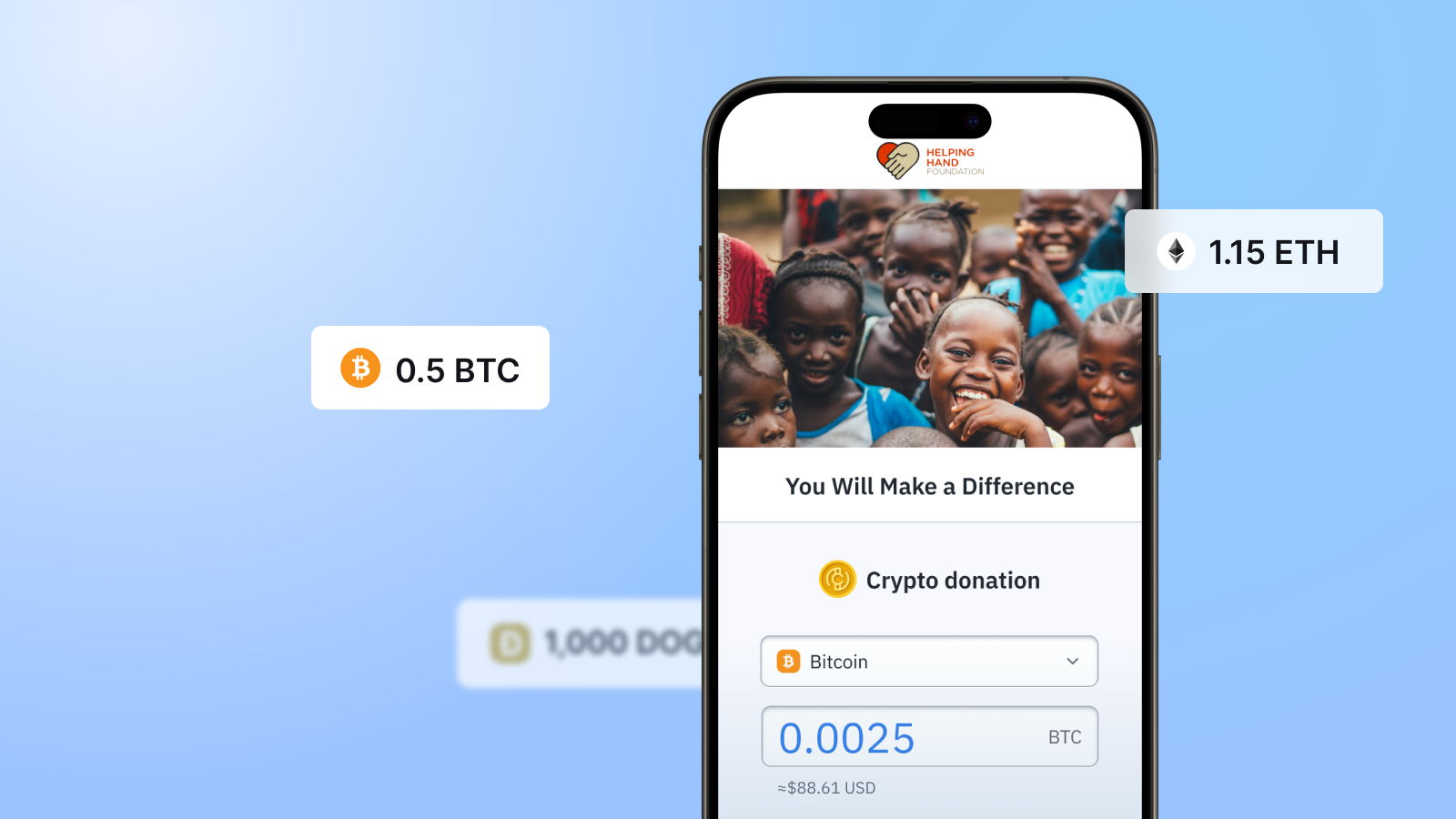 Unlock generosity by accepting crypto donations on your website.
Make sure your organization can be on the receiving end of a crypto donor's generosity. Enabling crypto giving for your organization is easy, and you can connect either Coinbase or Gemini to the platform. If you're not sure which provider you should use, refer to this writeup we did on picking the crypto exchange that's right for your organization.
Average crypto donation size: $1,300 USD (~20x greater than a cash donation)
AI optimizations that grow giving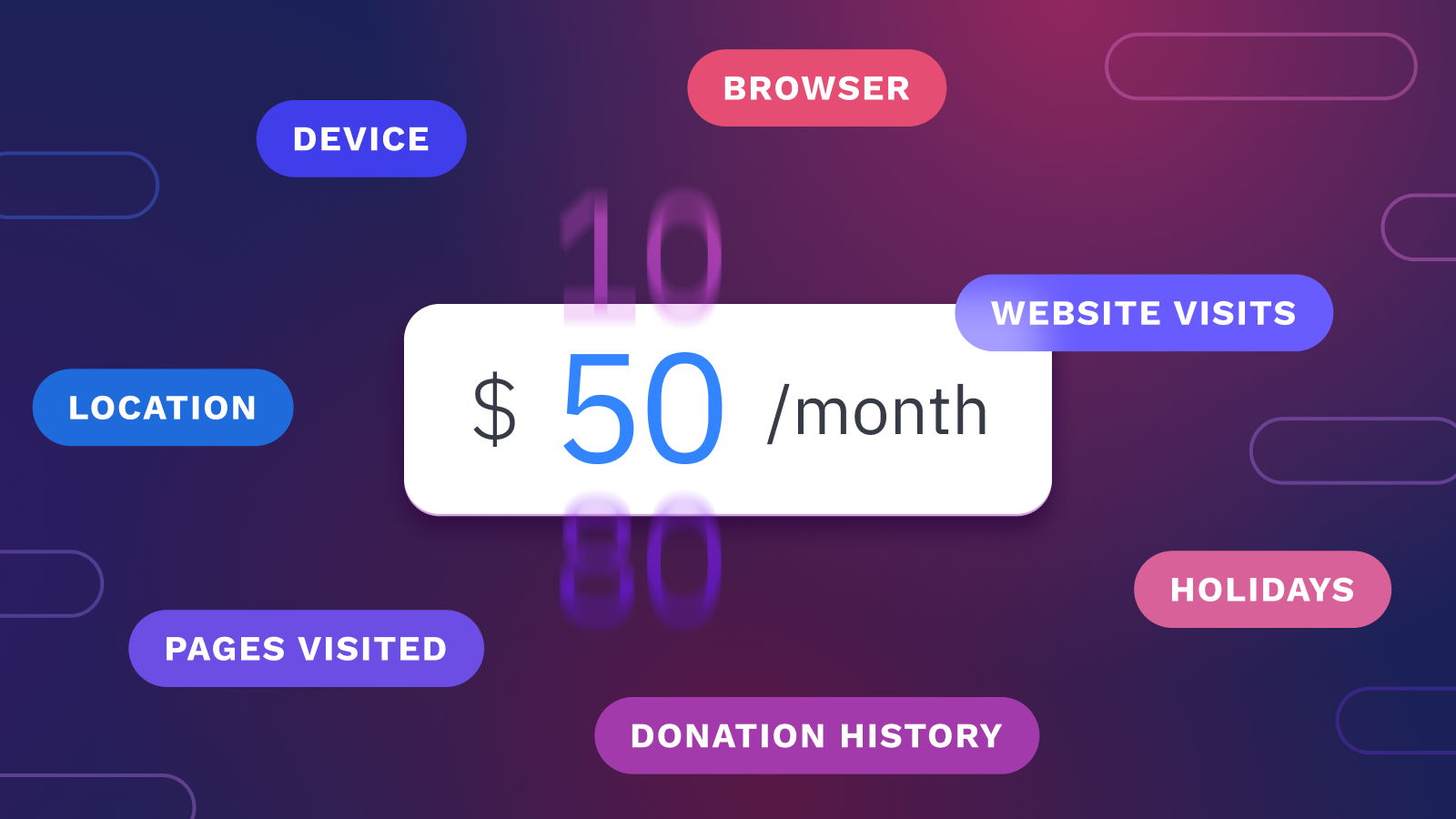 AI can help with a lot, and this quarter, it's here to help you personalize the donor experience at scale.
Here are a three of our AI features that I recommend enabling for any campaign, and especially your GivingTuesday and year-end campaigns.
Personalized suggested amounts
Personalized suggested amounts take the guesswork out of getting the ask right. Using AI, we're able to display an array of six donation amount suggestions and a pre-filled donation value that is tailored to each donor. The outcome is an increase in conversion — a big win for your year-end campaigns.
Monthly donation upsells
Recurring giving offers a firm foundation for any fundraising program, and by enabling upsells, you can automatically add to that foundation.
There are two types of upsells: a pre-donation upsell and a post-donation upsell. Both are effective at converting one-time donors to recurring supporters. You can enable one or both upsells — just make sure that you're leveraging this powerful AI feature.
Adaptive cost coverage
Most donors are able and willing to cover the costs of processing their donations. But figuring out which of them will (and avoiding a drop in conversion) is a science.
This is where Adaptive cost coverage comes int play. Using AI, we dynamically determine the donors who should be asked to cover fees. The result is an increase in conversion, an increase in donation revenue, and an increase in the number of donors who cover costs.
Enable Adaptive cost coverage for your EOY campaigns to automate greater giving.
Live learning with Product Insider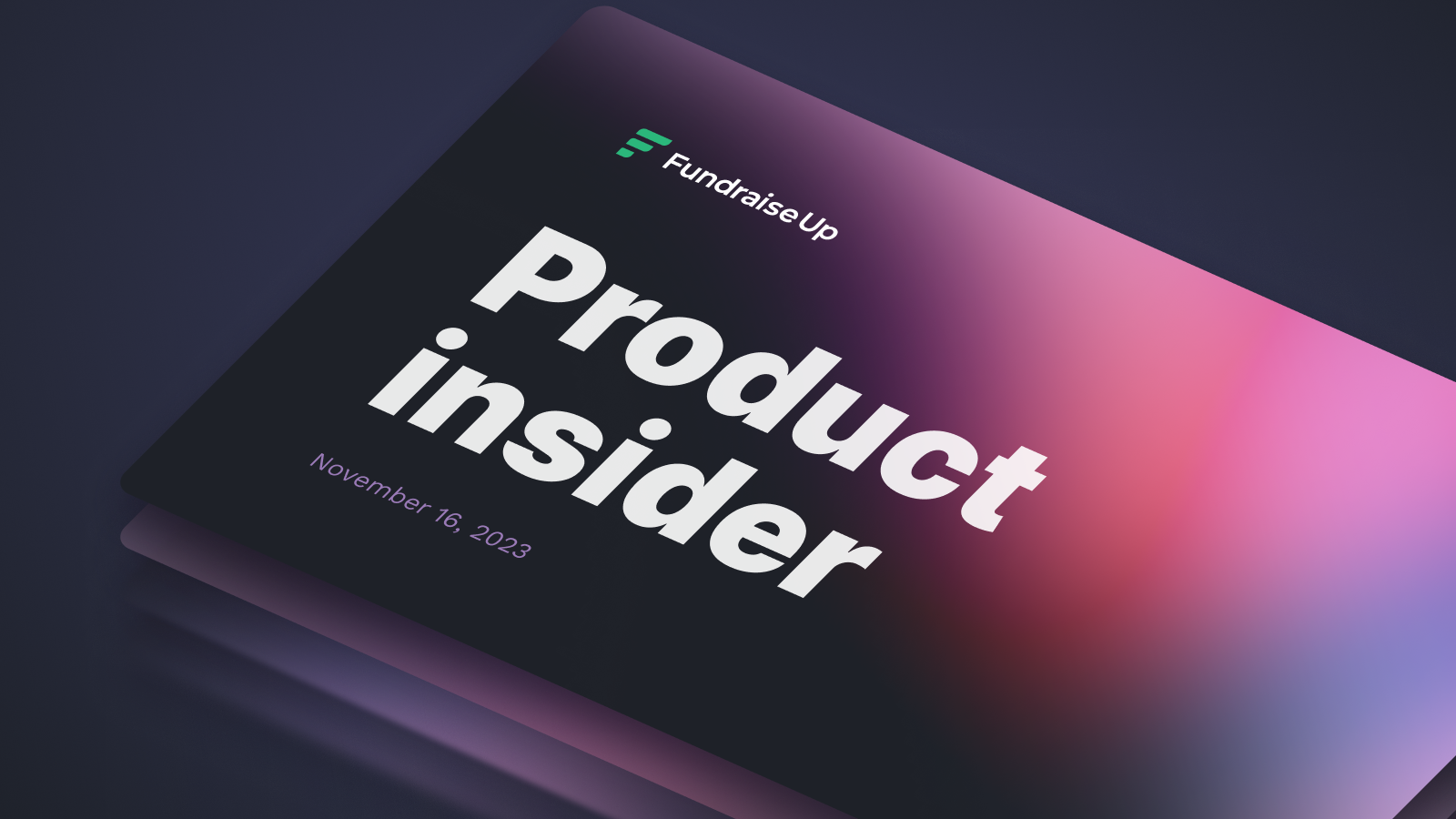 Learn about new and upcoming features at Product Insider.
Product Insider is our monthly product-focused webinar. We demo new features, provide product tutorials, and open the floor to Q&A with our Customer Success team. Product Insider is a great way to sharpen your platform skills while connecting with the user community. It's also a great way to catch a sneak peek of what's launching next from our product roadmap!
The next Product Insider is November 16 — you can use the link below to sign up.
Help that's all in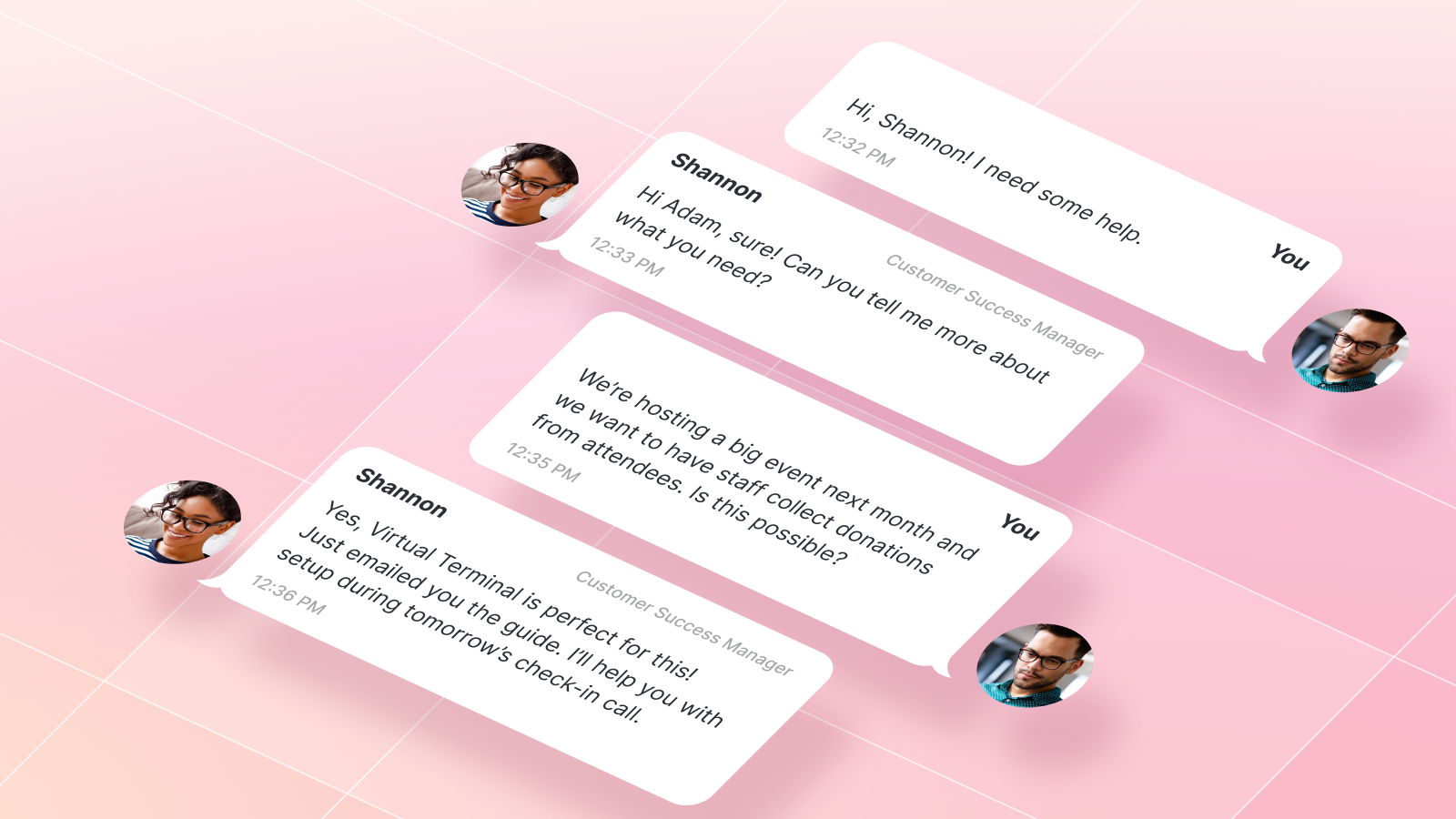 Fundraise Up provides leading, always-available support.
During Q4, getting good help is important. Whether you need to take a deep dive into product documentation or get live help from someone, we have people and resources to help you brainstorm and problem solve. And whether you're raising millions of dollars or just starting out with the platform, getting help from Fundraise Up is always free.
Customer Success team
For customers with a Customer Success Manager (CSM), remember that this team member is available to help you configure your campaigns, provide best-practices insights, and double-check your settings before you launch your GivingTuesday and year-end fundraising efforts.
To get help from your Customer Success Manager, call or email them directly.
365-day support coverage
Fundraise Up leads the way with support coverage. Our Support team is available 6 AM–7 PM Eastern time during the week and 6 AM–3 PM Eastern time on the weekends. Emergency support is available 24/7. And because this coverage include major holidays, there's always a team member ready to help whenever you need it.
100% uptime
Our legal team says we can't technically market 100% uptime, but if you check our status page, you'll see that it's been the case since March 2021!
This is a big deal. 100% uptime means the platform doesn't go down — even for maintenance. You don't have to worry about service disruptions on GivingTuesday or any other important fundraising day. Even under the heaviest loads, the platform will continue to deliver success for your organization.
Bonus: Watch Uncharitable online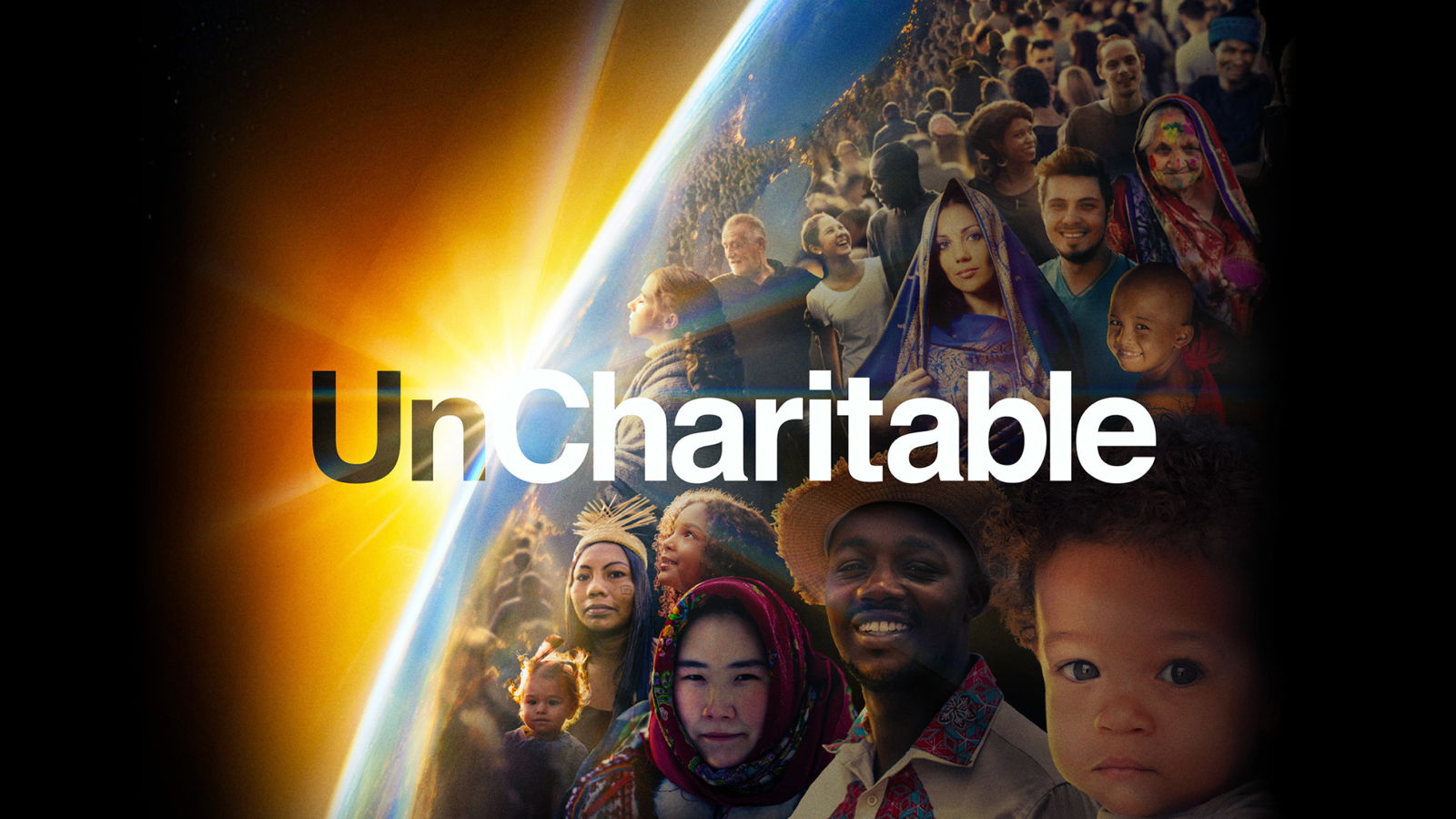 This is really exciting bonus item for me to share. Fundraise Up is now streaming the groundbreaking film, Uncharitable. If you haven't already seen the it, you must. And even if you have seen it, it's worth rewatching and certainly sharing with your network — help spread the word!
We're streaming the film through December 31, so make sure you sign up to watch it or share it before then.
Final thoughts
This is a critical time of year for you and your team. My hope is that the success you see this quarter far exceeds what you could have predicted or imagined.
In your corner is our entire team. We're here to support you with tools, resources, insights, and help from people who are deeply invested in your success.
Get ready…you're about to unlock incredible generosity. We can't wait to celebrate it with you.
---
About Fundraise Up
Fundraise Up is a technology company unlocking the world's generosity potential by optimizing how people give. The company's donation platform helps nonprofits engage more supporters and grow revenue by providing easy ways to increase conversion, enable modern payment methods, and personalize the giving experience for every donor. Fundraise Up is the partner of choice for UNICEF USA, The Salvation Army UK, American Heart Association, and other impactful organizations across the globe. For more information, visit fundraiseup.com.
Stay connected
Get updates and insights delivered to your inbox