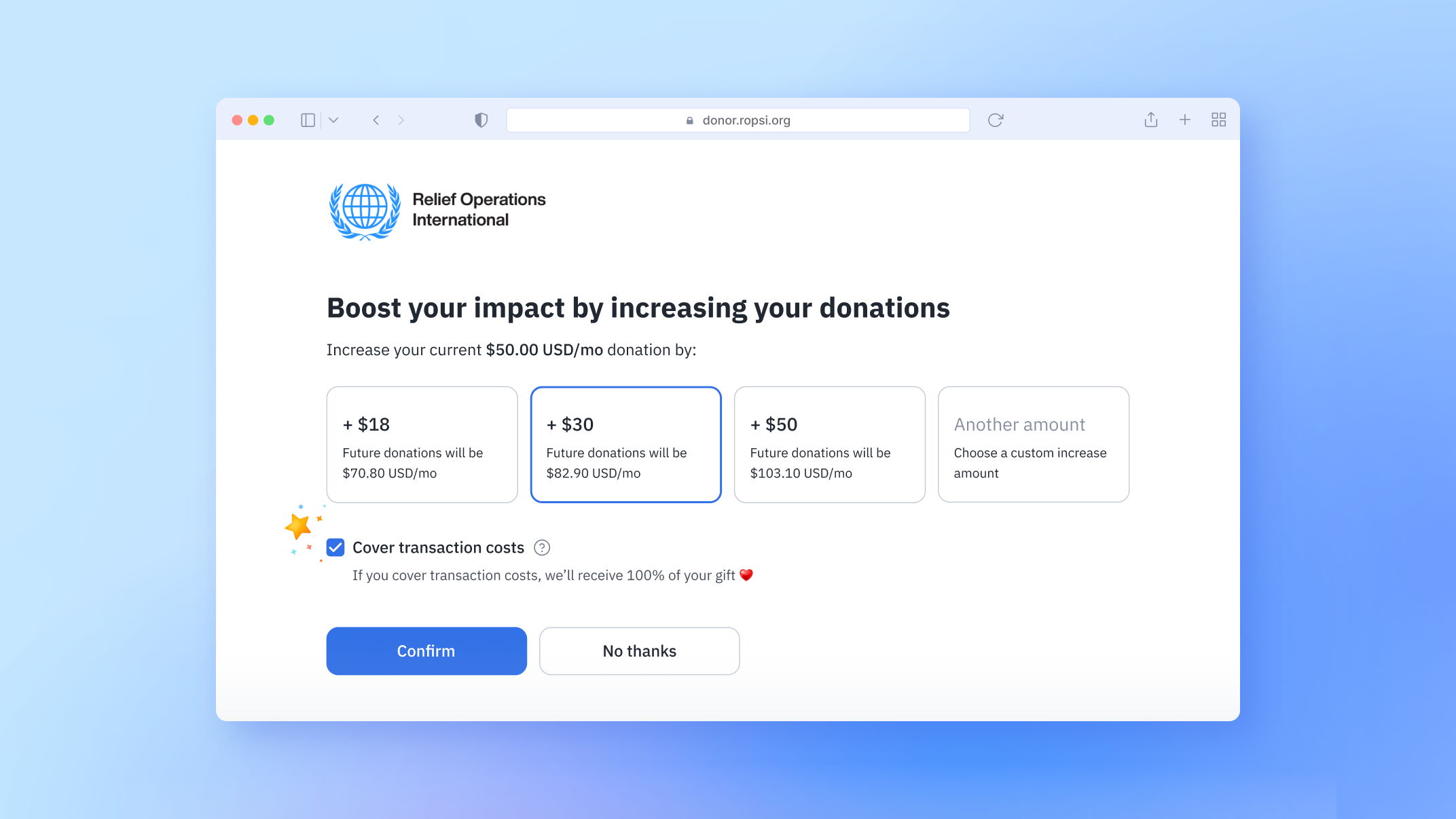 Product Marketing Manager
There's a new way to increase support from your recurring donors — Upsell Links.
Upsell Links enable you to create donor-specific donation upgrade links that can be included in marketing emails, SMS campaigns and other supporter communications. When your recurring donors visit these links, they can select from a series of personalized upgrade amounts and increase the size of their donations without having to reenter payment method information.
Increase recurring donation revenue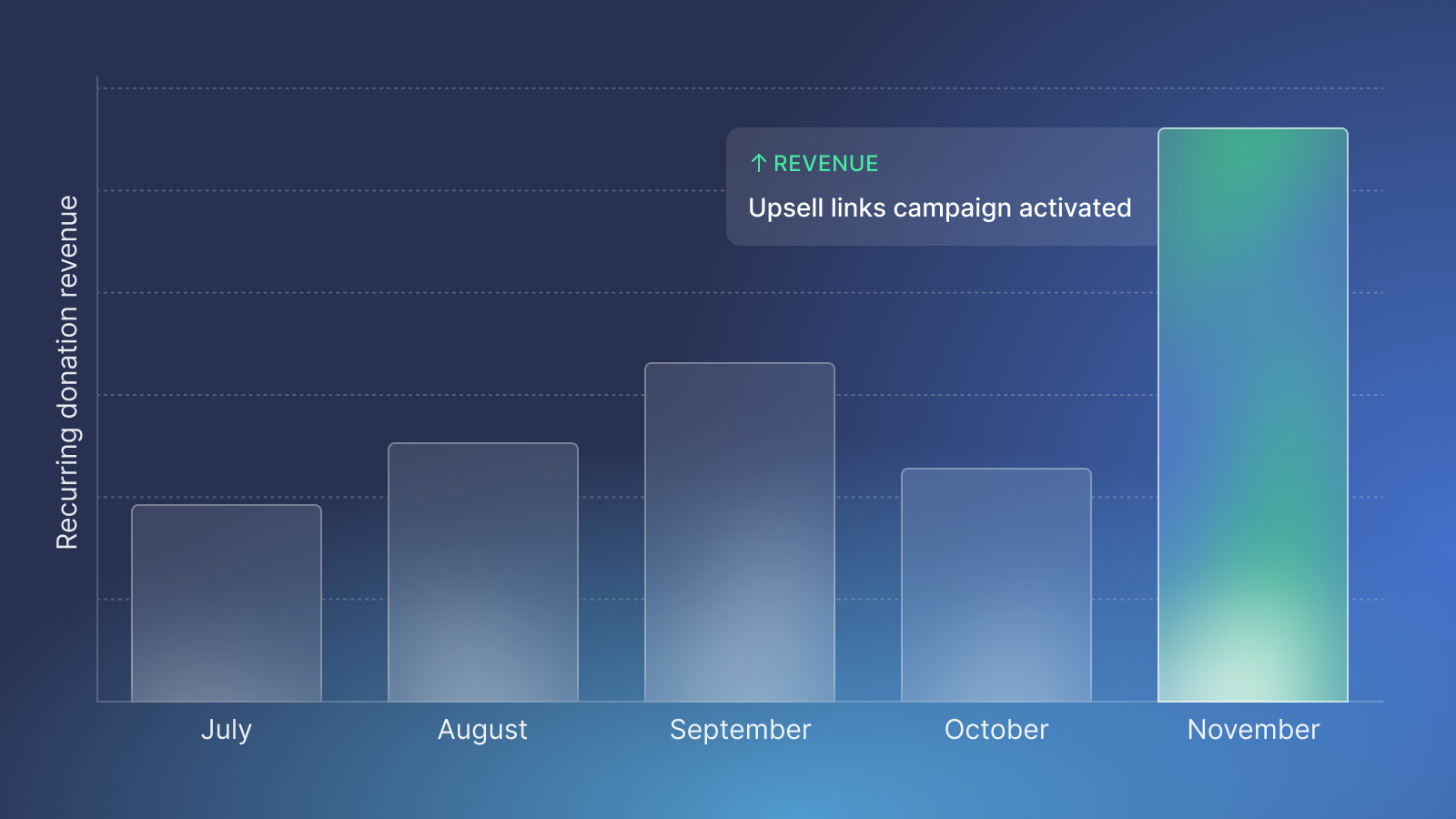 Use Upsell Links to upgrade donors and increase recurring donation revenue.
Recurring giving is the most powerful way for donors to provide ongoing support. With Upsell Links, it's now easy for these donors to increase their support over time.
For example, consider a donor who opts-in to recurring giving when making a donation to your organization. Their monthly donation might begin as a $10 gift, but by incorporating Upsell Links into an annual upgrade email that you send, you can create a seamless experience for the donor to increase their support. That original $10 amount can then easily become a $20 or $30 monthly gift.
Using Upsell Links, not only can you have multiply the lifetime value of individual donors, you can dramatically increase the output of your recurring giving program.
Ask for the right donation amount
Upsell Links leverage Fundraise Up AI to provide donors with right-sized upgrade amounts.
Getting the ask right has always been a challenge, especially when trying to figure out an appropriate upgrade amount. But with Upsell Links, you can put complicated spreadsheets and complex Excel formulas behind you.
Upsell Links use AI to tailor upgrade amounts for each of your recurring donors. Using more than 100 personalization data points, this AI-assisted approach ensures that only the upgrade amounts most likely to be selected by a donor are displayed. And because Fundraise Up's AI technology uses only first-party data, you can upgrade donors knowing their privacy comes first.
Upgrade donors in one click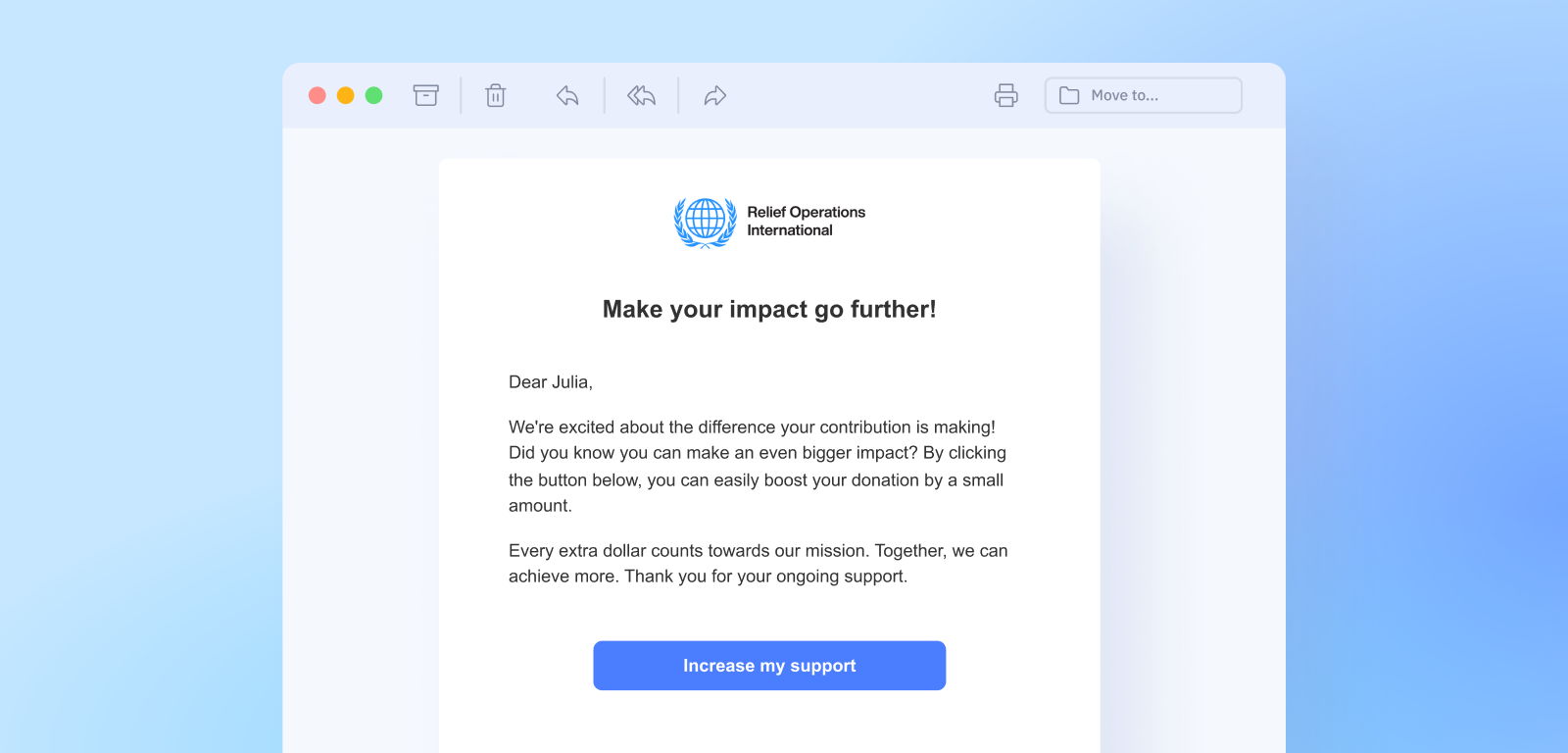 Upsell Links provide a seamless upgrade experience for donors.
Until now, getting donors to complete their upgrade has been tough. You've likely struggled with helping donors log into accounts they've forgetting the passwords to, getting them reenter payment method information, or coaxing them into completing the upgrade process over the phone. Upsell Links are here to increase the success of your upgrade efforts.
With Upsell Links, the upgrade experience occurs in as little as one click. It's a secure and seamless way to get your upgrades over the finish line.
Links with verification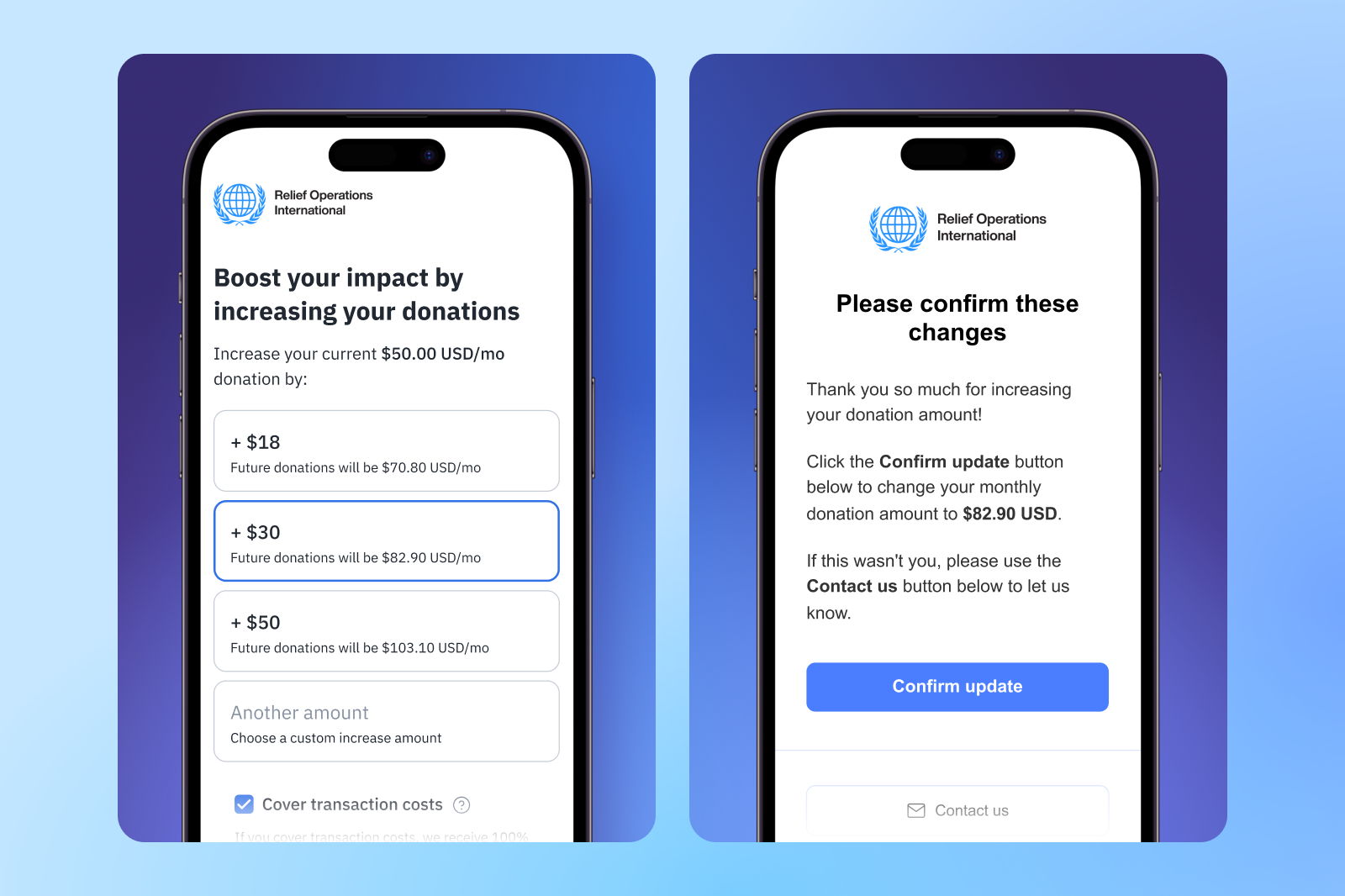 Links with verification include a confirmation step in the upgrade flow.
One way to create Upsell Links is using an approach that includes a verification step. In this approach, a donor selects an upgrade amount and then confirms it by verifying their email address.
Links with encryption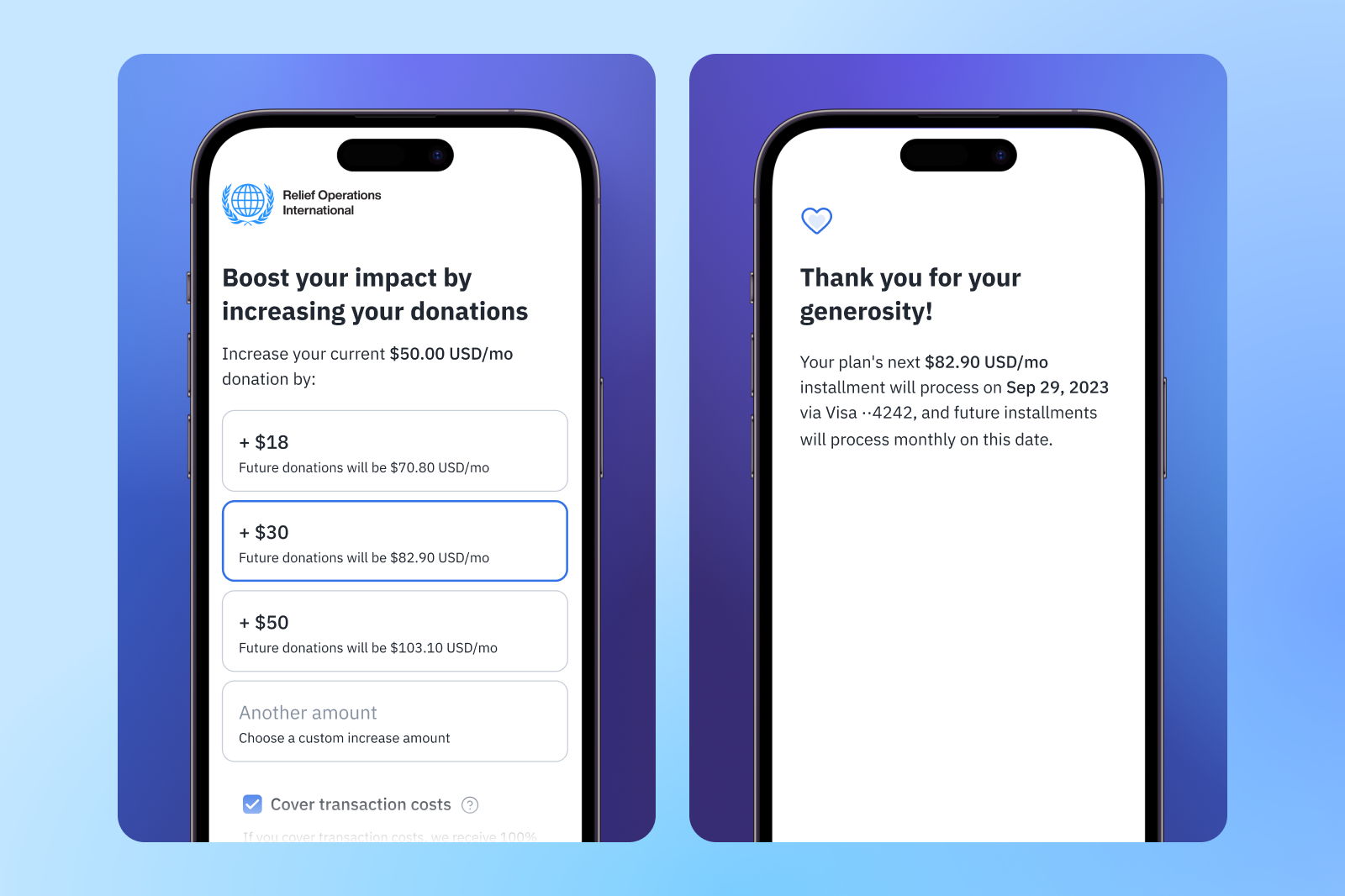 Links with encryption provide the fastest upgrade experience.
Upsell Links created using this approach utilize SHA256 encryption to identify supporters and their recurring donation plans. Because each link includes a signature unique to individual donors, the upgrade experience can be completed without an email verification step.
Two types of upsells
You can use Upsell Links to encourage upgrades in two ways:
Donation amount upsells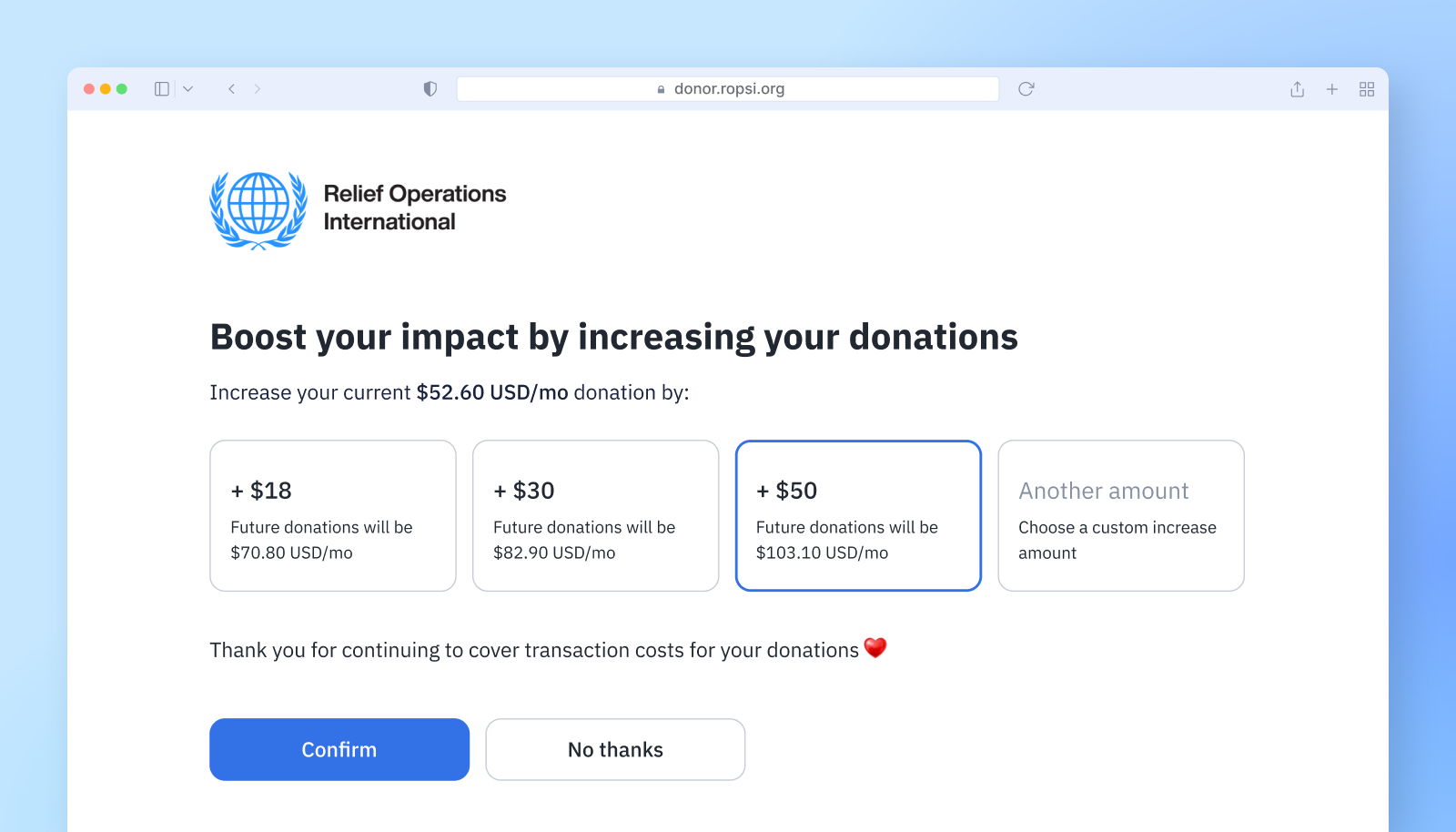 Upgrade a donor's recurring donation amount.
Donation amount upsells do just that — they encourage donors to increase their base donation amount. Three AI-personalized upgrade amounts and a fourth donor-customizable amount are offered.
Cost coverage upsells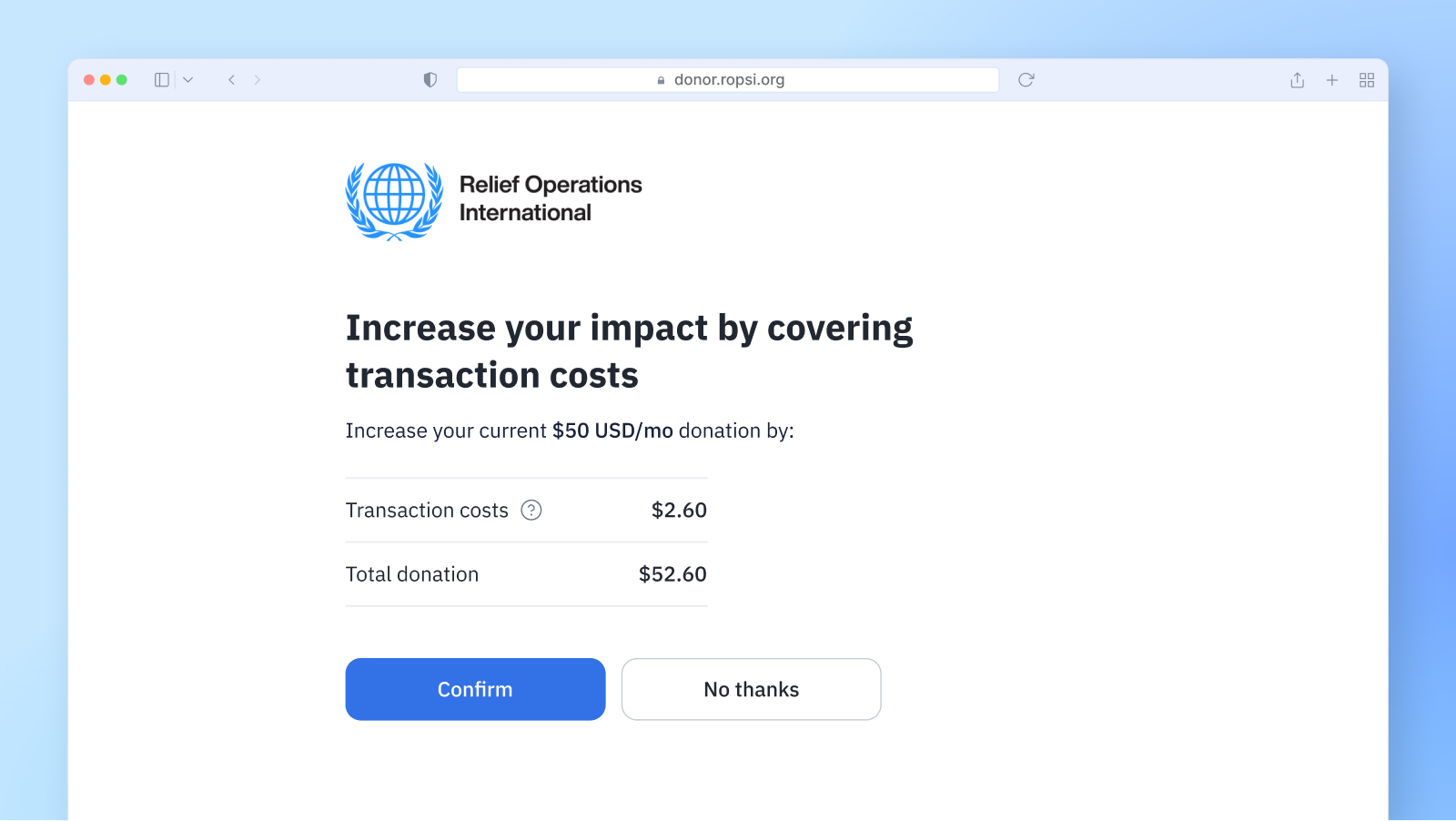 Encourage a donor to cover their donation's transaction costs.
Cost coverage upsells encourage donors to cover the transaction fees associated with their recurring donations. While almost all donors opt to cover transaction costs when making a donation, using this upsell approach with donors who don't cover costs can be an effective way of reducing costs and increasing revenue from recurring giving.
Start using Upsell Links
Now is the perfect time to integrate Upsell Links with your fundraising strategy. If you're an existing Fundraise Up customer, you can start using upsell links right now—explore the recurring giving docs to see how.
And if you want to use Upsell Links but aren't yet using Fundraise Up, create an account to get started.
---
About Fundraise Up
Fundraise Up is a technology company unlocking the world's generosity potential by optimizing how people give. Our donation platform helps nonprofits engage more supporters and grow revenue by providing easy ways to increase conversion, enable modern payment methods, and personalize the giving experience for every donor. Fundraise Up is the partner of choice for UNICEF USA, The Salvation Army UK, American Heart Association, and other impactful organizations across the globe.
Stay connected
Get updates and insights delivered to your inbox