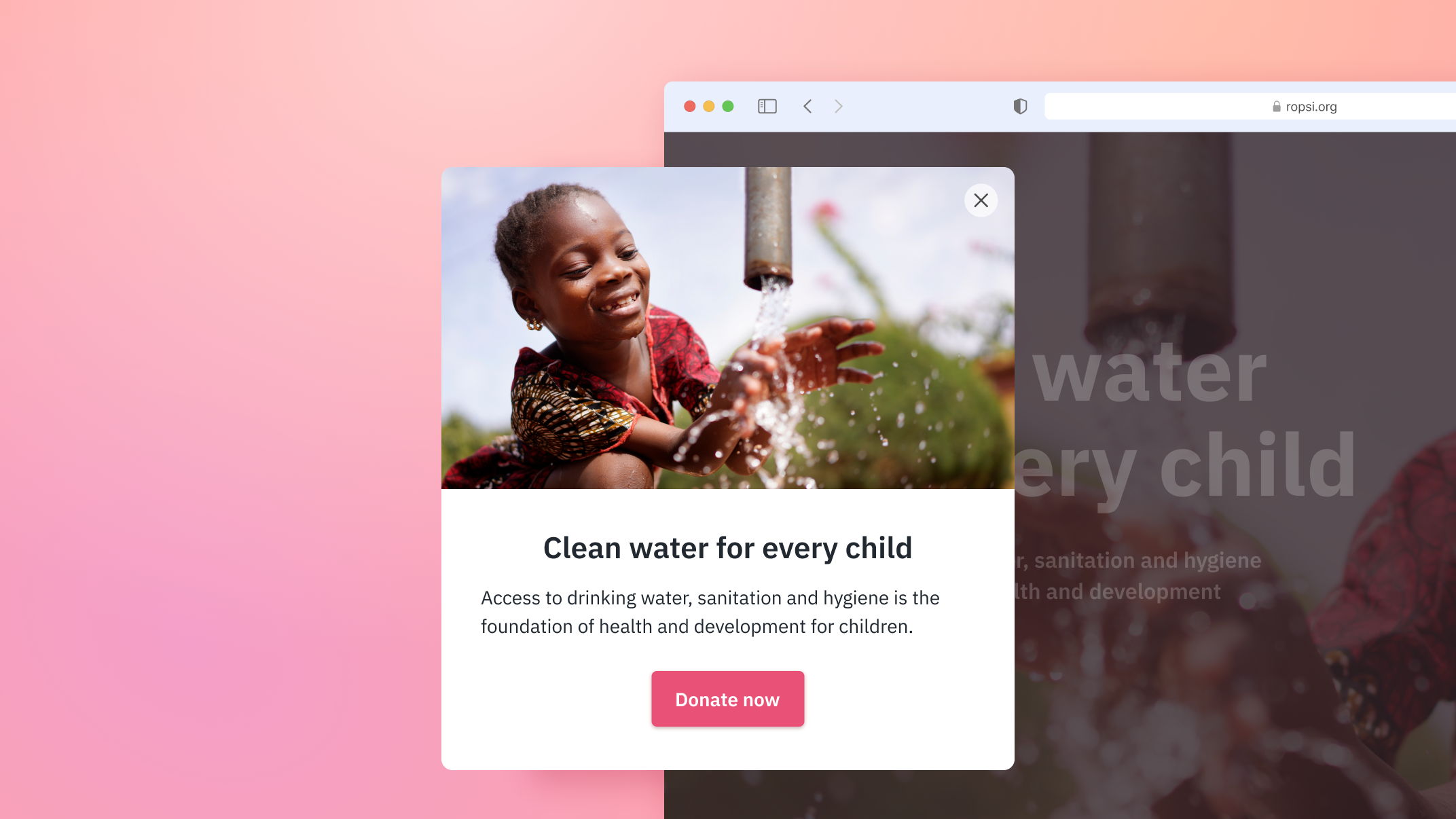 Product Marketing Manager
Say hello to Popup, the latest Element to join our library of fundraising UI components.
You can use Popup to display attention-grabbing calls to action on your nonprofit's website that prompt visitors to donate. Popup launches in the center of a visitor's screen, dims the content behind it, and puts the emphasis on the opportunity to give.
Popup also includes AI-driven features that optimize how and when it's shown to your site visitors. This way, more people who see it go on to donate, and search engines don't mark your popups as an intrusive interstitial.
Like other Elements, Popup is customizable. Add an image, set a title and description, write a label for the CTA button, and choose when you want Popup to display. Popup looks great on desktop browsers and it's optimized for mobile, too.
Popup is the perfect addition to your digital marketing mix. You can create several variations to segment campaigns, and use Popup's URL control feature to determine which pages each popup should trigger on.
Popup will also make your web developers and finance teams very happy. There's no extra code to install on your website and no extra costs to use it — just greater engagement and more people giving.
We're really excited to see how you fundraise with Popup. With GivingTuesday and year-end fundraising right around the corner, now is a great time to integrate Popup into your online fundraising plans.
---
About Fundraise Up
Fundraise Up is a technology company unlocking the world's generosity potential by optimizing how people give. Our donation platform helps nonprofits engage more supporters and grow revenue by providing easy ways to increase conversion, enable modern payment methods, and personalize the giving experience for every donor. Fundraise Up is the partner of choice for UNICEF USA, The Salvation Army UK, American Heart Association, and other impactful organizations across the globe.
Stay connected
Get updates and insights delivered to your inbox