Ways to Use Recurring Giving Options to Drive Generosity
Oct 27, 2022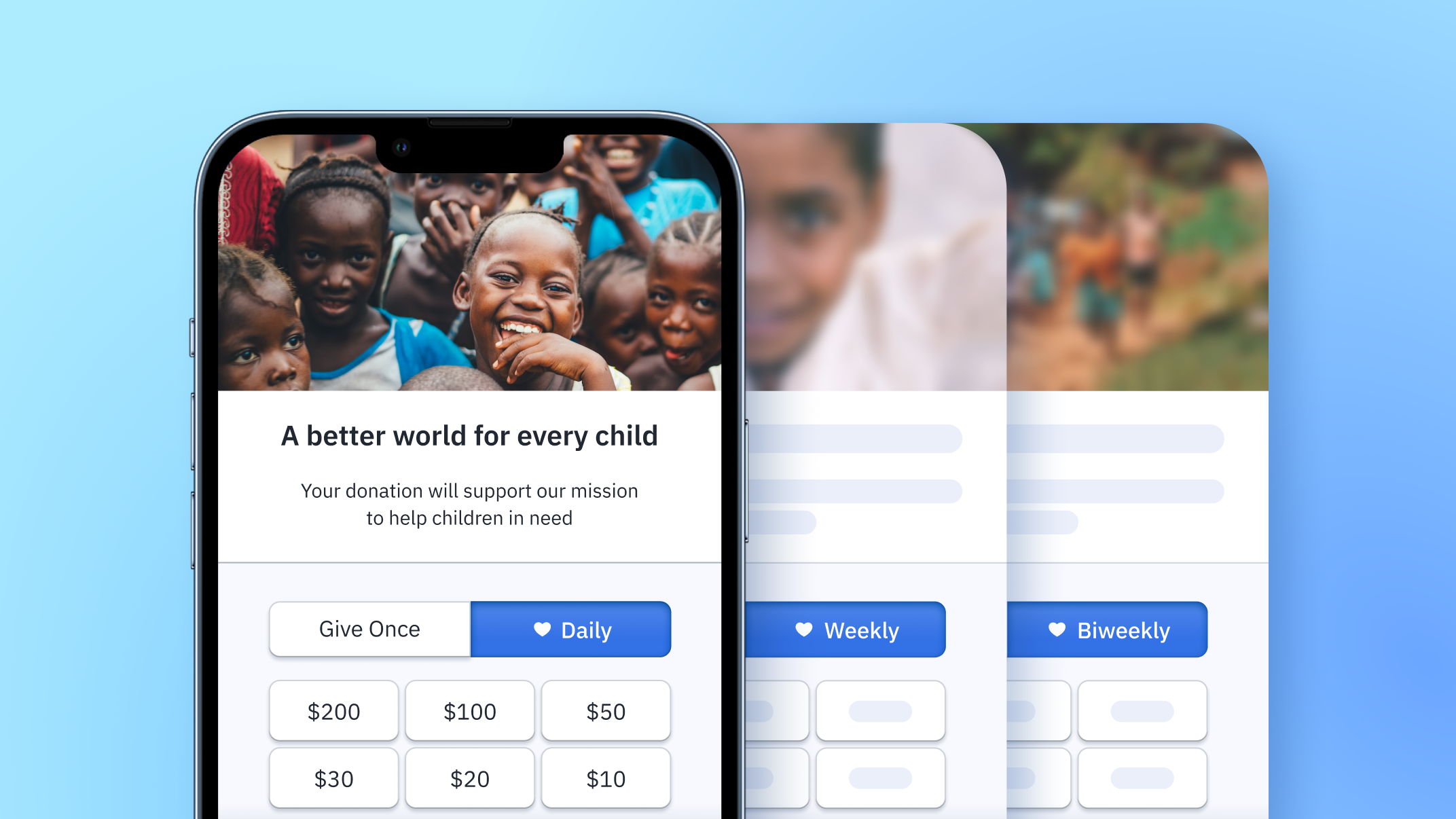 As donors receive exemplary and personalized experiences with their favorite brands — like Amazon and Netflix — they've come to expect that same level of thoughtfulness when they donate to charitable causes. In fact, research finds that 91% of consumers say they are more likely to shop with brands that provide recommendations that are relevant to them, which is also applicable to donors and nonprofits.
To meet changing donor preferences and to customize giving for every campaign, Fundraise Up released seven additional recurring giving frequencies: daily, weekly, biweekly, bimonthly, quarterly, semiannual, and annual.
Follow along as we share how nonprofits can use additional giving levels to unlock more generosity from donors.
Special holidays
During special holidays, many donors commemorate by giving back to their favorite charitable causes. So why not give them more options to show their support? If you're launching a holiday campaign, encourage donors to give on a more frequent basis. That way, you're empowering them with a more meaningful way to celebrate the holidays while also increasing the revenue potential for your campaign.
Here are some use cases:
Chinese New Year: In anticipation of the new moon, people all over the world celebrate Chinese New Year, also known as the Lunar New Year, with a 15-day spring festival. Encourage daily recurring donations as a way for your donors to celebrate the new year and give back to the AAPI community.
Ramadan: A religious holiday observed by Muslims all over the world, Ramadan is a time of reflection, fasting, and prayer. Bring your community closer by opening up daily giving and even weekly giving. We recommend adding a goal meter so that your supporters can keep track of your campaign performance throughout the month.
Passover, Rosh Hashanah & Hanukkah: For these important multiday Jewish holidays, offer daily as a recurring giving option to those who wish to increase their giving during these timeframes. Here's a fun idea: Why not add a popup message as soon as someone enters your website to encourage more frequent giving for those who are celebrating?
Diwali: A five-day celebration, Diwali is a religious Hindu festival. To give back to their communities, those celebrating may want to increase their support — so it's a good idea to make daily giving an option.
Christmas: As a way for donors to give back to their communities during the holiday season, offer up daily or weekly giving starting December 1 and ending December 25. Want to incentivize more people to donate? Add an impact slider so donors know how their donation is making a difference (e.g., $20 provides meals for a pet in need for an entire week).
Kwanzaa: For those celebrating the African-American culture during Kwanzaa at the end of December, empower donors to give daily. Include a donor map on your website so donors can see where fellow supporters are giving from.
Month-long awareness campaigns
With important monthly observances and celebrations throughout the year — such as Black History Month, Women's History Month, and Pride Month — it's a good opportunity to raise awareness about issues important to your organization and generate additional donation revenue.
Offer your donors one of three recurring frequency options during month-long campaigns:
Daily: For donors who want to show their support every day of your campaign
Weekly: For donors who might not be able to give daily but still want to give frequently throughout the month
Bi-weekly: For donors who want to make a bigger impact than just a one-time gift
Flexible plans for changing donor lifestyles
Sometimes things don't go as planned and donors are faced with budget constraints. If you're only offering a monthly giving option, chances are you'll end up with a lapsed donor who cancels their recurring giving plan.
With more flexible options like bi-monthly, quarterly, semiannual, and annual gifts, your organization is now able to better retain donors and customize a giving plan that works with your donor's lifestyle, no matter what happens. With Fundraise Up's Donor Portal, your donor can change their giving frequency at any time and pick back up where they left off when they're ready.
---
To learn more about how to include more giving frequencies into your nonprofit's recurring giving program, schedule some time to chat with one of our team members.
Stay connected
Get updates and insights delivered to your inbox