Connecting Donors With Loved Ones Through Tribute Gifts This Year-End
Nov 9, 2022
As the holiday season draws closer, people will be looking to give back to their communities by making donations to their favorite charitable organizations. In showing their appreciation and gratitude for the work your organization has done throughout the year, many will want to dedicate their donation to someone special in their life as a way to honor them during the holidays.
Tribute gifts as a way to honor loved ones
Tribute gifts are another way for your organization to raise funds during the year-end season but also throughout the entire year. Allowing someone to dedicate a donation is a remarkable way for donors to celebrate important milestones with their loved ones like holidays, birthdays, anniversaries, and graduations. But it's also a way to show support and honor someone who is struggling or grieving through personal hardships.
As an example of a nonprofit leveraging tribute gifts, United Nations Population Fund has created a landing page that educates donors about what tribute gifts are and how these gifts are able to support women and girls in need: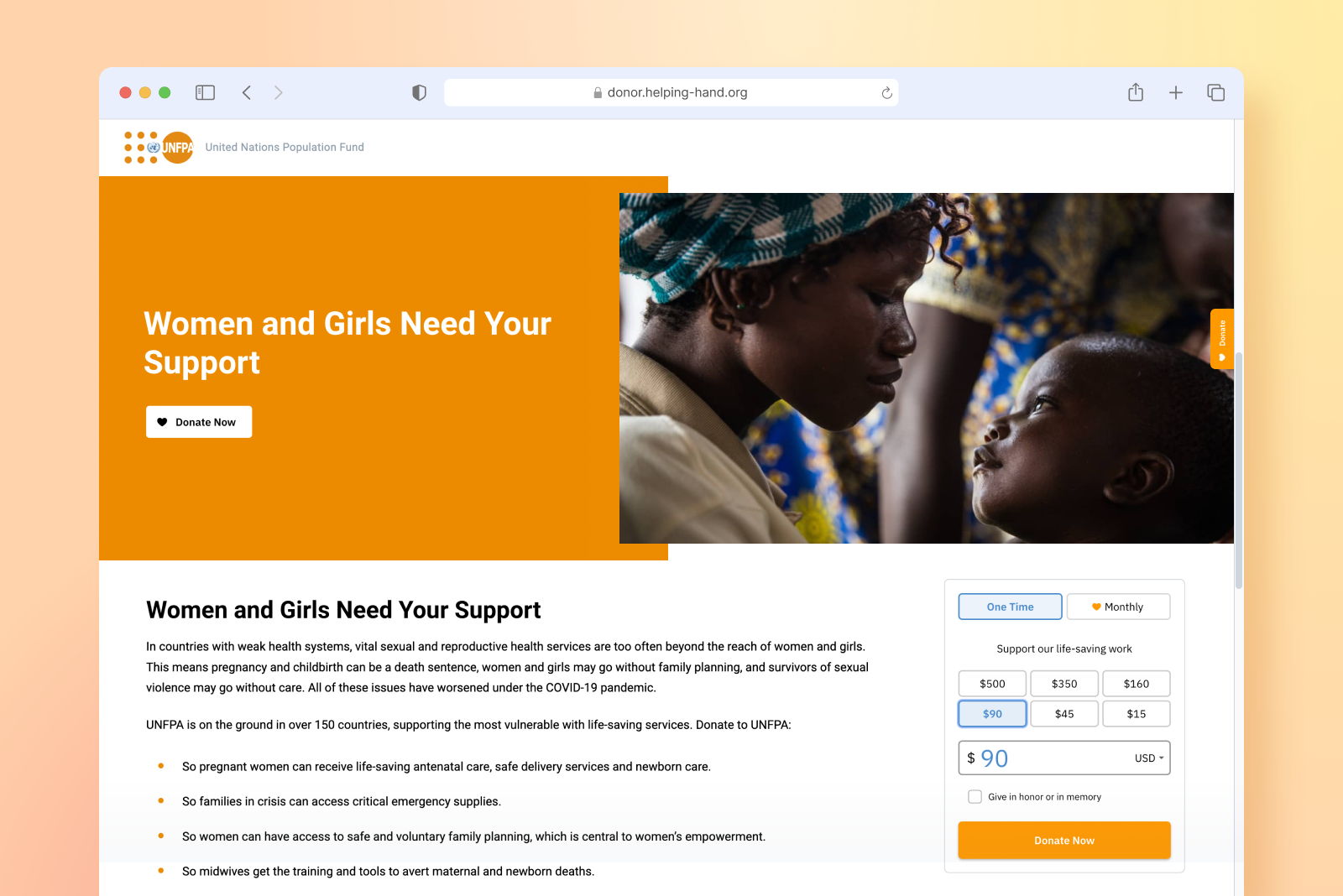 If you want to add more clarity around how donors can make a tribute gift, you can highlight steps to take on your landing page. Make sure the how-to section is in a prominent location on your landing page so that donors don't miss it. That way, there's complete transparency around dedicating their donation, and they won't miss it during checkout.
For instance, if you're using a donation platform like Fundraise Up, the steps could read:
To dedicate your donation to a loved one, click on the donate button.
Fill out the donation as normal but remember to check the "Dedicate this donation" box and type the name of the person you want to donate on behalf of.
Follow the rest of the donation steps and don't forget to customize an email card at the end of the donation process.
Take it a step further by highlighting the steps in a popup message so that it's the first thing donors see when they enter your tribute-specific landing page.
Engaging tribute donors and recipients
While tribute gifts are a way to grow online revenue, it also serves as an opportunity to increase your brand awareness and ability to garner new supporters. When someone makes a tribute gift, they are either a first-time donor who is offering their support to a cause that is important to someone special in their life or a returning donor who is offering their support to a cause that is important to them on behalf of someone special in their life. In either case, your organization is given an opportunity to cultivate a new donor through strategic relationship-building.
Here are a few ways to nurture that relationship:
Send a thank-you email. You should always send a thank-you email to the donor as soon as they make a gift to your organization. This lets the donor know that you appreciate their support and makes them feel good about their gesture of good will. By using a donation platform like Fundraise Up, you're able to customize thank-you emails so that they automatically trigger once a donation is processed.
Share how their gift has made a difference. Whether it's the donor or the recipient who is new to your organization, be sure to send them a follow-up email after your year-end campaign to tell them how their donation has impacted your work. For instance, if you're raising funds to bring school supplies to children who need it most, let them know how many kids you were able to help and how they contributed to that impact.
Tell compelling stories. Share personal stories about the people, animals, or environment your mission supports. A thoughtful story about an individual person, animal, or place can help donors emotionally connect with those you serve. If the donor feels good about the difference they're helping you make, it might even inspire the donor to give again.
Ask them to become a recurring supporter. Tell the donor about your recurring giving program. Explain how they can make a bigger difference on your mission by taking their next one-time donation and spreading it across recurring gifts throughout the year. This will boost revenue but also donor retention.
Encourage them to create a fundraiser in your year-end campaign. Rally your community of supporters and share how much it would mean to your organization if they started a fundraiser for your campaign. It only takes a few minutes to create or join a fundraiser on Fundraise Up, and they immediately get a personalized link to share in their social channels or via email.
Offering a dedication option in your donation experience
Fundraise Up makes dedicating donations to someone simple, quick, and effortless for your donor. If your donor wants to make a dedication, all they have to do is check the "Dedicate this donation" box on the checkout screen and complete their donation as they normally would.
Once your donor completes their donation, they have the option to send a personalized card or make another dedication. When a donor sends a card, they have the option to choose a dedication type — in honor of or in memory of a loved one. Then, they can customize the message they want to send and choose artwork from your image collections.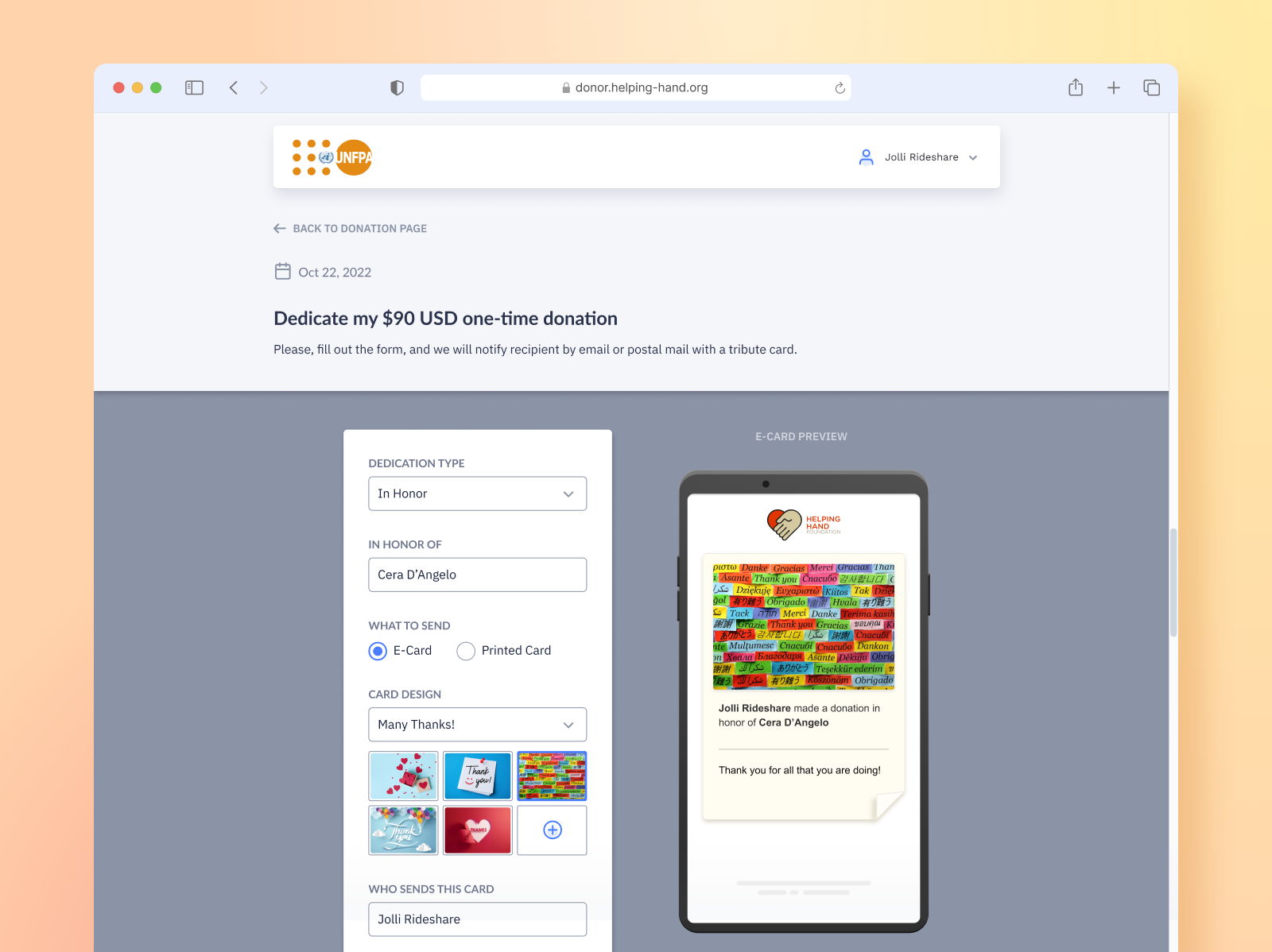 Fundraise Up has created seven image collections that you can offer to your donors: memorial, celebration, thank you, anniversary, birthday, wedding and animals.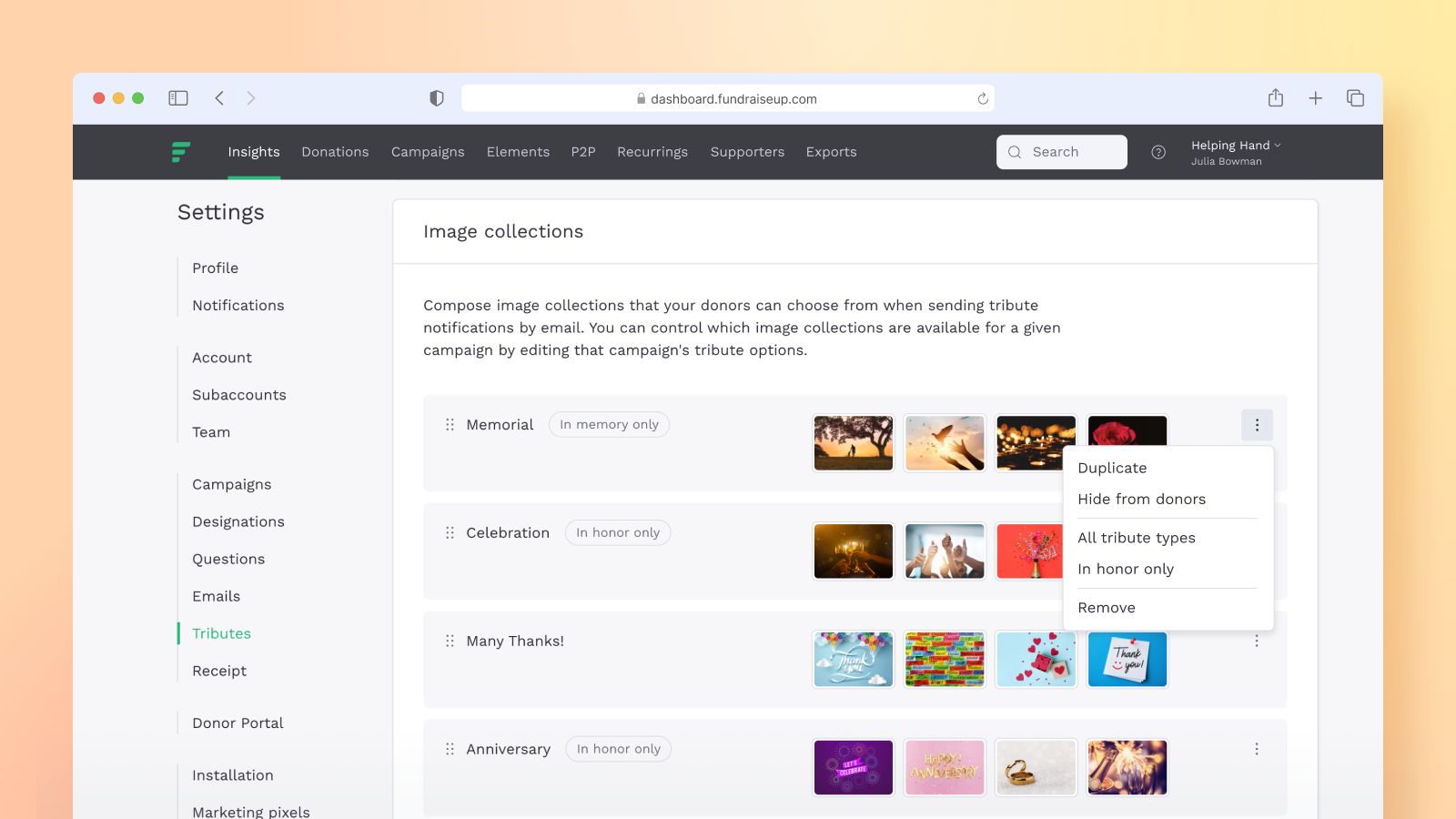 You also have the option to customize your own image collection for any given campaign. You can select up to four images per collection, and individual collections can be included or excluded from a campaign. For example, if you're creating a holiday-themed image collection just for your year-end campaign, you can choose to include that collection in that campaign, and the image collection would not be shown in any other campaign running on your website.
Resources for building an engaging image collection for tribute gifts
If you have a graphic designer on staff who can create custom images to use for tribute gifts, that's fantastic. However, for organizations that don't, there are a number of free to low-cost resources out there to choose from:
Just in time for year-end, we've compiled a library of free images that you can offer to your tribute donors to personalize their dedication cards. Download our year-end collection here.
---
To learn more about how your organization can offer tribute gifts this holiday season and throughout the year, schedule a call with one of our team members.
Stay connected
Get updates and insights delivered to your inbox