Artificial intelligence & machine learning: helping nonprofits fundraise smarter
Feb 16, 2022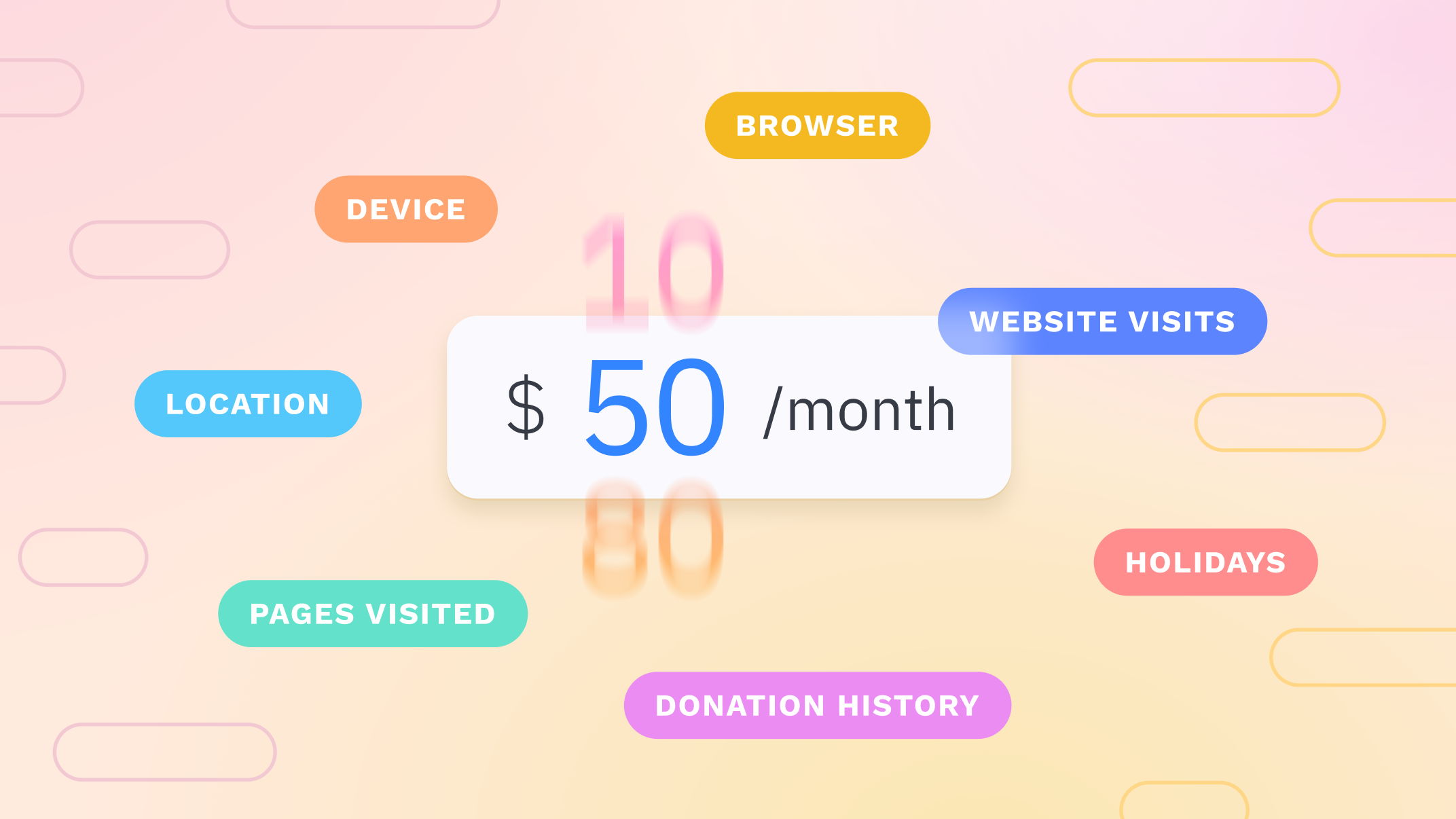 You see it everywhere you go, whether it's in news publications, blogs, or social media posts; at industry conferences; or even through word of mouth from friends or colleagues: Artificial intelligence is revolutionizing the way the world operates. You might even be rolling your eyes at the mere mention of AI, machine learning, or even Big Data because you instinctively think of Hollywood blockbusters like "Terminator" or "I, Robot." But don't go running off yet; we promise that robots aren't taking over the world.
AI and ML are more than just fancy buzzwords, and they're certainly nothing to be afraid of. In fact, they're real solutions to your biggest fundraising challenges. Stay with us through this blog as we explain:
The breakdown: artificial intelligence vs. machine learning
To understand how to leverage smart technology, like AI and ML, you need a full understanding of what that means. Uninformed decisions can be the pitfall of any nonprofit, and you don't want to be caught in the trap of buying into a trendy idea or product without educating yourself. While AI and ML are often used interchangeably, each has unique characteristics and capabilities that distinguish one from the other.
What is artificial intelligence?
Google "What is artificial intelligence?" and you'll find hundreds of thousands of helpful resources. But defining AI can often cause a lot of confusion if you're not familiar with technical computer science lingo. In its simplest form, AI is the process of using computer systems to automate human tasks, according to a resource from NTEN.
And while AI can alleviate some arduous tasks from humans, it is limited to making decisions based on what the data exactly shows — it cannot identify trends or make predictions based on available data.
How is machine learning different?
As we mentioned, while AI and ML have been used interchangeably, these two processes are not the same. In fact, ML is an application of AI and is more sophisticated in what it can do. AI makes decisions on what the data tells it, but ML can identify patterns, make predictions, and learn and improve itself over time based on experience.
The beauty is that ML can process data much faster than one person can, creating a more streamlined process for analyzing data. However, that doesn't mean that robots are here to replace humans, rendering them obsolete. Quite the contrary: ML gives nonprofits the opportunity to scale and optimize by freeing up staff time to contribute more to critical tasks related to the mission.
Artificial intelligence & machine learning — opportunities for nonprofits
Thanks to the digital transformation, nonprofits finally have access to innovative resources that have long been available in the e-commerce space, helping for-profit companies operate faster, smarter, and better — like chatbots able to answer frequently asked questions or product recommendations (think of the "Recommended for You" section on your Netflix library).
There are still skeptics in the sector about smart technology, but the truth is that a whopping 89% of nonprofit professionals believe that AI can improve their organization's efficiency.  And there are a number of ways that nonprofits are already utilizing AI and ML every day to preserve more time, resources, and energy. Use cases include streamlining administrative tasks, prospect research, wealth management, segmentation, and perhaps most important, online giving.
Let's talk about how AI and ML can help you create a donor experience that helps you acquire new donors, improve your donor retention rate, and effortlessly increase fundraising revenue.
Fundraise smarter with artificial intelligence & machine learning
Our digital-first world has caused an unwavering dependence on digital tools, changing the way our donors give and informing them of which organizations they want to give to. Because of our saturated marketplace — with organizations with similar missions competing for the same dollars — nonprofits are now faced with a complex challenge: how to craft compelling messaging that urges people to give but also creating an enjoyable and memorable online giving experience that they will want to come back to.
A tailored donation experience
To truly understand how to improve your donor's giving experience, you have to acknowledge that your donors aren't just donors — they're also consumers, they have different preferences, and they have unique interests. So, like it or not, whenever someone stumbles upon your website looking to donate, their giving experience with your nonprofit is being compared to their consumer experiences at their favorite websites. With companies like Amazon streamlining the shopping experience by allowing consumers to check out instantly with a one-click button and receive a personalized individual experience with product recommendations based on shopping activity, how can nonprofits mirror that same experience? Enter: smart technology.
Fundraise Up creates a streamlined and tailored donation experience that will not only impress website visitors but one that will convert more visitors into donors. We understand how much thought you put into making sure you're asking for the right donation amount, but with such a diverse pool of donors with different giving capacities, how can you pinpoint which donation levels resonate with everyone? For this very reason, we take the guesswork out to make sure you're asking for the right amount every single time. Our technology uses AI and ML algorithms to analyze more than 100 data points to intelligently predict how much someone is likely to donate based on their user activity, which has been proven successful from the nonprofits we work with. In fact, for Partners in Health, 49% of donors choose one of the AI-suggested donation amounts.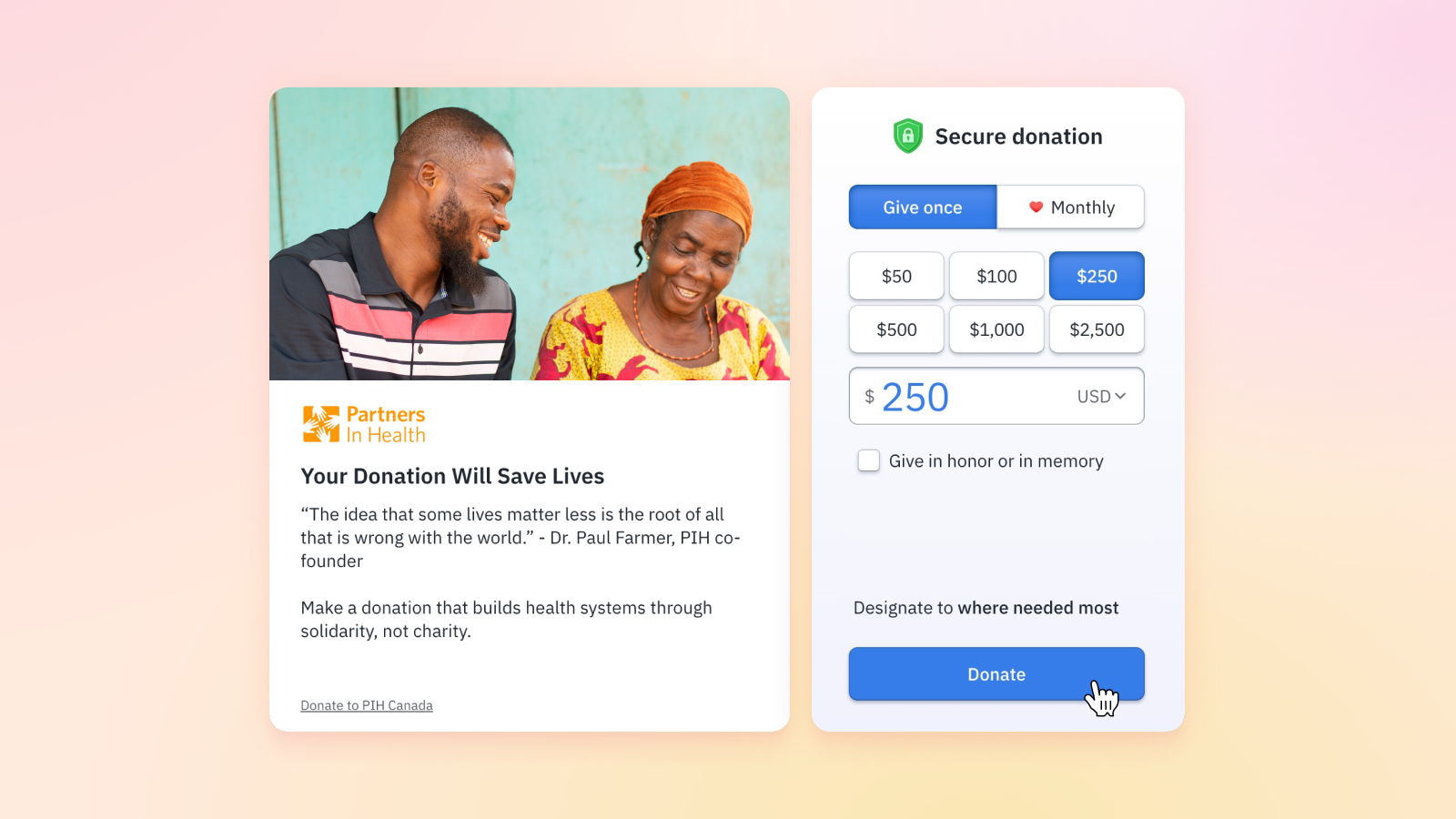 Plus, with our library of elements — buttons, forms, automated reminders, and more — you can now make every single page on your website a donation page, encouraging more donations and lessening the chance of donation abandonment.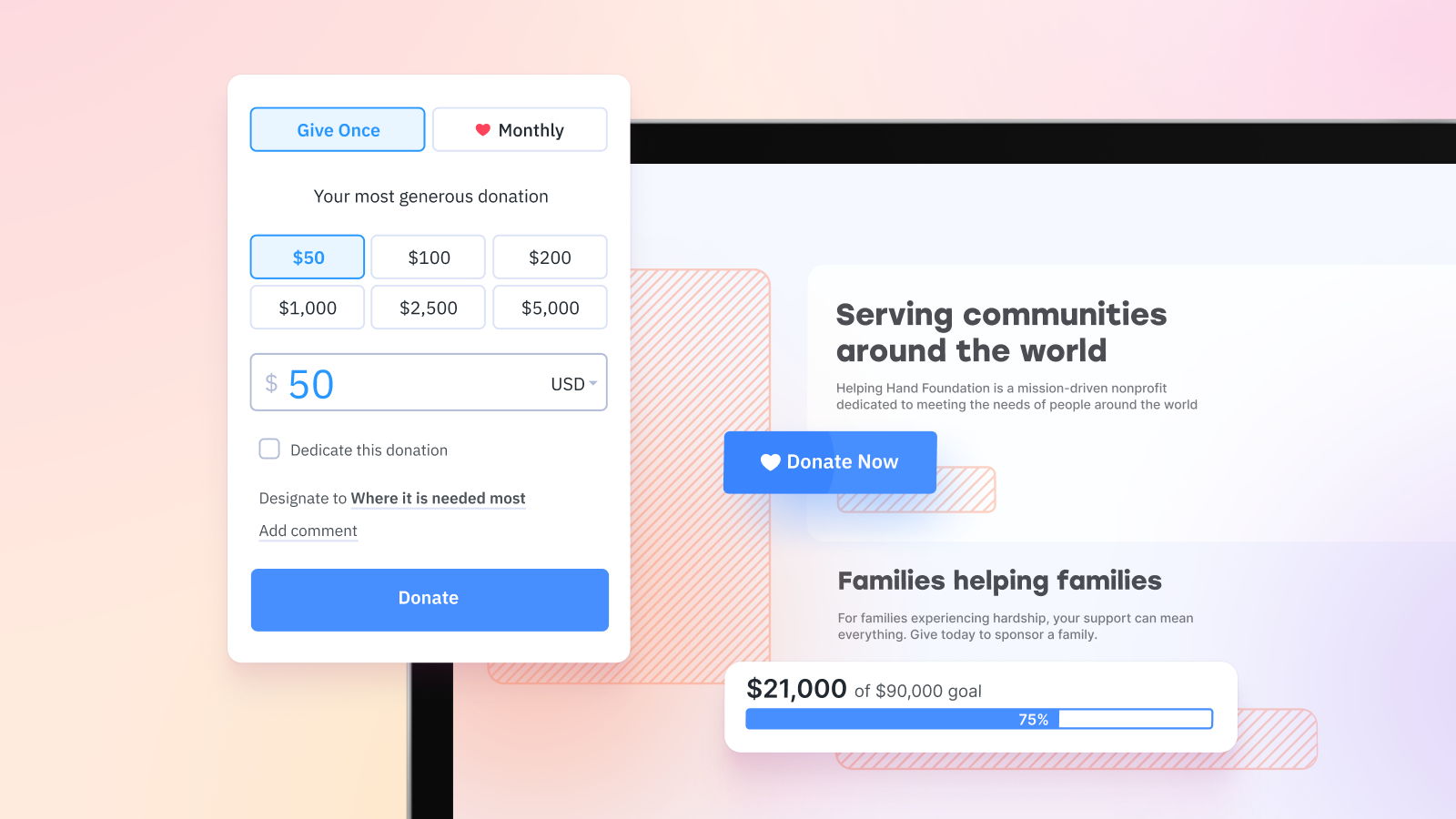 Automated recurring giving options
Increasing the number of recurring donors you have will automatically improve your donation retention rate. But oftentimes, nonprofits feel overwhelmed at the thought of creating an elaborate recurring giving program that they need to dedicate time, resources, and staff to. However, the good news is that you don't have to schedule a full-blown campaign to convert one-time donors into recurring donors. Using smart technology, you can automatically embed a monthly giving ask into the donation experience.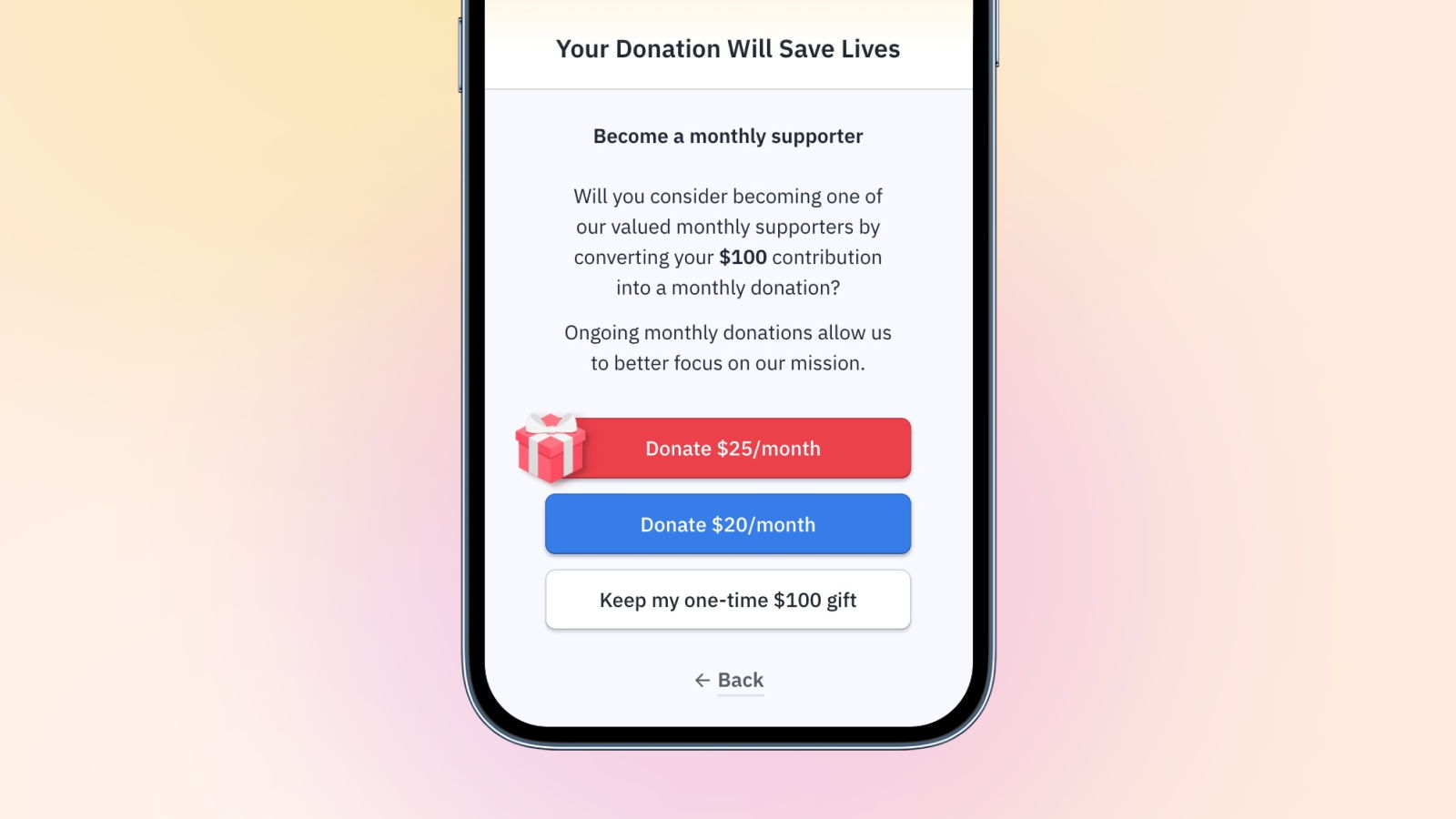 Our Monthly Upsell automatically asks one-time donors to become monthly donors during the checkout process. Plus, with our smart technology capabilities, we calculate the right monthly donation amount to present to your website visitors, which has a high likelihood of boosting the lifetime value of your donors. By leveraging Fundraise Up, International Anti-Poaching Foundation was able to grow its recurring donor retention rate by 88.2%.
For those looking to contribute a large one-time gift, our technology will automatically suggest that they become an annual recurring donor, helping you retain those high-net-worth donors.
Ready to learn more? Book a demo with our team to elevate your donation experience and double your fundraising revenue today.
Stay connected
Get updates and insights delivered to your inbox