Online giving on the rise: time to give your outdated donation form a refresh
Feb 17, 2022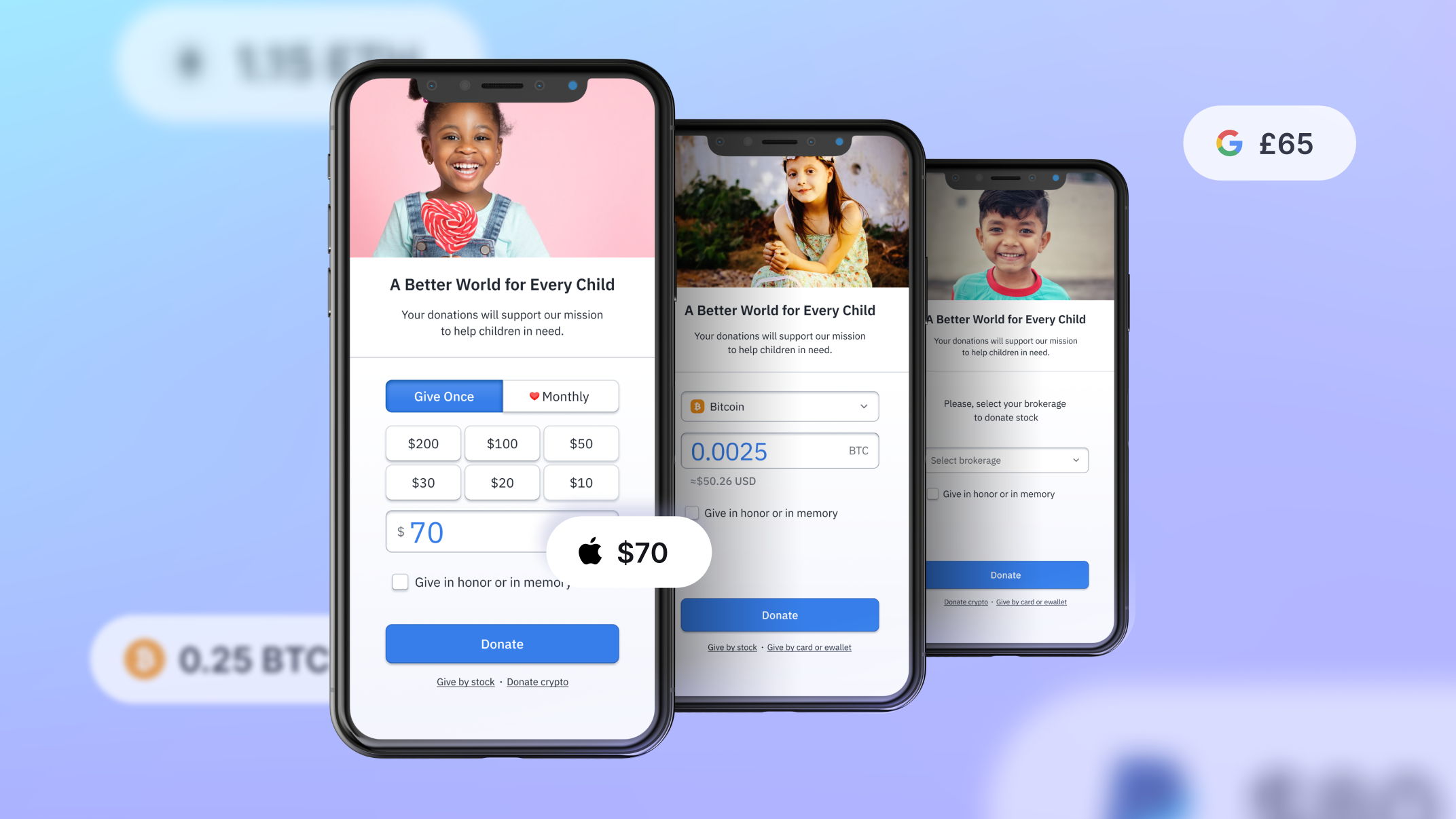 In a year that posed much uncertainty, 2021 proved to be a year when generosity was at its height. According to a new report from the Blackbaud Institute based on an analysis of $46.5 billion, charitable giving in the U.S. increased 9%. Additionally, an analysis of $2.9 billion concluded that there was also a 9% increase in online giving. Looking at the last three years alone, online giving has skyrocketed with an explosive 42% growth.
Here are a few other key findings on online giving:
Large nonprofits (>$10 million) saw a 9.8% increase in online giving, medium-sized nonprofits ($1 million to $10 million) saw an 8.7% increase in online giving, and small nonprofits (<$1 million) saw a 3.9% increase in online giving in 2021 compared to 2020.
Twelve percent of total fundraising came from online giving. While this is a 1% decrease from 2020, this is still higher than pre-pandemic levels.
Donations made through a mobile device made up 28% of online giving, which is on par with 2020 and a significant increase from the 9% reported in 2014.
Online donor retention was 23% for first-time donors and 64% for multi-year donors, signifying a higher percentage of donors being retained over time.
The average gift across all sectors was $204, a 15% increase from 2020.
The pandemic sped up the need for online giving options, and these findings show that generosity through online giving channels continues to grow significantly compared to pre-pandemic levels. To meet the ongoing demand for engaging online giving experiences and to stand out in a crowded marketplace, your nonprofit needs to modernize its online giving experience, ensuring that it is attractive enough to catch the attention of new donors and seamless enough so that giving can be done in a matter of seconds.
Online giving should be an integrated experience
Did you know that 79% of website visitors who have the intention of giving end up abandoning the donation page? This staggering statistic is attributed to a complicated and time-consuming donation process. Your donors don't want to spend time filling out a lengthy donation form with a slow load time. With today's quick-moving online experience — like being able to preorder your favorite coffee from Starbucks and checkout on the mobile app within seconds — any page that takes more than a few seconds to load will lose your donor's attention.
As data experts, we know that the industry standard for fully loading a webpage is more than 10 seconds. With Fundraise Up, that time drops significantly to 1.5 seconds. That's why we believe that standalone donation forms and donation pages are a thing of the past. Why should you disrupt your donor's experience by redirecting them to another webpage? Instead, streamline the donation experience by including an embeddable modal that appears front and center on your website.
To integrate your donation experience for your visitors, it's important to add multiple call-to-action elements to your website. That way, your visitors can focus on taking action instead of fumbling around looking for a hidden donate button. For example, when a visitor goes to the Community FoodBank of New Jersey's website, they are immediately prompted to give with a donation modal. But if they exit the modal to learn more about the organization and explore ongoing fundraising campaigns, there are multiple call-to-action prompts strategically placed throughout the website.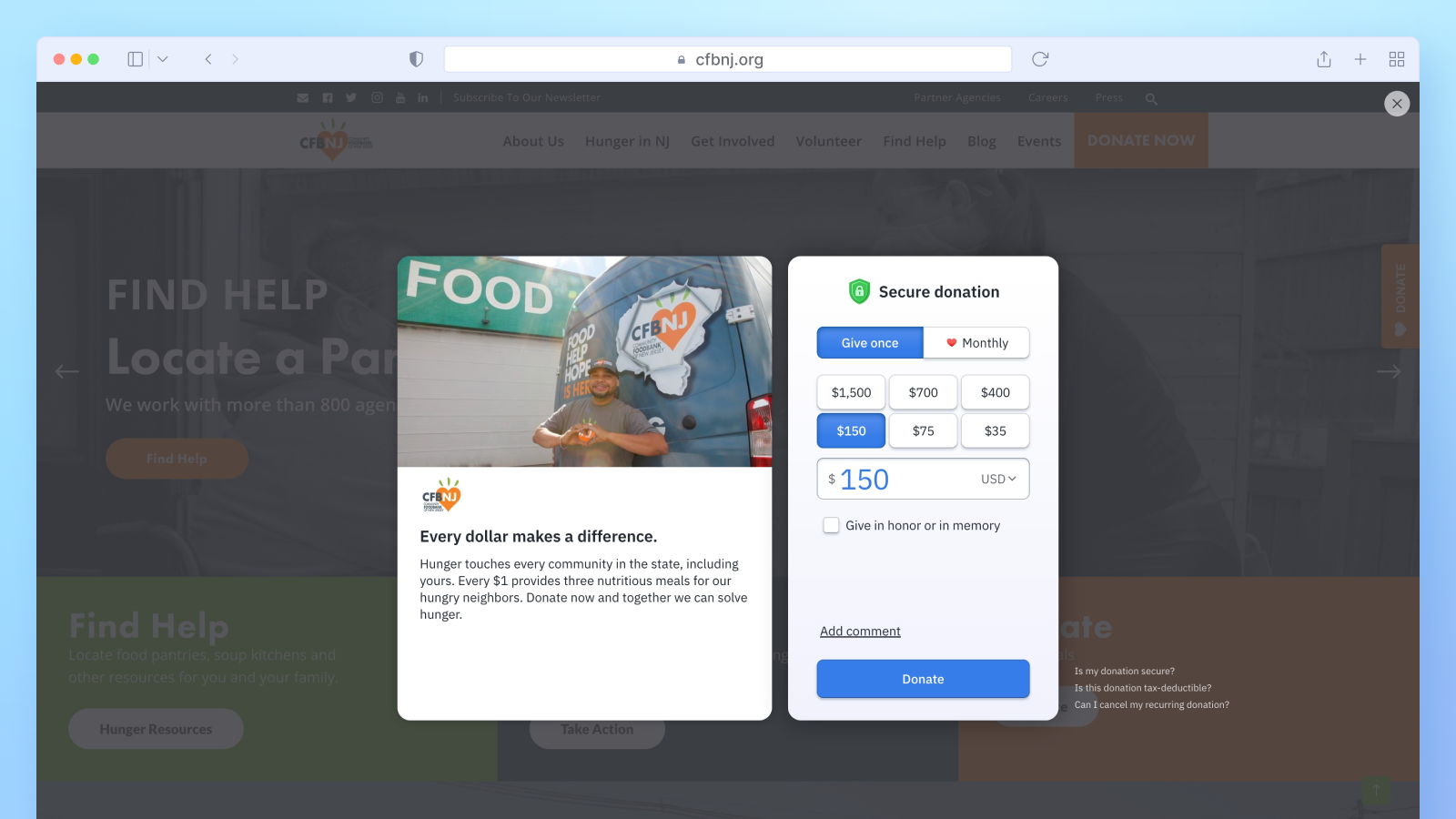 Create an inclusive movement around online giving
You want your donor experience to feel bigger than just a donation. Your mission exists for a higher purpose than just "doing social good" — perhaps you're a community-led organization that works tirelessly to save the lives of endangered species from poachers, for example — so you want to encourage your donors to be evangelists for your cause.
A great way to create these evangelists is by highlighting your monthly giving program in a prominent location on your website. Make that section stand out from the rest of your website, like Greater Good Charities' Protector program.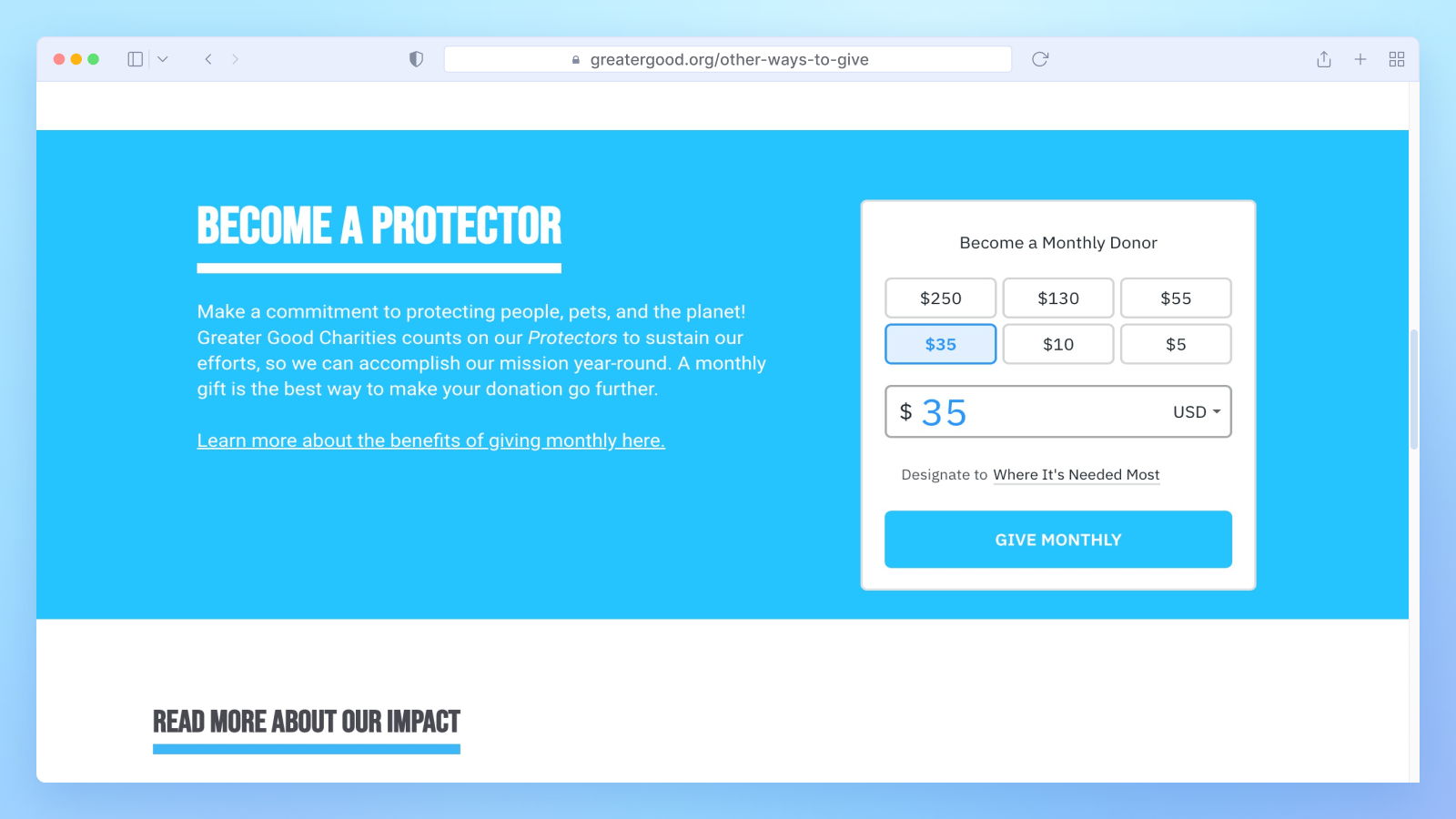 There's no guarantee that your website visitor will sign up for your monthly giving program just because you've caught their attention. Once you have their attention with a visually appealing monthly giving call to action, you now have to move them to sign up as a recurring donor with a captivating message. In a few sentences, explain why you need their support and how much their support would make a world of a difference for your mission.
Keep the messaging brief and to the point to ensure the visitor's focus is primarily on the "Give Monthly" call to action. But be sure to include a link to your monthly giving page, where visitors can find the full scope of the program if they are looking for it like Greater Good Charities has done.
Plus, with Fundraise Up, once people sign up as monthly givers, they get immediate access to the Donor Portal, giving them a simple way to manage their giving plans, peer-to-peer fundraisers, and year-end tax receipts.
Learn more about how Fundraise Up can help your nonprofit use smart technology to reach your fundraising goals. Book a demo here.
Stay connected
Get updates and insights delivered to your inbox