Show where supporters give around the world with Fundraise Up's new Donor Map Element
Apr 14, 2022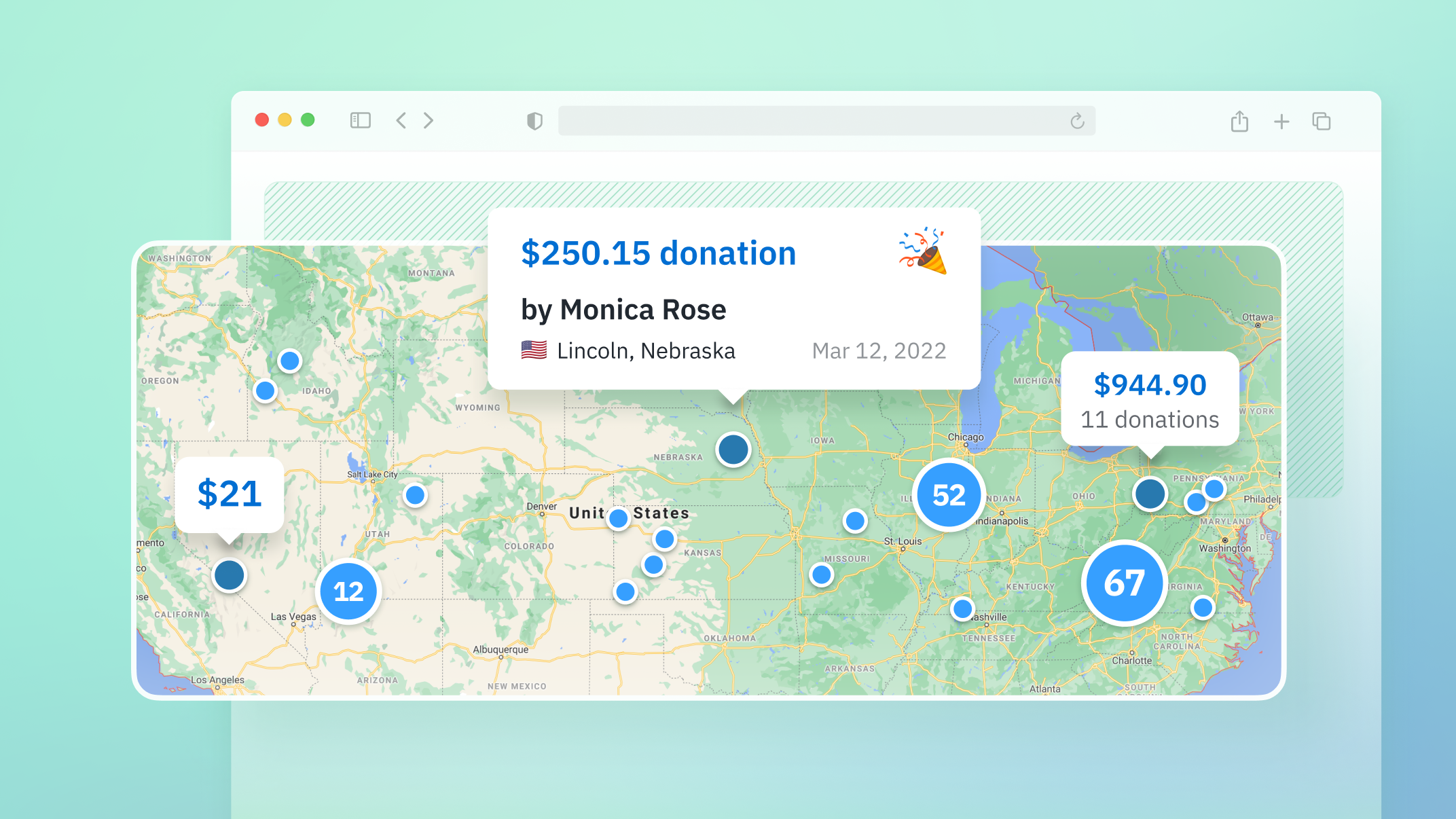 Product Marketing Manager
Donor maps are now available as part of Fundraise Up's customizable Elements, a library of buttons, forms, meters, and more that help nonprofits better engage website visitors. This new Element enables you to embed an interactive map on your website to show where your donors give around the world.
With the ability to customize what information is shown — donor name, donation amount, donation date, and any comments shared on the donation — you have the power to show as much or as little donor information as you want. You can even customize the starting location on the map and at what zoom level the map will be displayed.
Here are a few ideas of how to use the donor map:
Measure impact — Not only does the donor map provide you with a way to connect your community's generosity, but it also allows you to measure location-specific impact. For example, if you're in the middle of a city-wide initiative to raise money to provide food and shelter for those who are unhoused, you can display the donor map to showcase which neighborhoods are making the most impact. This can also encourage a little friendly competition among your supporters who might even donate more for their residing area.
Highlight international giving — If you're a nonprofit that fundraises around the world, display the donor map on your website to showcase where all of your supporters are from. Especially if you're raising funds for global events like the Ukraine crisis, the donor map is a way to motivate more people to give. It also makes supporters feel really good about what they're doing when they can see the impact they're making as a community.
Enhance year-end giving — Go big during GivingTuesday and the year-end giving season by showing off your global community. Let your supporters see real-time donations as they come through so they can follow along during the duration of a campaign. This will spark excitement within your community for the progress that they're making — and might even sway certain donors to make another donation to help you hit your ultimate fundraising goal.
Donor maps are yet another way for you to add engaging, visually appealing website content to enhance your donor experience. Understanding where your donors come from could move the needle in converting more donations, especially if potential donors see people from around their area giving to your cause.
Interested in learning more about Fundraise Up or want to learn how to add the donor map Element to your website? Contact your Customer Success Manager or schedule a call with one of our team members.
---
About Fundraise Up
Fundraise Up is a rapidly growing financial technology company headquartered in Brooklyn, NY, that provides online fundraising software to enterprise nonprofits. Fundraise Up's AI-powered platform is leveraged by trusted organizations like UNICEF USA to double annual digital donation revenue and triple recurring donor acquisition.
Stay connected
Get updates and insights delivered to your inbox