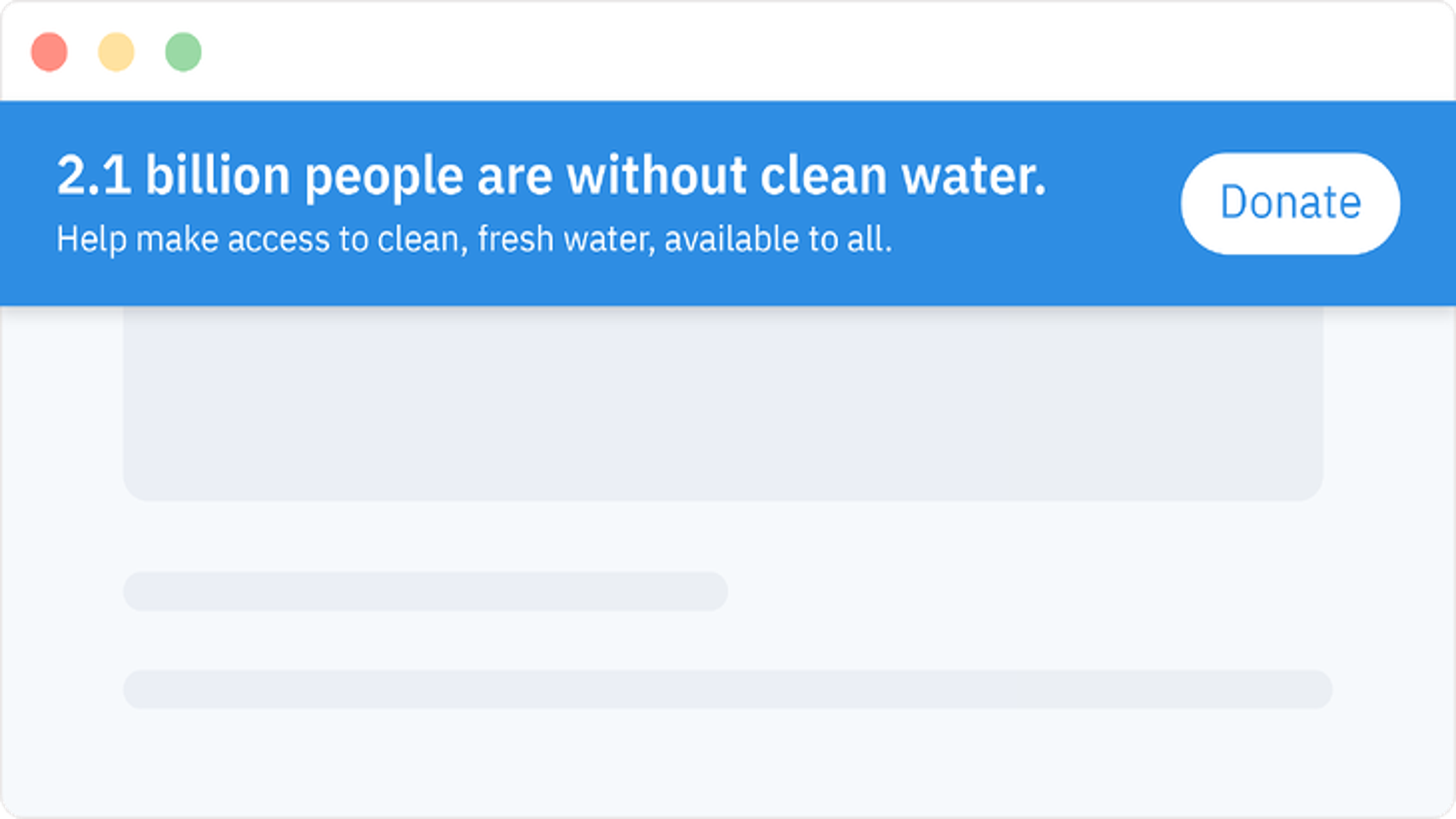 Message bar-style notifications are popular for showing important, timely information to website visitors. Online retailers, for example, use message bars to inform shoppers of sales, discounts, and membership perks.
For nonprofits, message bars can be used as attention-grabbing calls to action that prompt website visitors to donate.
Here are a few ways you can use Message Bar:
To promote support for a giving day campaign
To alert donors of a pressing need
To encourage giving to a year-end campaign
To collect donations for a holiday or special event
To engage donors with your recurring giving program
Like every Fundraise Up Element, Message Bar can be styled to match the design of your nonprofit's website. Settings for Element behavior, alignment, and visibility provide additional options for customizing Message Bar to your nonprofit's needs.
Message Bar is available to all Fundraise Up customers and can be added from the Elements tab of the account dashboard.
To learn more about Message Bar or to get help with displaying it on your nonprofit's website, speak with your Nonprofit Success Engineer. If you are not yet using Fundraise Up to double digital donation revenue, get started by requesting a demo.
About Elements
Elements are interactive UI components that can be placed anywhere on a nonprofit's website to engage website visitors as donors. Our library of Elements includes an array of customizable buttons, progress bars, sliders, notifications, and other components. Elements can be managed, updated, and tracked directly from a nonprofit's account dashboard without a developer or webmaster, making them a powerful asset for agile digital fundraising teams.
About Fundraise Up
Fundraise Up is a rapidly growing financial technology company headquartered in Brooklyn, NY that provides online fundraising software to enterprise nonprofits. Fundraise Up's AI-powered platform is leveraged by trusted organizations like UNICEF USA, Partners In Health, and Stand Up to Cancer, to triple their donor acquisition rates and double their digital donation revenue.
Stay connected
Get updates and insights delivered to your inbox