Focusing on Digital Channels to Engage More Online Donors This GivingTuesday
Nov 2, 2022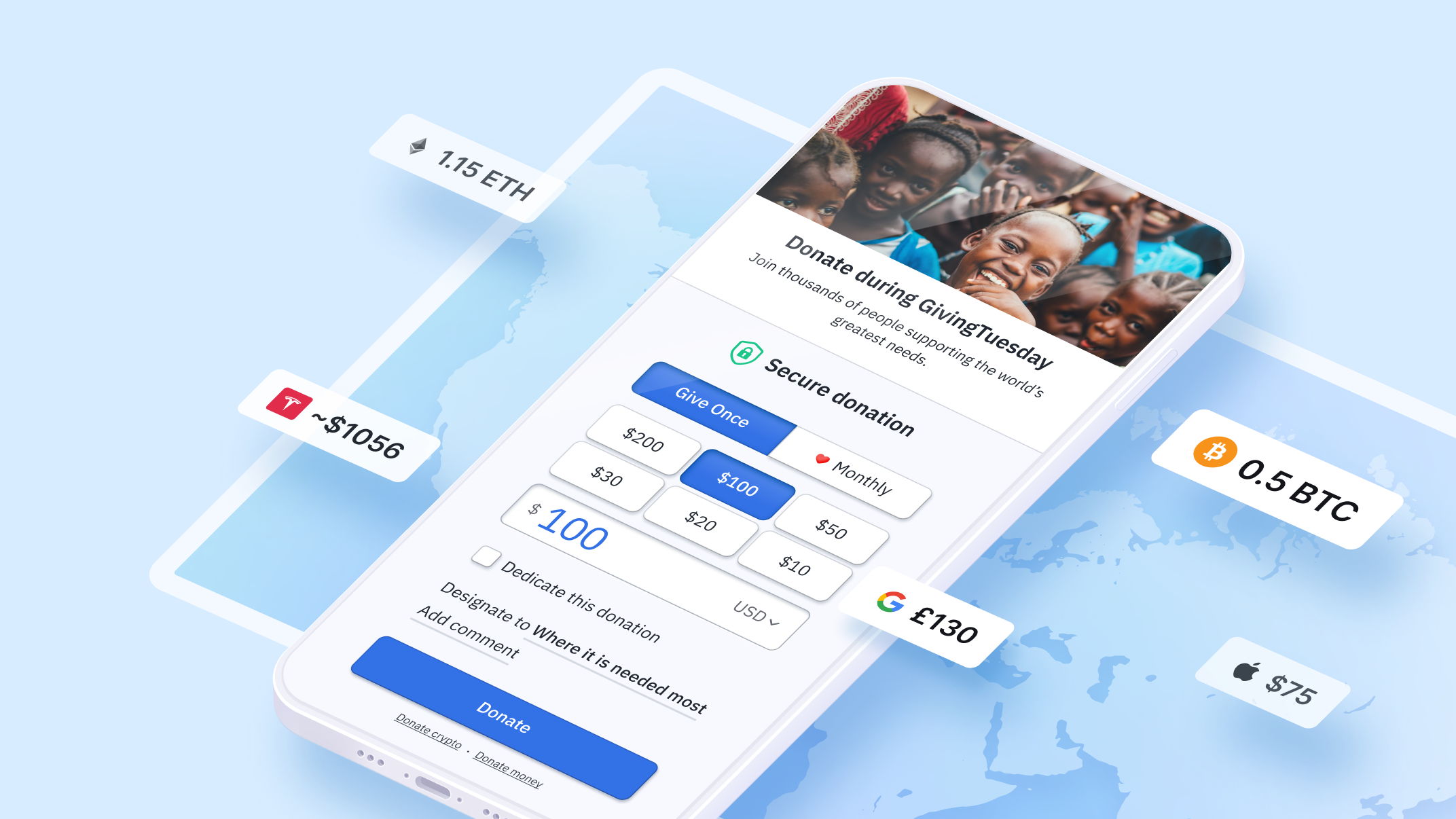 This year marks the 10th anniversary of the global day of generosity. A movement started in 2012 by a nonprofit called 92nd Street Y, GivingTuesday is an annual event that occurs the Tuesday following Thanksgiving. Similar to the way Black Friday and Cyber Monday are used to encourage consumers to shop at their favorite brands, GivingTuesday encourages donors to give back to charitable causes.
Generosity has poured in over the years on GivingTuesday, with an estimated 35 million Americans participating last year and raising a record $2.7 billion collectively. With the potential of total giving reaching over $3 billion this year on November 29, GivingTuesday presents nonprofits with a big opportunity to fine-tune their digital campaigns to further engage donors and increase year-end revenue.
Whether you're in the middle of GivingTuesday planning or have yet to start, the first step is to always do the prep work before launching your campaign so that you have a succession plan in place.
Campaign planning can look different for every organization, but the most crucial steps are to define your campaign's purpose and objectives, figure out how you will tell your story to compel people to donate, establish which digital channels you'll communicate with your donors through, and set your promotion schedule leading up to and on GivingTuesday.
To help you along the way, we've created a digital campaign checklist that can act as your guide between now and GivingTuesday.
Website content
Your website will lay the foundation for all of your digital communications for your campaign. It's where you'll house information about your campaign, where people will go to learn more about you as an organization, and where you'll direct your calls to action.
Your website plays a pivotal role in donor engagement. Providing a captivating website experience will dictate whether or not someone will feel moved enough to donate to your GivingTuesday campaign. Here are four critical website elements that you shouldn't overlook:
Place your donate button in a prominent location on your homepage. Don't bury your donate button in a hard-to-find place. It should be the first thing a website visitor sees so that when they're ready to donate, you'll convert them into a donor immediately.
Connect your GivingTuesday campaign directly to a call-to-action button. Highlight your campaign in the featured section of your website. Additionally, when someone clicks on your donate button, make sure they are directly taken to your donation checkout and not another landing page. This prevents any friction in the donation process and ensures that the intended donor can easily give.
Encourage monthly support in the donation checkout. While GivingTuesday is notorious for one-time donations, what's stopping your nonprofit from also getting monthly support? Organizations like Animal Haven have tripled their recurring revenue by including an upsell in their donation checkout.
Offering more payment options. Convert more donors by giving them more payment options to choose from. Your donors have different giving preferences — why not meet them where they are? By limiting your options to credit cards and bank transfers, you could be missing out on additional revenue. Fundraise Up offers a wide range of payment options that includes credit cards, bank transfers, digital wallets, as well as crypto and stock giving.
"I would highly recommend not cutting out sustaining gifts as an option on GivingTuesday. We convert donors every year who come to give a one-time donation and are upsold to becoming monthly donors. And as we all know in the industry, your sustaining donors have a longer lifetime value and automatic retention built in," Shannon McLaughlin-Kirkman, Director of Development, Communications, Animal Haven, said in a recent live session on GivingTuesday.
We understand that the scale of any nonprofit's GivingTuesday campaign will vary from organization to organization. Knowing what works for your organization will help you build an effective campaign that will drive revenue. And because there's still time before the big day, it's an opportune time to test out new fundraising tactics to see if you can garner even more engagement.
Here are a few other ideas to try out:
Create a descriptive landing page for your GivingTuesday campaign. A landing page serves as an information hub for everything about your GivingTuesday campaign. There, you can make your case for support — what your campaign is raising funds for and why people should make a donation — for those people who might be interested in giving but need a little more convincing. Consider adding interactive elements on your landing page to keep people up to date with campaign performance — like a goal meter, cause areas to support, and a leaderboard of top supporters. See a live example here.
Add a popup message that overlays on your homepage. A popup message ensures that the first thing a website visitor sees is a call to action leading them to your GivingTuesday campaign. This guarantees that your campaign won't get overlooked and people know what your immediate need is.
Let supporters create fundraisers. Want to boost revenue even more this year? Give your supporters a way to create fundraisers on behalf of your organization. It's a way to bring your community together, and supporters can choose to create a new fundraiser or join a team fundraiser.
Email communications
Email is by far the preferred way to communicate, with 4 billion daily email users. Most nonprofits leverage this digital channel to communicate with their constituents. Research finds that the average open rate for nonprofits is 26.6%, which is higher when compared to other industries.
So, how can you effectively use email marketing to promote your GivingTuesday campaign? Here are the steps you should consider:
Plan your email marketing. How many emails will you send between now and November 29? Know what works best with your audience, but also remember that donors will expect an increased number of emails leading up to GivingTuesday and year-end.
Segment your lists. Don't send generic emails to your entire list. Personalize your emails and segment your lists in a way that makes sense for your audience — whether it's by type of supporter, interest areas, or past campaign activity. Keep in mind that personalized emails generate up to six times more donations compared to generalized emails.
Pre-schedule your email sends. Make it easier on your team on GivingTuesday by creating and scheduling your emails in advance. This will help avoid additional stress and last-minute rushing on the important day.
Diversify your e-communications. While appeals are important and will be a big part of your GivingTuesday email campaign, consider diversifying your email content so that not every email donors receive is an ask. Consider including emails about the impact donors are helping your organization make and individual stories about the people, animals, or environment you serve. And remember to include a call to action in all of your emails — whether it's directing donors to make a donation, to learn more about what you're doing for GivingTuesday, or to read up on your mission.
"It's important that you pay attention to what your audience is doing, when and where they like to hear from you, and when they don't like to hear from you. Look at your open rates, click rates, and response rates from the past few years. You can A/B test if you haven't before." — Shannon McLaughlin-Kirkman, Director of Development, Communications, Animal Haven
Social media outreach
There are more than 4 billion people in the world who use social media, and 55% of individuals who engage with nonprofits on social media end up taking action. Don't miss the opportunity to attract new and existing donors by doing social media outreach for your upcoming campaign.
Here are a few tips for leveraging social media this GivingTuesday:
Focus on the right platforms. With so many social media platforms out there, understand that you don't need to be on every platform to have a successful social strategy. Know the platforms your donors are most engaged in and focus on those.
Find the right mix of content. Do a deep dive into your social channels. Find the posts that get the most engagement from your audience and see if you can identify a pattern. This could vary from platform to platform, so understand what works well for each and push out those types of posts come GivingTuesday.
Direct people back to your website. Be sure to include a call to action that links back to your website. Remember, that's where all of your important content lives and where people will go to make a donation to your campaign.
Drive engagement from your followers. Always prompt your followers to take action in your social posts. Whether it's asking them to donate to your campaign, create a fundraiser, or simply share the post with their followers, it's a good opportunity to get user-generated content and expand your reach.
"We look at our organic social media as a place where we're telling our story for the first time… We're not banking on people having seen our email campaigns when they land on our social posts on GivingTuesday, so it's really important to tell vivid, colorful stories so you can make people feel." — Shannon McLaughlin-Kirkman, Director of Development, Communications, Animal Haven
---
If you're ready to ramp up your digital GivingTuesday campaign to better engage donors and increase online revenue, chat with one of our team members today.
Stay connected
Get updates and insights delivered to your inbox