The nonprofit's guide to building a fundraising technology stack
Apr 8, 2022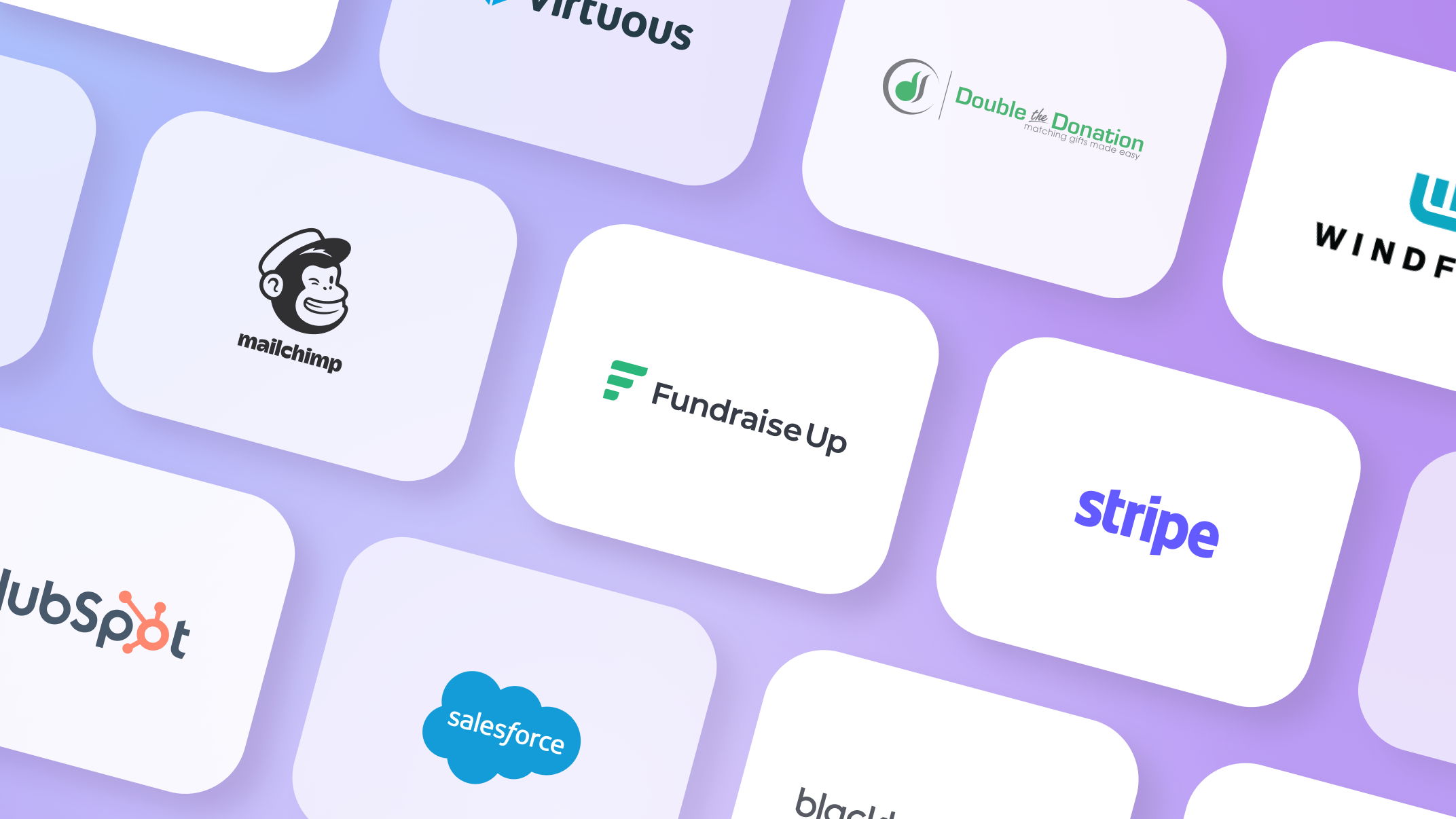 Nonprofits are constantly inundated with a long list of responsibilities — from vital fundraising and development operations to tedious administrative tasks. To help alleviate this burden, the most successful nonprofits have turned to adding more cutting-edge technology solutions into their workflow.
While nonprofits have been making significant headway in their digital transformation, many still struggle with deciding whether to use all-in-one products or specialty tools to build out their technology stack. Paired with all-too-familiar budgetary constraints, these nonprofits can feel stuck between a rock and a hard place. Especially during a time when the donor experience is compared to hyper-personalized, state-of-the-art consumer experiences, there is now more pressure for nonprofits to innovate and adapt to the new digital standard set by these well-established brands.
In efforts to provide donors with the modernized experiences they more than deserve, nonprofits are now seeking to invest in better technology solutions — but they are simultaneously overwhelmed by what they think is an extremely laborious process. However, adopting new technology doesn't have to feel like a daunting task. With a little time, patience, and a well-thought-out and structured technology roadmap, adding new digital tools into your organization can be simplified, streamlined, and exciting.
If you're seeking to learn more about what to consider when building your technology stack, follow along as we explain:
A step-by-step guide to building a fundraising technology stack
The role of technology in nonprofits
How to manage roadblocks to adopting new technology
The power of native integrations
The anatomy of a nonprofit's fundraising technology stack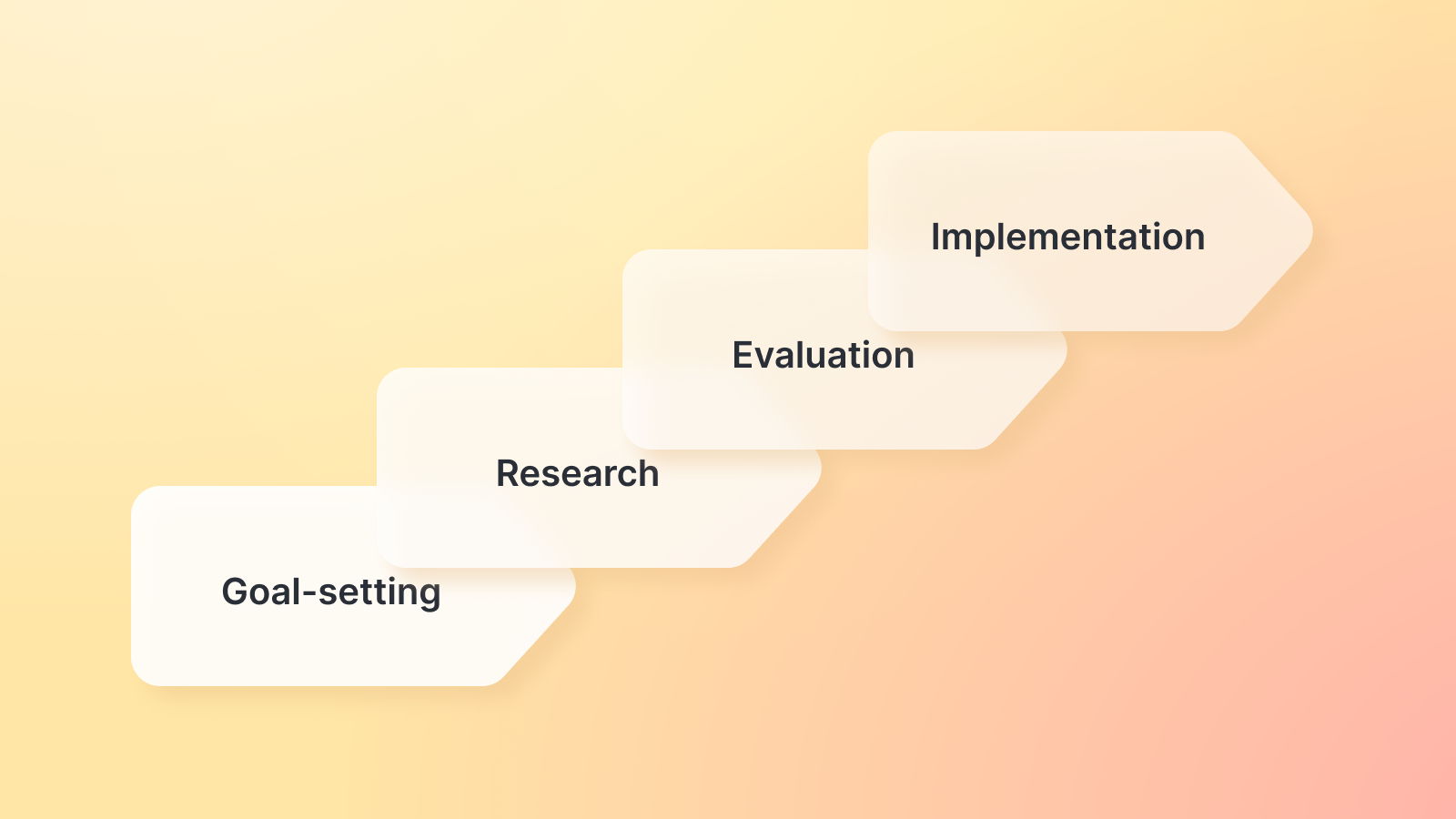 Building the Ultimate Technology Stack: A Step-By-Step Guide
The entire implementation process of a new technology can take anywhere from a matter of weeks up to six months, depending on how fast your organization is able to do its research and commit to the new technology. Whether you're building your fundraising technology stack for the first time or your team has decided it's time for a complete digital makeover, there are four steps to follow:
Goal-Setting
Research
Evaluation
Implementation
1. Goal-Setting
While technology plays an important role in the success of your nonprofit, it's not the end-all-be-all to your biggest problems. Every single technology investment needs to be paired with a long-term strategy in order for it to be effective. Doing so will save you time, money, and unnecessary stress in the future by avoiding investing in a new, fancy technology before understanding how it'll impact your organization. So, before considering adding any new solution to your growing technology stack, your nonprofit should first evaluate its needs and goals on a strategic level.
Ask yourselves the following questions:
What are your nonprofit's long-term goals? Perhaps you have a legacy all-in-one fundraising and CRM system that has non-customizable and outdated features (e.g., ineffective email automation or cumbersome donation form). Therefore, you're looking to build a technology stack that streamlines and modernizes fundraising and donor outreach to increase donor conversion and retention.
What is your budget? Get your budget approved by the board before shopping for a new technology tool. This prevents any time and effort wasted for both your team and any potential technology partner's team and ensures a smooth implementation process.
Who can take on the responsibility of a new technology solution? One thing you don't want to run into when adopting a new technology is having no one on your team who has the skillset or bandwidth to be the key person managing and training your team on the technology.
Changing your database, eCRM — or integrating the two — is a big endeavor. So, do your homework. Speak to peers about their experiences. Make sure you and your organization are ready to invest the time and the money. The benefits of having new technology are great, but only when you invest the time to pick the right one and build it out to your full organizational needs.

Jamie Natelson
Senior Vice President, Marketing, The Humane Society of the United States
2. Research
Once you've established what type(s) of tools you want to add to your technology stack, it's time to do market research. When you get to this step, you can either do this yourself or hire a consultant to help guide you through the rest of the way.
Finding where to begin researching might feel a little intimidating, but the good news is that there are resources available, like Cabinet M, to help you narrow down your search. When you've selected three to five different options to choose from, it's time to schedule pre-demo discovery meetings with vendors to discuss your requirements. If those meetings go well, the next step is to set up product demos with no more than three companies.
In these demo meetings, you'll want to include people on your team who will be key stakeholders — those who will work with the tool often and will need to be the first to get trained on the product. Having a diverse representation of your team will ensure the right questions are being asked and any notable concerns are being addressed. It's a good idea to hold a debrief meeting with your team after each vendor meeting to talk through the pros and cons.
After each demo, I facilitate a debrief meeting with the project team from the nonprofit to talk through what they liked, what they didn't like, what questions they have, and whether we should move forward with this vendor.

Maureen Wallbeoff
Nonprofit Digital Strategist & Technology Coach
3. Evaluation
When you've completed all of the initial demos with technology providers you were considering, it's time to sit down with your team to evaluate each to narrow your search down to the top one. During this process, it might be helpful to learn some red flags to avoid:
Multi-year contracts. Your organization's technology needs will evolve over time, so it's best to have a provider that gives you the option to go either month to month or one that has no contract at all.
Product transparency and limitations. You don't want to find out after investing in a product that the technology you've been so excited about has limitations on what you want it to do (e.g., customization options in your automation workflow). At this stage, your prospective technology provider should have given you a full understanding of what the product can do and what it can't.
No information on implementation. You should have a good idea of how the new technology will get implemented into your organization. If there have been no conversations around implementation in your meetings with your prospective technology provider, it's probably not a good sign.
"It's on the roadmap." Don't put all your eggs in one basket and make your decision based on the product roadmap because there's a possibility that the exciting feature or product might not see the light of day due to a number of factors (e.g., technical issues, funding changes, etc.).
Put zero stock into whatever someone's product timeline is because it's so hard to predict with so many moving pieces. However, it is important to hear what the technology partner's roadmap is. It helps you understand how they are improving and growing their product in the future.

Mitch Stein
Co-Founder, CEO & Chief Impact Officer, Pond
Once you've narrowed it down to which technology solution you want to move forward with, you'll need to schedule a few more meetings to gain a better understanding of the product, allowing your team to visualize how it'll fit within your organization. Make sure you receive a full implementation roadmap so you know what to expect every step of the way.
Before you move on to the next step of actually implementing the technology into your organization, it's a good idea to designate an implementation team. This implementation team will be in charge of fully understanding how to use the new technology and how it will be rolled out to the rest of your organization.
4. Implementation
You've done all the preparation, and now it's time for the real work to begin. This final stage is phased into two parts: the physical implementation of the technology into your system and the rollout and training of the technology to your team members.
Your implementation team should have a training program in place for the rest of your team prior to this stage. Once training begins, keep in mind that change will be difficult and you'll encounter roadblocks along the way (e.g., system glitches, frustrated employees). However, you'll overcome these challenges once everyone has had time to learn and adapt to the new technology. Over time, you'll see the fruit of your efforts through improved processes, more efficiency, and a high return on your investment.
Understanding the Role of Technology in Nonprofits
With the pandemic escalating the need for technology, nonprofits have now recognized the important role technology plays within their organizations. According to "The State of Nonprofit Technology," nonprofits not only understand the need and relevance for technology, but they are also significantly increasing their use of technology across the board.
Nonprofits are already dealt a number of challenges in their day-to-day fundraising operations. With the increased need for technology, curating the right technology stack for your organization's needs can be challenging due to budget constraints alone. But because online giving continues to grow year after year, in combination with a very competitive nonprofit market, it's even more critical for nonprofits to invest in the right fundraising technology solutions that will help them increase campaign performance, cultivate and retain donors, and create the most impact for their missions.
Trust is the one thing charities need to convey from day one. When someone enters your site, it needs to be trustworthy. In terms of experience — from how the site is hosted to the interaction of how people donate — if trust isn't there, you're going to lose people.

Thivanka De Silva
Head of Digital Marketing & Web Strategy, International Anti-Poaching Foundation
The growing need for digital innovation in the industry means that there is no shortage of technology providers to choose from. With the option to invest in an all-in-one platform or build a tailored network of different digital platforms, it can be difficult to decide which is best for your nonprofit.
Let's break down the difference: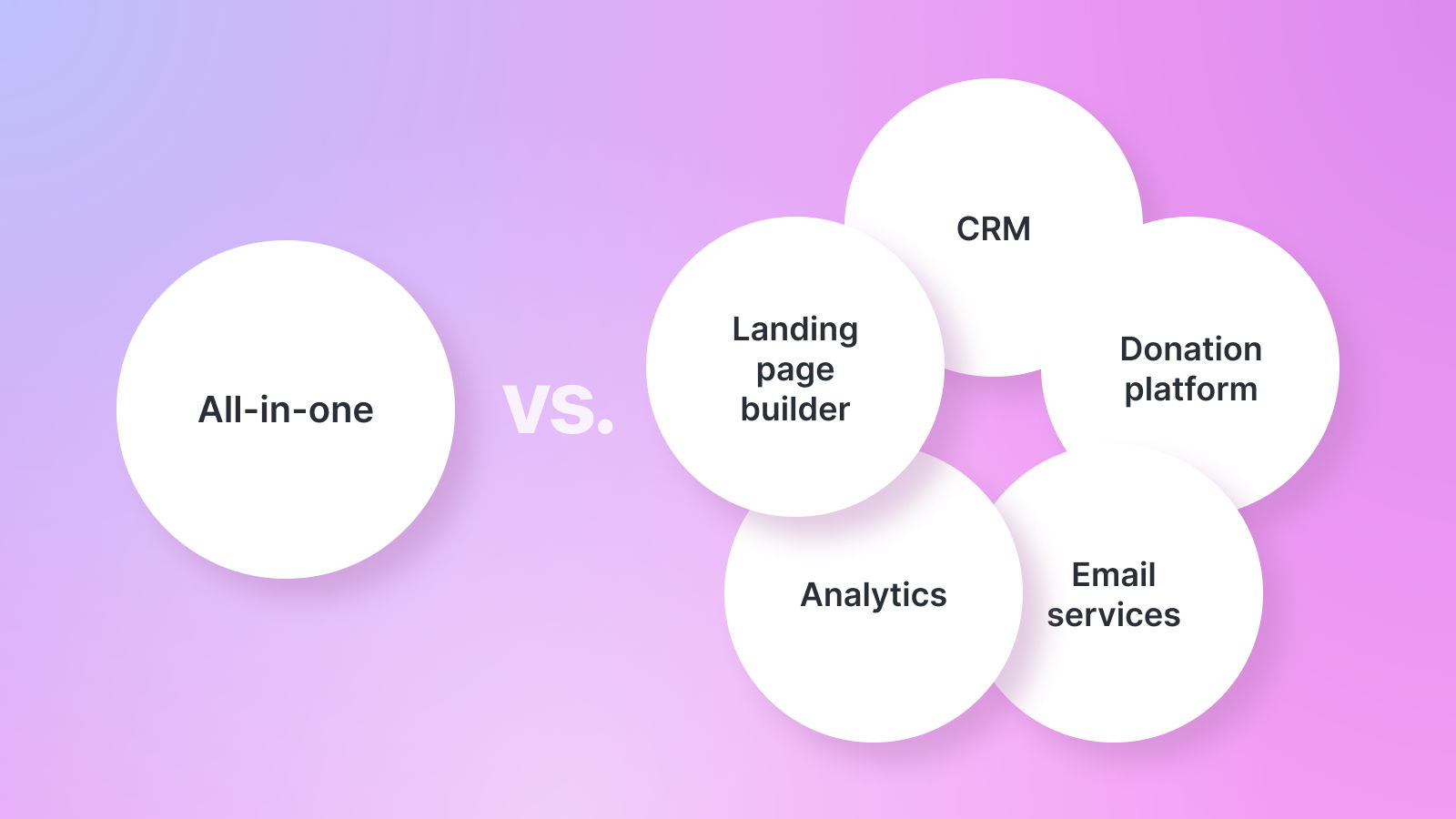 All-in-One Solution vs. Bespoke Technology Stack
There is a lot to consider in today's nonprofit technology marketplace. For many nonprofits, it's easier to find an all-in-one fundraising and CRM system that has the capabilities to do a lot of the things nonprofits are looking for. On the other hand, as your organization grows and its technology needs evolve and become more complex, having a specialized technology stack of tools will leave you with less stress of having to do a complete digital overhaul when you outgrow your all-in-one system.
All-in-One Fundraising & CRM System
For the small to mid-sized nonprofit or for the nonprofit that wants a quick technology upgrade, an all-in-one system might seem like the right way to go. But opting for an all-in-one system in place of a full, comprehensive technology stack has its limitations, especially for larger, enterprise organizations that have more specific and complex needs.
Pros:
Less time to implement and learn how to use
Simpler management
More options included in one package
Cons:
Weaker tools compared to what is offered individually
Typically more costly
Limited customization and integration capabilities
Additional features included that may not get utilized
We heavily rely on using stacking technology simply because there isn't a one-size-fits-all solution out there for all of an organization's needs. There are three important pieces that we evaluate: 1) Is the technology the leader in the space in terms of not leaving clients stranded with problems?  2) Does the technology connect as seamlessly as possible into other technology so you're enhancing the ease of use and each system is complementary to one another without much overlap? 3) Is your team using the technology you have, and if not, why not? It's key to let go of technology when it turns into another page of endless procedures rather than a helpful way to tie your team together in a positive way.

Jamie Bearse
President & CEO, ZERO — The End of Prostate Cancer
Bespoke Technology Stack
For larger, enterprise nonprofits and for sophisticated nonprofits that recognize the important role that technology plays, a bespoke technology stack is the ideal way to invest in technology. By hand-selecting every piece in your technology stack, you're ensuring that they're compatible with one another and that you're choosing the best-in-class solution for your every need. While a bespoke technology stack can take much more time and effort, it'll create a more streamlined workflow over time, save you money, and help you increase fundraising revenue in the long term.
Pros:
Top-of-the-line technology solutions
Better price for its value
Flexible customization
More native integrations
Cons:
More time needed to research, evaluate, and implement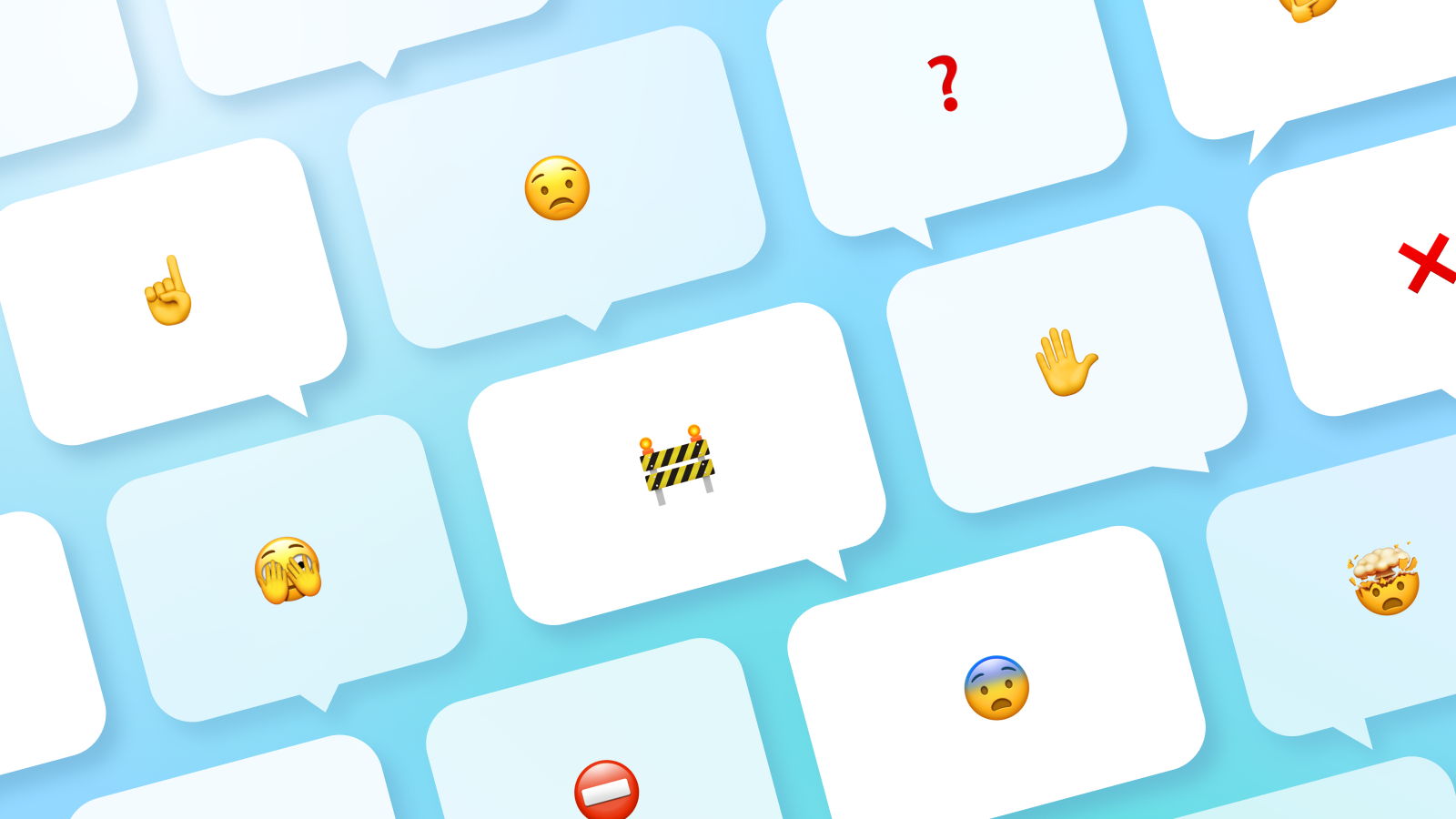 Roadblocks to Adopting New Technology & How to Cope
Adopting new technology into your organization is no easy feat. The entire implementation process takes a lot of time and effort — plus, you'll also encounter a slew of challenges along the way that can feel overwhelming to navigate. However, this is where being prepared ahead of time with a strategic roadmap will help you navigate these challenges with flying colors. Here are the top three roadblocks to adopting new technology and our advice on how to cope with them:
Convincing Executive Leadership & Board Members
Sometimes, the biggest challenge is convincing your decision-makers to buy into a new technology solution. The hesitation often stems from having a limited budget, understanding how much of a difference the new solution will make, and creating organization-wide change. 
Before even broaching the topic of new technology, it's vital that you do the grunt work:
Explain the challenges your fundraising team is facing
Provide explicit details of how new technology can create a more efficient process and solve your biggest challenges
Share examples of how this solution has been used at similar nonprofits and how they've benefited from it
The key question is always: 'Does this raise additional revenue?' However, part of the case should be, 'Does this solve our problem?' That's an opportunity to explore but also to help people understand that it is a future-proofing exercise as well.

Jason Shim
Director, Digital Strategy & Transformation, Pathways to Education Canada
In addition to crafting a compelling case for a new technology solution, it's vital to appoint your team of digital champions — these individuals have recognition at your nonprofit, and their opinions are valued among your executive and board members. Your team of champions will supplement your strategic plan by further explaining the need for digital solutions and connecting how it will affect your organization's bottom line (positively) over time.
Lacking Staff or Expertise
One of the primary concerns executive leadership and board members raise is whether or not they have the required resources to manage a new technology solution. In fact, a Salesforce study finds that 93% of nonprofits state that a lack of IT or technical staff is a challenge to their organization's adoption of new technology.
This challenge can be tricky, especially if your nonprofit is already running tight on staff. However, the implementation of the right suite of digital solutions can create a more efficient workflow and free up staff time to focus on more mission-critical tasks. This is where putting together your technology implementation team in advance will pay off. With a strategic plan, your champions, and an implementation team prepped and ready to go, you will already have a structure in place once you get the green light to start evaluating software providers.
Managing Resistance to Change Within the Organization
Even though you've taken the time to research and educate your team about the overall impact a new technology can have on your organization's workflow and processes, you're always going to have pushback. The reality is that while your previous technology may not have been the most effective, your staff was comfortable using it. Implementing a new technology system means that they have to go through the training process all over again, which takes countless hours and a lot of staff frustration.
Communication is the key to most things, and it is certainly the key to successful change management. Most negative reactions come out of fear of the unknown. Bringing your team along with what is going on, why it is going on, and any timelines for change can go a very long way.

Jamie Natelson
Again, this is where your strategic plan comes into play. People may not like change, but ensuring you're providing the right answers to their questions will help alleviate their stress. Plan ahead so that you're prepared for their concerns when the time comes:
Explain why your team's workflow is changing and the benefits of the new digital tool.
Listen to staff feedback, and make sure they know they're being heard.
Emphasize to your staff that the transition will be comfortable. Explain that there will be a dedicated team taking the lead on training and that they will have ample time to learn and adapt to the new system.
"People don't like change, and we expect to learn things quickly. When we need more than just a day or two to learn new technology, we think there's something wrong with us or the system is the problem (instead of being patient and giving ourselves enough time to practice these new skills). Give yourself and your team six weeks using the new system, and you should be pleasantly surprised by the progress you've made."

Maureen Wallbeoff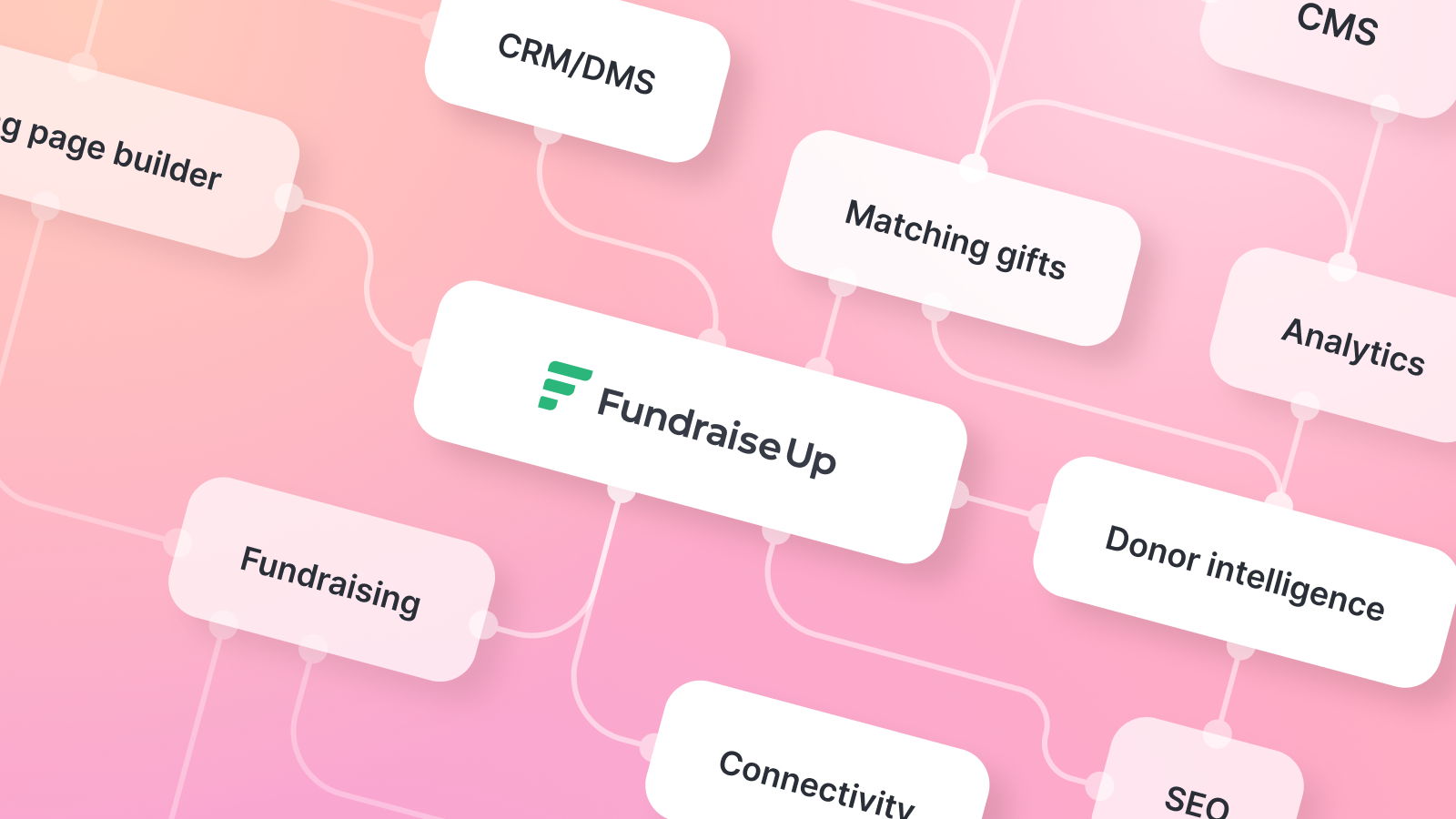 The Power of Native Integrations
While having top-notch capabilities to improve your fundraising workflow is one of the most important aspects of finding new technology, another is making sure the new solution is able to natively integrate with your existing system. This ensures that your databases are synced so that you have the most up-to-date information available on your supporters and their activities.
Create a data flow map for all of your platforms. You don't have to be a database or IT expert to know where the data needs to go.

Mark Becker
Founding Partner, Cathexis Partners
Sure, you can export and upload your data via CSV files, but that takes a scrupulous amount of manual time and labor that otherwise could be automated. If your current systems don't natively integrate with the new solution that you're bringing on, you can always use a third-party service like Zapier.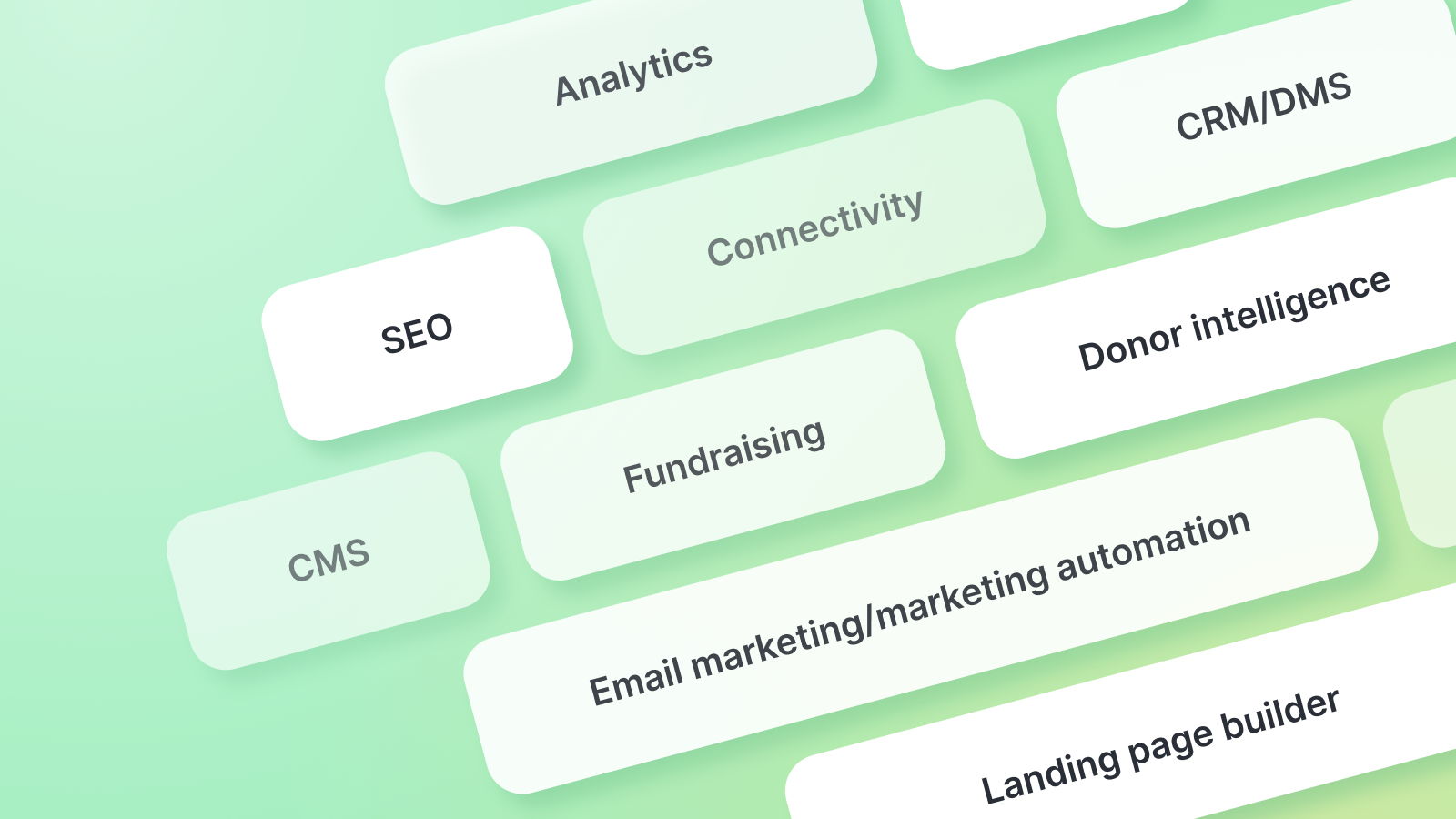 The Anatomy of a Nonprofit's Fundraising Technology Stack
In this section, we'll share the ideal technology stack for nonprofits, as well as include a number of key solutions that we recommend:
CRM/DMS
Fundraising

Online donations
Peer-to-peer fundraising
Matching-gifts

Email marketing/marketing automation
Analytics
Donor intelligence
CMS
Landing page builder
SEO
Payment Processor
Connectivity

CRM/DMS
A constituent relationship management system is often synonymously used with a donor management system. In essence, a CRM system stores important data to give a nonprofit full visibility into interactions with donors to maximize relationships with them — with the ability to track interactions with donors throughout their entire lifecycle, whether through marketing, sales, customer success, etc.
When looking for a CRM, make sure you're looking for a tool that clearly organizes critical data — like donor information, individual campaign performance, donation volume, and number of recurring plans. In addition, it's also vital to have flexible capabilities like customization, automation, and the creation of workflows, empowering nonprofits to grow and scale.
HubSpot for Nonprofits 👈 Easy to use & can scale and grow over time
HubSpot for Nonprofits is an all-in-one CRM platform that offers nonprofits tools for fundraising, marketing, and communications. With tools like email marketing, automation, segmentation, A/B testing, analytics, and social media management, HubSpot for Nonprofits gives organizations full visibility into their fundraising to show which tactics are effective and which are not. Plus, HubSpot offers flexible customization with different Hubs — like Marketing Hub, Sales Hub, and more — so that you can build a system that fits your needs.
In addition, the platform integrates with over 500 marketing tools, like Fundraise Up, Salesforce, Mailchimp, and WordPress.
Salesforce Nonprofit Cloud 👈 Sophisticated workflows & flexible customization options
Nonprofit Cloud is Salesforce's CRM software for nonprofits. The platform connects all organizational functions across fundraising, marketing, programs, and grants, giving nonprofits a comprehensive solution to donor management. Its data reporting capabilities, customization, scalability, and infrastructure sophistication are unmatched and offer nonprofits a range of customized options to collect and organize their data insights.
Virtuous 👈 User-friendly, great for building & managing donor relationships
Virtuous is a cloud-based CRM platform that streamlines donor management and fundraising. With a strong focus on responsive fundraising, the platform also includes features for marketing, automation, and project management.
Blackbaud CRM 👈 Easy to use, decades of nonprofit experience
Blackbaud CRM is an all-in-one solution that combines a CRM with fundraising, integrated analytics, multichannel marketing, and data mining services to help large nonprofits build stronger and more productive relationships.

Fundraising
With fundraising being such a vital part of your nonprofit's success, it's important to invest in the fundraising tools that improve your donor experience and streamline your fundraising — with the most important one being an online donation platform. Other types of fundraising tools that are useful include one for peer-to-peer fundraising and one for matching gifts.
Investing in these fundraising solutions will enable your nonprofit to raise more funds, convert more donors, process a high volume of donations, automate workflows, and gain deeper insight into donor behavior.
Online Donations
Fundraise Up 👈 AI-powered donation platform that customizes each individual giving experience
Fundraise Up is the premier online donation platform for enterprise nonprofits. Using AI and machine learning, we provide a unique and personalized donation experience for each donor, eliminating any point of friction in the donation process that would otherwise lead to donation abandonment. Our streamlined donation process is scaled and optimized to convert 37% of donors, double revenue generation, and triple recurring donors.
Peer-to-Peer Fundraising
DonorDrive 👈 Flexible event registration & personalized fundraising pages
DonorDrive's peer-to-peer fundraising platform has flexible event registration to enable participants to start fundraising quickly. Participants have access to personalized pages and social media integrations and receive badge recognition for their accomplishments. Plus, they can spread awareness through livestream fundraising.
Tiltify 👈 Boosts community engagement & influencer marketing through livestream fundraising
Tiltify, known for its livestream capabilities, is a social fundraising platform that brings together digital communities, charities, and brands to do social good across the globe.
Matching Gifts
Double the Donation
Double the Donation is the industry-leading matching gift software provider for nonprofits looking to drastically elevate their corporate fundraising strategies. Founded by President Adam Weinger in 2011, this company aims to equip fundraising organizations with the best tools for matching gift success.
Consequently, 360MatchPro by Double the Donation includes the most comprehensive and up-to-date matching-gift company database, an innovative automation solution, and detailed and insightful data reporting and analysis.

Email Marketing/Marketing Automation
Email is the most used form of communication between nonprofits and their constituents. In fact, 74% of nonprofits regularly send fundraising appeals via email and 69% of nonprofits regularly publish e-newsletters.
From simple email marketing platforms, like Mailchimp and Campaign Monitor, to more robust email marketing platforms equipped with advanced marketing automation tools, like Salesforce, Adobe, and HubSpot, there is an email marketing tool custom-fit for every single nonprofit.
Mailchimp 👈 Simple & affordable email marketing platform
Mailchimp is an all-in-one marketing and commerce platform. With tools to help you market your fundraising campaigns like email, landing pages, and digital ads, you also gain full visibility through your supporters through marketing automation and data insight tools.
Marketing Cloud/Salesforce Pardot 👈 Full-scale marketing automation capabilities
Marketing Cloud is a comprehensive marketing automation platform that offers a range of tools: Email Studio for scheduling and sending emails, MobileConnect for launching SMS campaigns, Social Studio for advanced social media marketing, Advertising Studio for creating ad campaigns, and Journey Builder for setting up customer journeys across marketing channels.
On the other hand, while Salesforce Pardot also offers email automation similar to Marketing Cloud, it comes equipped with the ability to create personalized drip campaigns that can be triggered by website interactions. This platform is more ideal for nonprofits looking for better lead management and long-term nurture.
Adobe Marketo Engage 👈 All-in-one — lead management, automation, email & more
Adobe Marketo Engage is an all-in-one marketing platform that offers marketing automation, email marketing, lead generation, and revenue attribution to streamline and gain visibility into the supporter experience.

Analytics
An analytics tool collects important data from a website to offer insights into user behavior and identify trends. Information collected from your analytics tool helps you make evidence-based decisions on how to improve your fundraising strategy.
Google Analytics 👈 Great for beginners
Google Analytics is a web analytics service offered by Google that tracks and reports website traffic. With Google Analytics, nonprofits can analyze data and generate reports on website traffic and website visitor behavior. With both paid and version iterations, nonprofits of all levels can take full advantage of the tool.
Hotjar 👈 Deep insights into user behavior with tools like heatmaps & visitor recordings
Hotjar provides insights with web traffic and analytics to help nonprofits better understand user behavior with key tools like heatmaps to visualize user behavior and incoming feedback to discover how users feel. It also integrates with dozens of platforms like HubSpot, Zapier, and Salesforce.

Donor Intelligence
Many successful nonprofits have invested in donor intelligence tools, also known as fundraising intelligence, to help them with prospect research. With advanced predictive analytics, nonprofits use these tools to identify who has an affinity to give and how much they are capable of giving — further expanding their donor pool beyond donors who they already have in their database.
KIT 👈 Analytics tool able to integrate with your CRM to identify and segment donors
KIT is a CRM integration toolkit for nonprofits. Combining predictive analytics, KPI benchmarking, and presentation-ready report building, KIT helps nonprofits take control of their data and unlock their fundraising potential.
boodleAI 👈 Predictive analytics to help target your ideal donors
boodleAI provides technology for enriched analytics for sales, marketing, and fundraising teams. Using advanced data enrichment and insightful predictive analytics, organizations can locate their best leads and prospects in any contact list.
WindFall 👈 Wealth screening tool to help find affluent donors
Windfall is a wealth screening tool, providing nonprofits with up-to-date consumer financial information to enable them to identify and engage affluent supporters.

CMS
A content management system, not to be confused with a website builder, is a platform that allows organizations to manage all of their digital content — create, edit, organize, and publish content. Many CMS tools also have built-in SEO and analytics capabilities.
WordPress 👈 No coding skills required & hundreds of available plug-ins
WordPress is an open-source software that nonprofits can use to create their website. With the ability to create an eye-catching website and publish content that is SEO-optimized and mobile-friendly through free and paid options, it's a popular CMS tool among nonprofits.
Webflow 👈 Easy-to-use drag-and-drop website builder tool
Webflow is a website builder that is also a CMS platform. The Webflow editor enables organizations to build professional and custom websites with zero coding needed.
HubSpot CMS 👈 Extremely user-friendly & top-notch customer support team
HubSpot CMS is a content management system that is flexible to create and personalize webpages, optimizing donor experiences for nonprofits. It comes equipped with a drag-and-drop editor, website themes, SEO recommendations, contact attribution testing, and more.
Contentful 👈 Headless CMS tool
Contentful helps digital teams assemble content and deliver better experiences. Its open and flexible content platform adapts to how digital builders work to meet business goals through easy customization and deep integration with any technology stack.

Landing Page Builder
While CMS tools come equipped with simple templates to choose from, they also allow organizations to use custom coding to get their desired website look and feel. On the other hand, website builders are a simpler alternative that typically come with an easy-to-use interface and drag-and-drop functionality. These tools are often limited and don't have the flexibility or the customization that CMS tools have.
Instapage 👈 Advanced analytic capabilities for enterprise-level nonprofits
Instapage is a landing page platform that helps you build high-converting landing pages. It allows you to send personalized content to different target audiences and also offers detailed heatmaps, A/B and multivariate testing, and robust analytics.
Unbounce 👈 Cost-effective, number of sleek templates to choose from
Unbounce is a landing page builder that helps organizations pair their expertise with AI insights to create high-converting marketing campaigns. Whether it's building landing pages, crafting website content, or optimizing conversion rates, this platform is designed for any kind of organization.

SEO
A search engine optimization tool evaluates website content — taking in account things like keywords and backlinks — and offers guidance to help increase its ranking on search engines, like Google. An effective SEO tool will allow you to do keyword research to compare how you rank against competitors, helping you to increase your visibility on search engines.
Google Search Console 👈 Free & easy to use
Google Search Console is a free platform that helps organizations improve their web performance on Google Search. The platform enables you to measure website traffic, evaluate keyword performance, and fix any outstanding issues.
Ahrefs 👈 Extensive keyword research & ranking tools
An all-in-one SEO toolkit, Ahrefs comes equipped with tools to audit and optimize your website, analyze your competitors, find keywords for customers you're searching for, learn from your industry's top-performing content, and track your ranking progress.
MozPro 👈 Entire suite of powerful SEO tools
From helping you target the right keywords to creating custom reports, MozPro is an all-in-one suite of SEO tools that empowers organizations to understand visitors, tracks your rankings, audits your sites, optimizes your pages, and finds link opportunities.

Payment Processor
In order to securely accept online donations from supporters, every nonprofit needs a good payment processor.
Stripe 👈 Fully integrated payment products that make accepting donations easy & fast
Stripe is the best-in-class payment processor that offers an entire suite of integrated and customizable payment products for businesses and nonprofits of all sizes. Stripe's pay-as-you-go payment model means that organizations are only responsible for the processing fees — no hefty setup costs or subscription fees. Plus, U.S. nonprofits registered with the IRS are eligible for discounted processing fees.

Connectivity
We previously mentioned the importance of integration when introducing a new digital solution into your technology stack. In many cases, data can flow in and out of your existing technology into the new one, creating a seamless integration process. But sometimes, it's not an option so you have to look to a third party to create that seamless integration between the two technologies.
Zapier
Zapier is on a mission to make automation easy and accessible to everyone at work. With Zapier, nonprofits can integrate apps — like Salesforce, HubSpot, Microsoft Dynamics 365, and Google — to automatically move data between them and enhance your workflow.
Omatic
Exclusively working with nonprofits, Omatic is an integration solution that ensures up-to-date, accurate data to build trust between your organization and its donors.
---
Regardless of your technology needs and what type of technology you choose to invest in, keep in mind that the key to your fundraising success is ensuring that you're pairing your new solution with a well-thought-out strategy. Having a roadmap will keep you and your team aligned on near-term and long-term goals, undoubtedly making an impact on the way you deliver your mission.
Learn how Fundraise Up can integrate into your technology stack, transforming your giving experience to convert 117% more donors. Schedule a demo with one of your team members today.
Stay connected
Get updates and insights delivered to your inbox