The impact of donation payment options on your nonprofit's conversion rate
Feb 28, 2022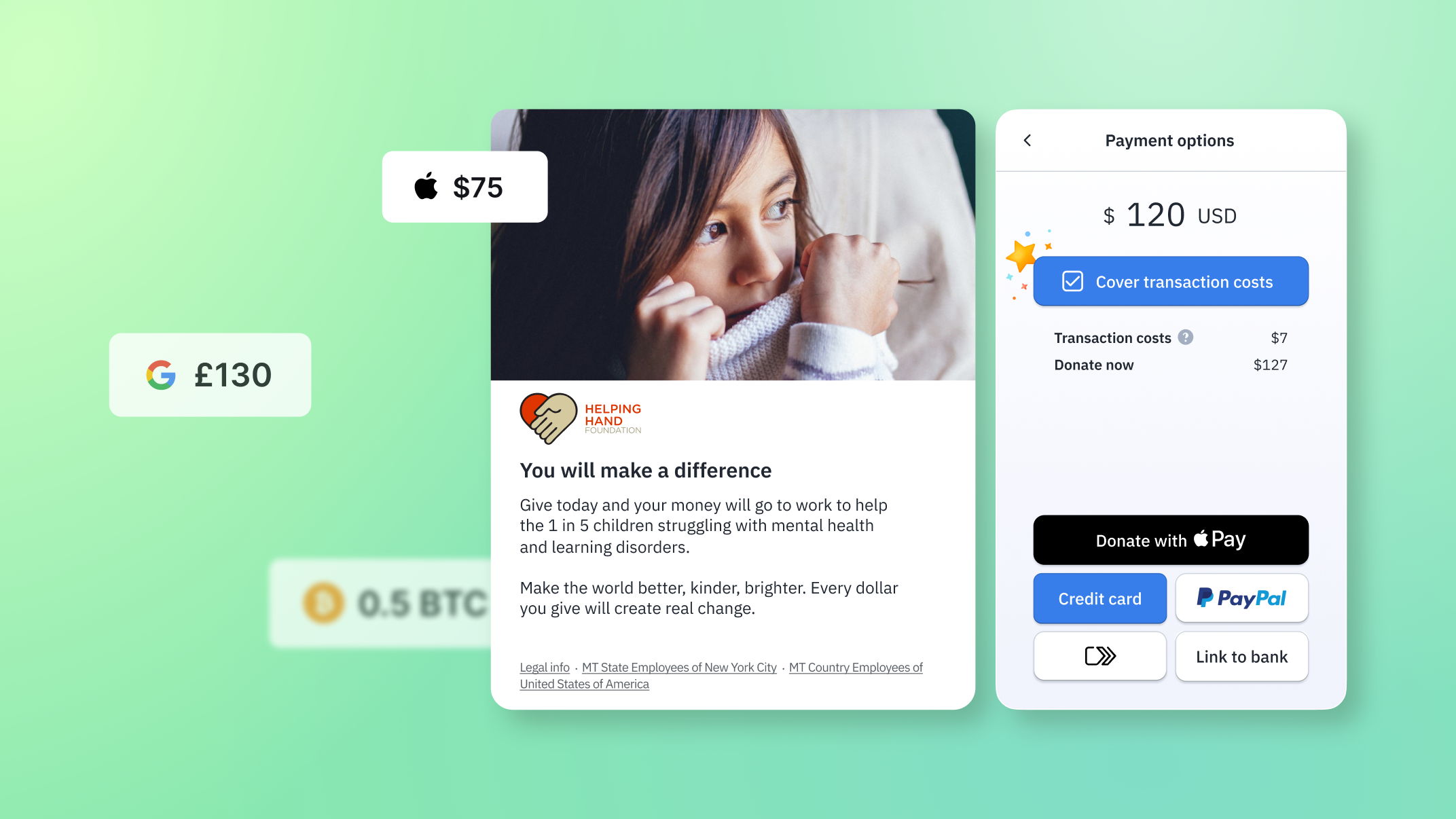 Technology has exponentially enhanced the way people interact with organizations. The good news is that today's consumer experience is now personalized down to every delicate detail — like being able to order your usual meal from the nearby sushi restaurant and pay with your preferred payment method on your favorite food delivery app. The bad news is that many nonprofits are not matching these consumer experiences, leading to not-so-great donor experiences.
An effective way to easily improve the donation experience is to offer a diverse suite of donation payment options. This vastly expedites the donation checkout process and converts more potential donors into actual donors.
Follow us along in this blog as we uncover:
Understanding your donors' giving preferences
Differentiating types of donation payment options
Converting more donors with better donation payment options
Your donors' giving preferences
No two donors are alike: Each individual donor has unique interests and patterns of giving, so it's prudent that your nonprofit recognizes that. One thing you never want to do is lump your donors into one given category. For example, just because everyone has a credit card doesn't mean that's their preferred way to pay. If you want to truly connect with your donors, it's important to understand that they have different giving preferences. To give you more insight, we'll share quick profiles of the two biggest generational givers: Millennials and Baby Boomers.
Millennials
Millennials, once referred to as the "Lost Generation," are coming into purview as the next powerful generation of donors. There are more than 72 million Millennials in the U.S., with 84% giving to charitable causes annually. While Baby Boomers still hold the majority of wealth, Millennials are reaching peak earning years and could receive up to $68 trillion from their Baby Boomer parents.
These digital natives — those who grew up using technology — are likely to give online and through their mobile device, with 93% of Millennials owning a smartphone and 73% using their phones to shop online, which can be comparable to online giving.
Baby boomers
As no surprise, Baby Boomers currently hold the title for the wealthiest generation. According to Federal Reserve data, Americans ages 70 and older had a net worth of nearly $35 trillion in the first quarter of 2021. Because of the digital state in which they grew up in, many think this generation of digital immigrants (those who did not grow up using technology and had to adapt) struggle with adopting technology, but Baby Boomers are very adept at using it.
In fact, 85% want more digital options, 80% feel confident and comfortable using technology, 78% feel safe and secure using new technologies, and 77% enjoy using new technologies. Additionally, 49% of Baby Boomers like to stay up to date with the latest payment methods, 57% find it easier to pay using contactless methods, and 45% agree that mobile wallets make it easier to pay.
Regardless of age, the use of digital wallets is on the rise. To meet the increased demand for modern payment methods, it should be standard practice to offer a growing library of donation options to cater to every type of donor.
Types of donation payment options
Today's modern world allows nonprofits to accept multiple forms of payment options, giving people the power to donate to their favorite nonprofits however they want. As an example, The Water Project gives its donors the option to give through a credit card, digital wallet (Google Pay, PayPal, Click to Pay), or bank transfer.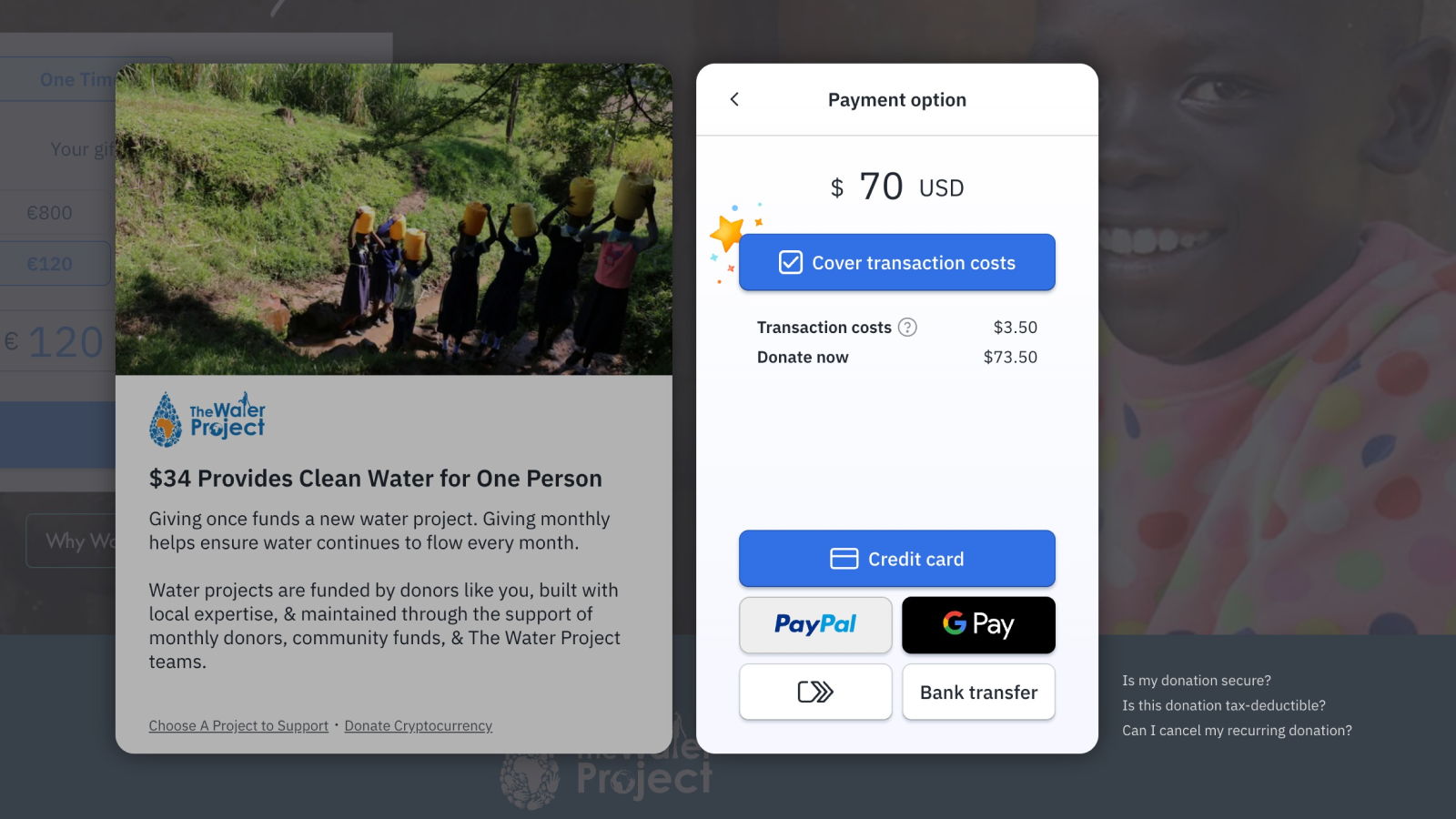 But as a nonprofit, it can be difficult to stay on the pulse of a constantly changing environment. Not to fret — here is a quick breakdown of the payment options currently available:
Credit cards. Perhaps the most popular, credit cards are accepted domestically and internationally. Most online giving platforms accept VISA, Mastercard, American Express, JCB, Discover, UnionPay, and Diners Club.
Bank transfers. This type of payment method caters to those who prefer to have funds taken directly from their bank account. Services like Plaid make it simple for donors to electronically transfer money from their bank account to your nonprofit's.
Digital wallets. Also known as e-wallets, digital wallets store payment information to expedite online checkouts. A number of digital wallets are widely available: Apple Pay, Google Pay, Click to Pay, PayPal, and Venmo.
Cryptocurrency. In 2021, Fidelity Charitable accepted a record $330 million in cryptocurrency assets. With the growing popularity of cryptocurrency, this form of payment helps nonprofits reach those high-net-worth individuals who give larger gifts.
Stocks. With appreciated stock representing $100 billion in untapped funding and advantages to donating stock vs. selling it (like paying no capital gains taxes), many high-net-worth donors will be looking to give this way to their favorite charities, especially with giving platforms like Fundraise Up simplifying the process.
Finding an online giving platform that offers all of the aforementioned donation payment options to choose from can be one in a million. However, as technology enthusiasts, we understand how important it is to cater to every single one of your donors. Fundraise Up is constantly adding new payment methods to our pipeline — like the recently available Venmo option.
Bottom line: better donor conversions
Last year, we analyzed data from January 1, 2021 to September 1, 2021 to understand what types of payment methods our nonprofits' donors used. While credit cards remained the most popular form of donation payment (65%), donors also used:
PayPal: 25%
Apple Pay: 6%
Google Pay: 3%
Plaid: 0.34%
The more payment options you offer, the better your donor conversion rate. Imagine if you didn't offer PayPal: You could be losing 25% of those donors who would have otherwise donated with a PayPal checkout option. Instead, the only available option was to pay with a credit card, but the donor didn't have their credit card immediately available. Because of that, the donor never returned to complete the checkout, forcing your nonprofit to lose out on a valuable donor.
Fun fact: Did you know that donor conversion rises by 10% when PayPal is offered as a donation payment option?
Don't let a simple upgrade keep you from getting the donations you deserve.
Are you ready to upgrade your donation experience and provide your donors with a diverse collection of donation payment options? Book a demo with one of our team members here.
Stay connected
Get updates and insights delivered to your inbox