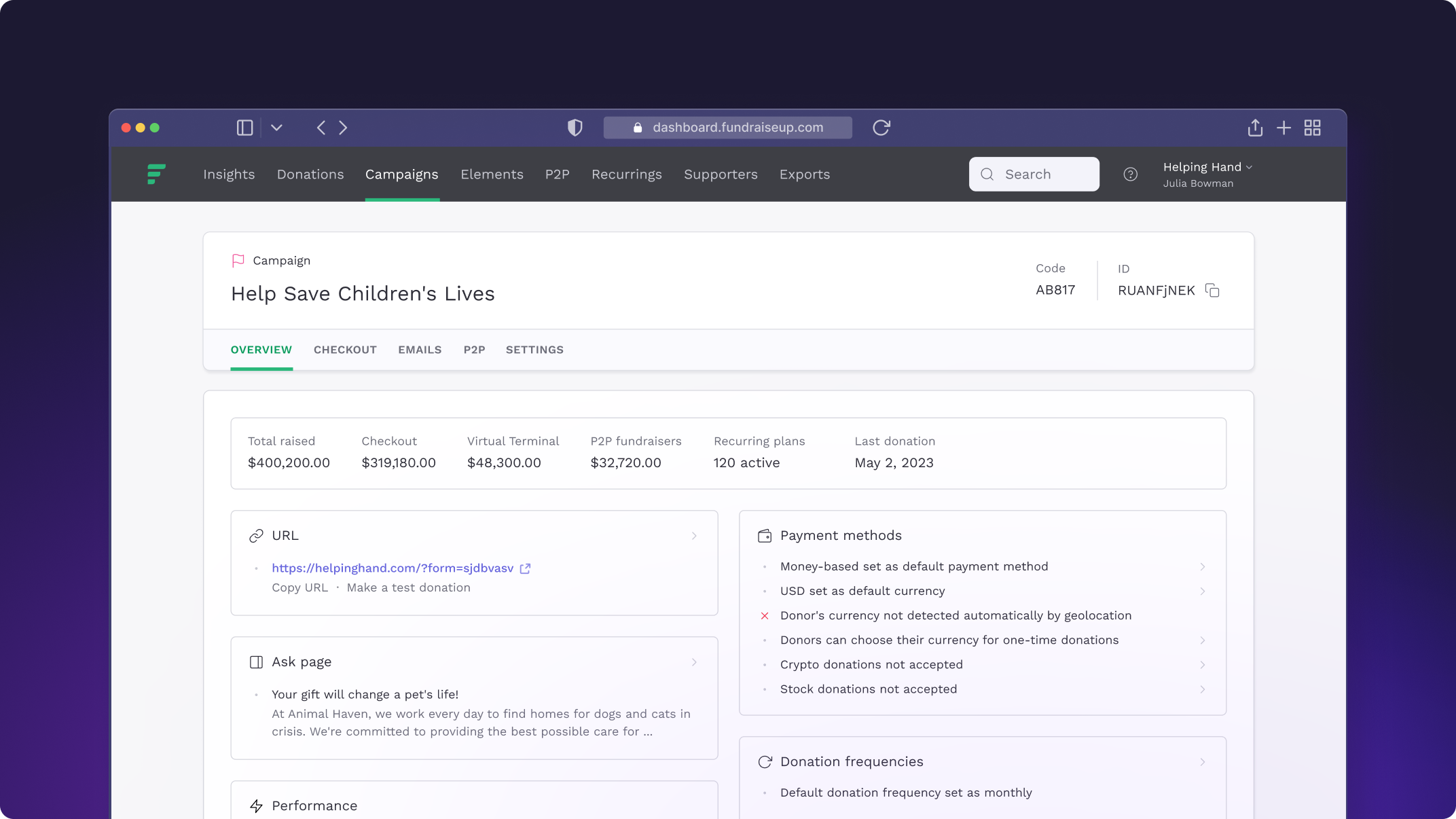 Head of Product Experience
Dashboard power users rejoice! We shipped an update to the Campaigns tab in the Fundraise Up Dashboard that makes it easier than ever to quickly check the performance and settings of your fundraising campaigns.
The update introduces Campaign Overview, a new page that you'll see first when opening a campaign. The page includes two key sections: a header that displays the campaign's key fundraising statistics, and a section for reviewing the campaign's settings.
Get a snapshot of each campaign's fundraising performance

With Campaign Overview, you can quickly see key fundraising stats for your campaigns.
At the top of the new Campaign Overview page, you'll see a header section with key fundraising statistics that include:
Each of the statistics can be selected to see filtered views of records on the Insights, Donations, or Recurring tabs in the Dashboard. This makes it easy to drill down into your fundraising data and see the payment methods, devices, marketing campaigns, and Elements driving donor support.
See campaign settings at a glance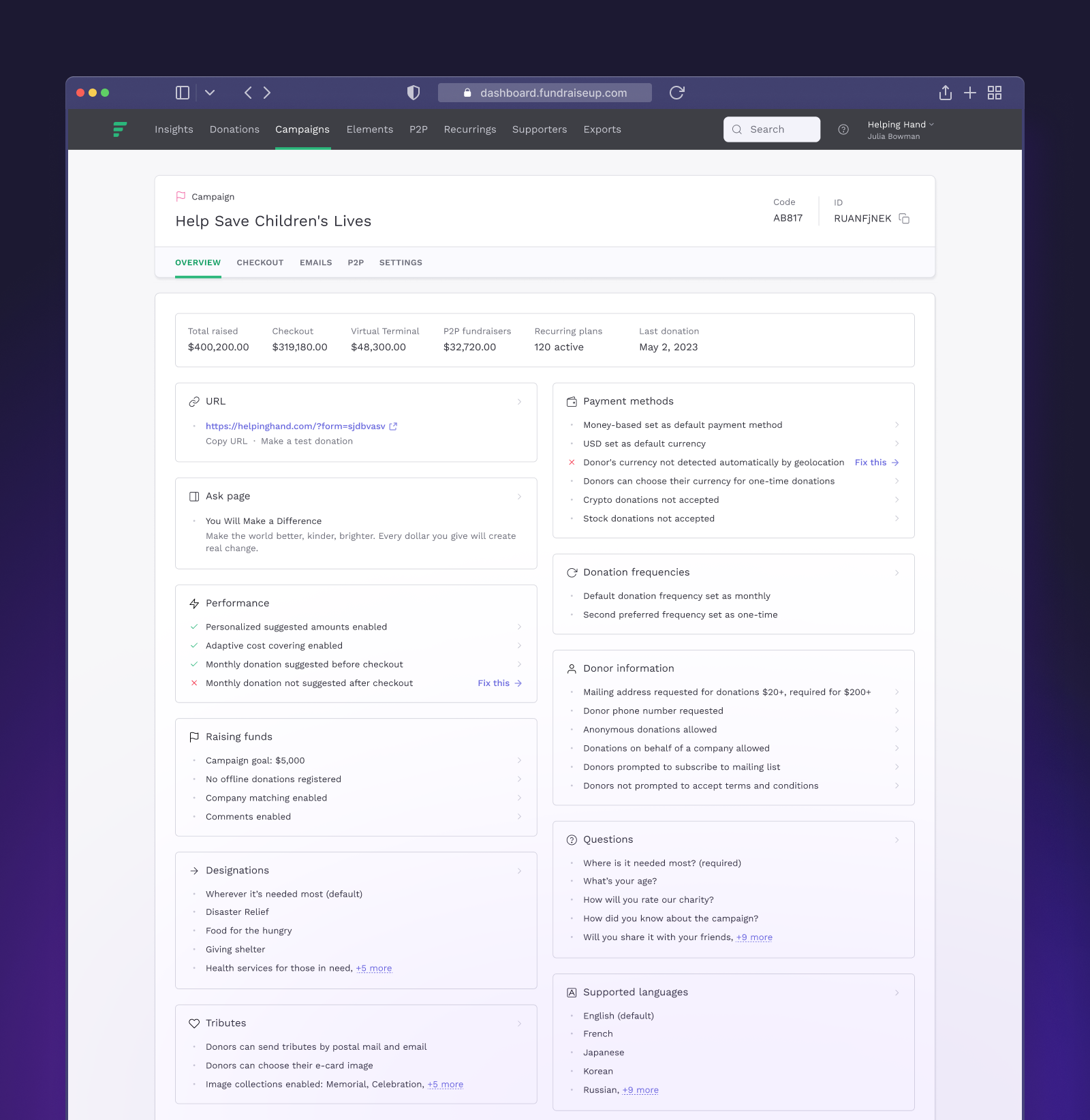 The Campaign Overview page makes it easy to see your campaign settings at a glance.
The new Campaign Overview page includes a summary of your campaign's settings. You'll now be able to see which campaign features you've enabled and how you've configured them.
In some cases, we'll show you a prompt to enabled a feature if its known to increase conversion and raise revenue.

Fix-it style prompts encourage you to enable features that improve campaign performance.
Each of the settings shown in the summary can be selected to navigate you directly to the setting's configuration view. This makes it easier to make changes on the fly.
One more thing…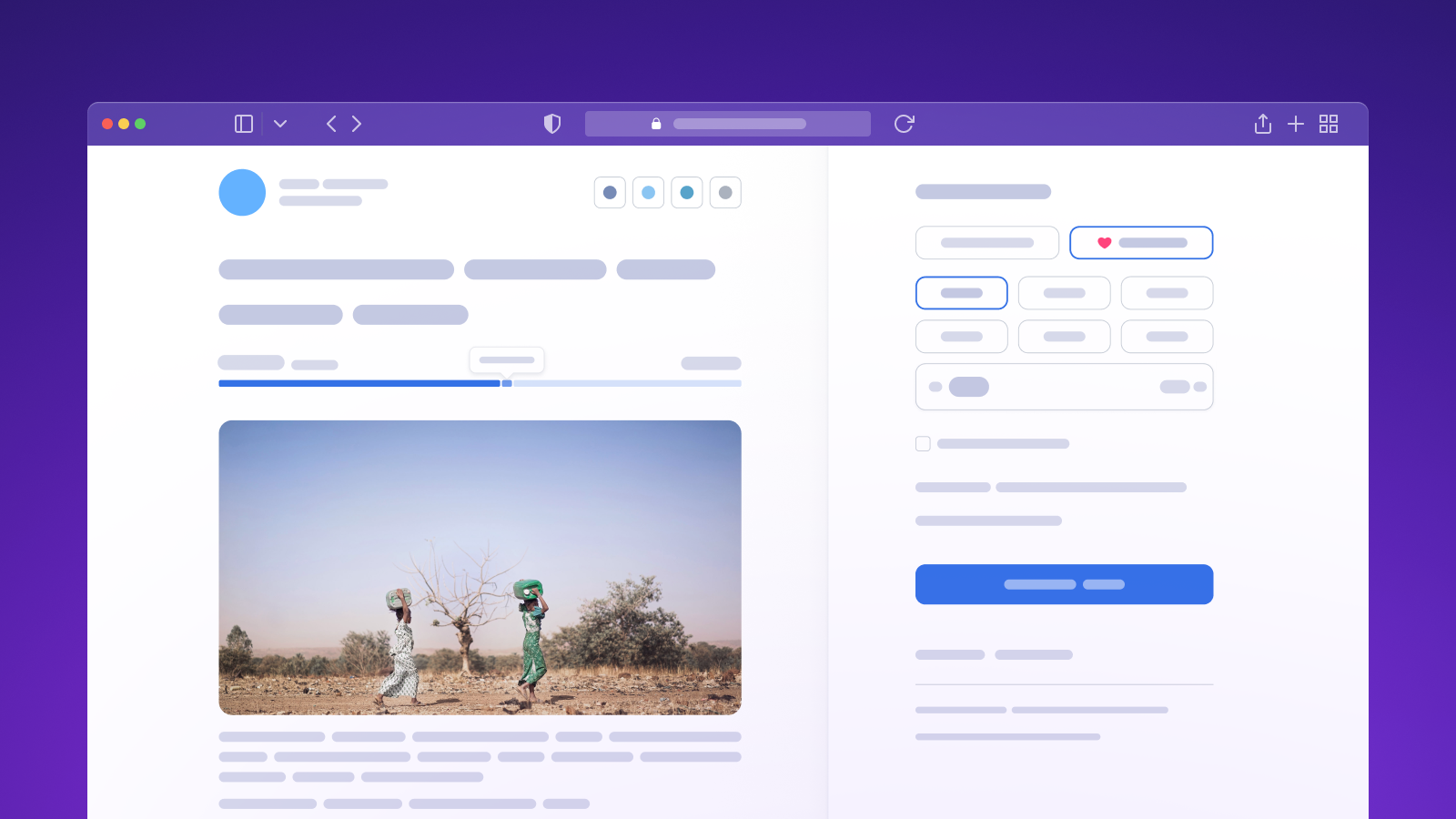 You'll soon be able to engage donors using Campaign Pages, conversion-optimized donation landing pages that you create in Fundraise Up.
The new Campaign Overview page isn't just for making your life easier, it's an update we're making to support the launch of one of our biggest feature releases: Campaign Pages.
With Campaign Pages, you'll soon be able to create and launch conversion-optimized donation landing pages directly from Fundraise Up!
Whether you need endpoints for your digital ads, segment-tailored landings for campaigns, or just a new way to engage donors on your website, Campaign Pages gives you the same innovative features that power Checkout, but with an exciting new level of flexibility and customization.
More about Campaign Pages, soon.
Watch the pre-launch webinar
If you want to see Campaign Overview in action, watch for the customer-only Get to know Campaign Overview webinar on demand.
---
About Fundraise Up
Fundraise Up is a technology company unlocking the world's generosity potential by optimizing how people give. Our donation platform helps nonprofits engage more supporters and grow revenue by providing easy ways to increase conversion, enable modern payment methods, and personalize the giving experience for every donor. Fundraise Up is the partner of choice for UNICEF USA, The Salvation Army UK, American Heart Association, and other impactful organizations across the globe. For more information, visit fundraiseup.com.
Stay connected
Get updates and insights delivered to your inbox